FIFA World Cup Qatar 2022 Volunteers Program Kicks off Training at Lusail Stadium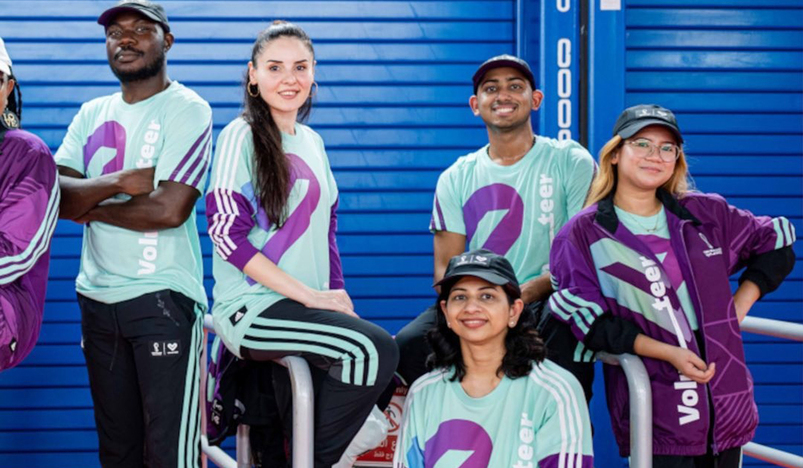 An incredibly motivated group of over 16,000 volunteers, joined by thousands who followed online from around the world, gathered at the Lusail Stadium for the official orientation event a festive ceremony featuring football legends and FIFA World Cup 2022 top brass.
The largest of the host venues for the upcoming FIFA World Cup served as a fitting backdrop for this important milestone gathering, which marked the first time that all selected volunteers were assembled together for the formal start of their training journey and a momentous opportunity to reflect on the road ahead.
The Director General of the Supreme Committee for Delivery & Legacy (SC) Eng. Yasir Al Jamal opened the event, welcoming the assembled volunteers to Lusail Stadium and thanking them for their significant contribution to the incredible fan experience ahead, and overall success of the FIFA World Cup.
The event-filled evening was aimed at building a greater sense of community and helping everyone become more familiar with their respective activities across 45 different functional roles by giving them a glimpse of the challenges and the rewards in store.
For his part, FIFAs Chief Operating Officer – World Cup and Managing Director for Q22, Colin Smith, struck a note of gratitude and inclusivity: "Volunteers are our true heartbeat because their passion and selfless devotion sustain everything we do. Thats the common thread that unites 20,000 volunteers, irrespective of nationality, culture, age, gender and experience. Its through their efforts that the FIFA World Cup in Qatar can be considered the most inclusive ever and will connect people from all cultures and backgrounds through the game of football."
The volunteering program for the FIFA World Cup Qatar 2022 is the largest in the country's history, and aims to unite people under the football platform, with the aim of hosting an impressive edition of the global tournament, highlighting Qatar's achievements and highlighting its ancient culture and heritage.
In an exclusive statement to Qatar News Agency (QNA), the CEO of FIFA World Cup Qatar 2022 Nasser Al Khater, said, "For us, this event is a big event, and we are very happy with this atmosphere that witnessed a large crowd, led by volunteers." He said that there are currently more than thirty thousand volunteers, twenty thousand of whom came from more than 180 nationalities, which is a large number, saying, "We are waiting for about four thousand volunteers who will come from abroad in the coming period." Al Khater continued, "This day is for us the beginning of the launch of the professional program or the launch of various training and awareness programs for volunteers, and we are confident that during their training and rehabilitation, they will be in the best readiness to work and play their roles in the tournament," adding, "Today we can say that we have completed the selection of volunteers who their number reached 25,000 volunteers, of whom 20,000 were here today in this ceremony, and today we also begin the most important station in training and qualifying volunteers." For his part, the Volunteer Strategy Manager at Supreme Committee for Delivery & Legacy Nasser Almogaiseeb, confirmed in a similar statement to (QNA) that this event is a launch for introducing the professional program for all volunteers inside and outside Qatar, with the attendance of 20,000, and about 5000 of volunteers from abroad through the official account of FIFA via YouTube, pointing out that the forum focuses largely on introducing the volunteers to their most important different roles and their entry into the training phase, after completing the interview phase, selecting volunteers, and accepting individuals.
He explained that during the coming period, there will be various training programs, including "online" and other specialized field trainings that will be held at the volunteer center, pointing out that there are about 45 jobs or operational areas branching and different between stadiums, hotels, airports and fans areas, as large numbers of volunteers will be present in all these places to play different roles, whether in the fields of media, transportation, hospitality, public service, and others.
Source: QNA