Farag claims World No.1 Spot in PSA Men's World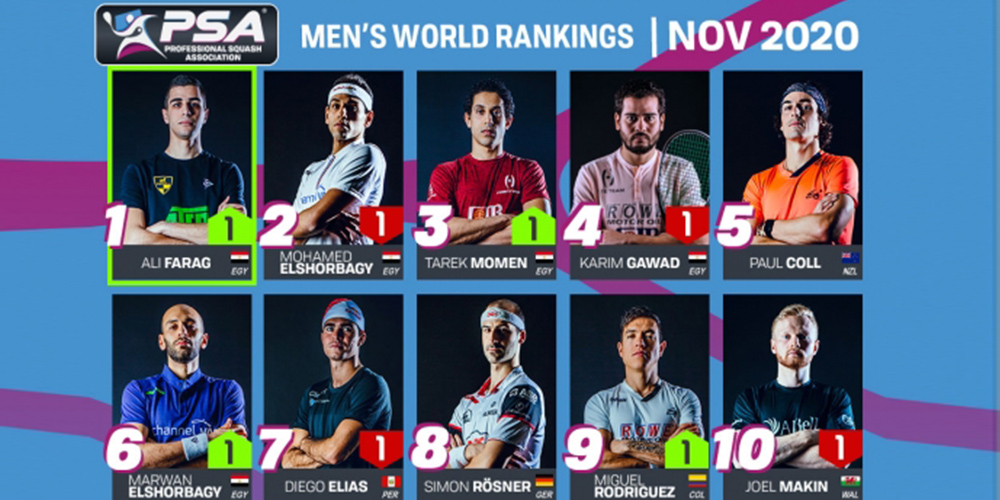 Egypt's Ali Farag has claimed the World No.1 spot for the first time since January, 2020 after the PSA Men's World Rankings for November were released today.
Farag, the 28-year-old Harvard-graduate, captured the CIB Egyptian Open title in front of the Great Pyramid of Giza a fortnight ago and his run to the final in Cairo saw him end rival Mohamed ElShorbagy's nine-month reign atop the World Rankings.
ElShorbagy drops down to No.2 but will have the opportunity to retake top spot if he wins the Qatar Classic – which starts today in Doha – and Farag fails to reach the final of the PSA World Tour Platinum event.
Meanwhile, World Champion Tarek Momen has gone back up to World No.3 at the expense of fellow Egyptian Karim Abdel Gawad, who misses out on Qatar due to injury. New Zealand's Paul Coll completes the top five.
CIB PSA World Tour Finals winner Marwan ElShorbagy rises to No.6, which is his highest ranking since December 2018. He switches places with Peru's Diego Elias, who drops down to No.7, while Germany's Simon Rösner stays at No.8.
The other movements in the top 10 see Colombia's Miguel Rodriguez rise a spot to No.9, switching places with Welshman Joel Makin.
Egypt's Mohamed Abouelghar rises a place to No.11, with Fares Dessouky going the other way, while India's Saurav Ghosal remains at No.13.
World Junior Champion Mostafa Asal is rewarded with his run to the Egyptian Open semis with a four-place increase to a career-high No.14. Mazen Hesham (No.15), Omar Mosaad (No.16) and Gregoire Marche (No.17) all fall a spot, while former World No.1 James Willstrop moves up two places to No.18.
Zahed Salem falls two places to No.19, while Adrian Waller completes the top 20.
Qatar's Abdulrahman Al-Malki is the biggest mover on the men's tour in November, rising 257 places to World No.354 following a runner-up finish at the QSF 3 Open last week.