Nketiah: Insights from Inside our Dressing Room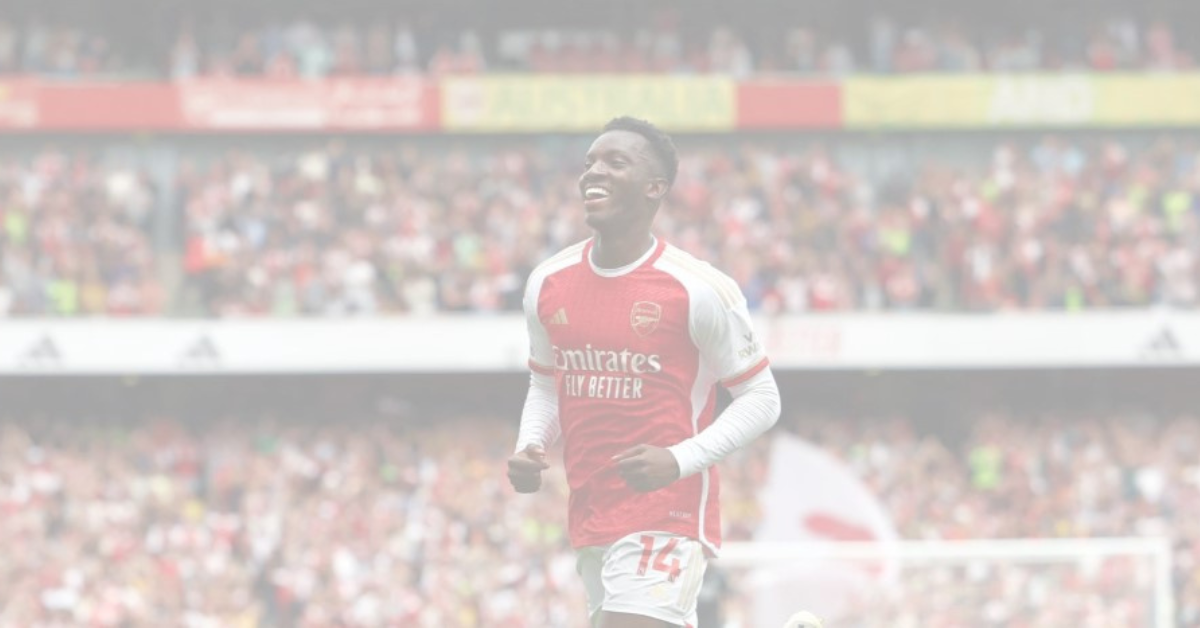 Our striker, Eddie Nketiah, delves into the dynamics of our current squad, reflecting on the transformative journey from his formative years in the game to his present status.
Eddie's role as a striker has consistently positioned him as a central figure within the team, a pattern that dates back to his beginnings at Hillyfielders in south-east London. There, he led the line as a dependable No. 9, amassing an impressively prolific goal-scoring record. Despite his impressive achievements, his reminiscences of that time mirror those of any typical nine-year-old – marked by camaraderie and enjoyment among friends.
Although Eddie holds nostalgic memories of his early career, he acknowledges the good fortune he's had in experiencing a supportive team spirit and a familial atmosphere throughout his football journey, with none more evident than in the current team.
Recalling the Origin: "Hillyfielders was a wonderful club," Eddie begins. "I cherished my time there. I was part of it from under-8s to under-9s before I got spotted. Although the duration was short, I have incredibly fond memories from that period; it's among the most enjoyable phases of my life."
A dedicated striker from the outset, Eddie's scoring prowess was evident even then. He recollects, "I consistently played as a striker, and I was quite prolific, to be honest! I can't recall a game where I didn't find the back of the net at that age."
He adds a humorous anecdote: "It's funny because in some matches, I would arrive slightly late due to my commitment to attending church on Sundays. So, I would reach just before the kickoff, and the manager wasn't particularly pleased with my tardiness. However, I would then play and manage to score every time, making up for my delayed arrival!"
Eddie emphasizes the excellent team spirit that prevailed at Hillyfielders. He notes, "We had fantastic camaraderie; we all got along remarkably well. In fact, I still maintain contact with a couple of my former teammates."
Leading a successful side, it comes as no surprise that Hillyfielders thrived during Eddie's tenure. Yet, Eddie clarifies that none of his fellow teammates pursued professional football careers. "Among my age group, no one went on to play professionally. However, a few players from the age group above mine achieved decent academy levels and such. Despite this, the overall atmosphere was positive, and I'm planning to reconnect with them soon to collaborate on some projects. Their pride in my journey is heartwarming."
Revisiting the past brings to light individuals who demonstrated potential. "We had a skilled center-back named Ayo, scouted by Charlton. He was quite talented, and several teams expressed interest in him. At that age, it's challenging to predict who will succeed. It's a lengthy journey, often with obstacles to overcome. Opportunities vary, but our team had several talented players. We were accustomed to triumphing."
As the prominent figure on the pitch, was Eddie ever made captain? He chuckles, "No, I held the role of striker and No. 9, but I wasn't captain. It might not have looked well if the captain arrived late for every game!"
Eddie's journey extended beyond Hillyfielders. "I also played for Lewisham district around age seven or eight. The competition was high, and we had many talented players. Jaden Brown, one of our players, pursued a professional path as well. He was with Sheffield Wednesday last season. Several players from that era ventured into football."
Eddie concludes with a lighthearted reflection on his punctuality: "Arriving just before kickoff while the manager wasn't thrilled, scoring consistently managed to compensate for my timing!"
By – Sahiba Suri