Drew McIntyre's World Cup Wishes to Rohit Sharma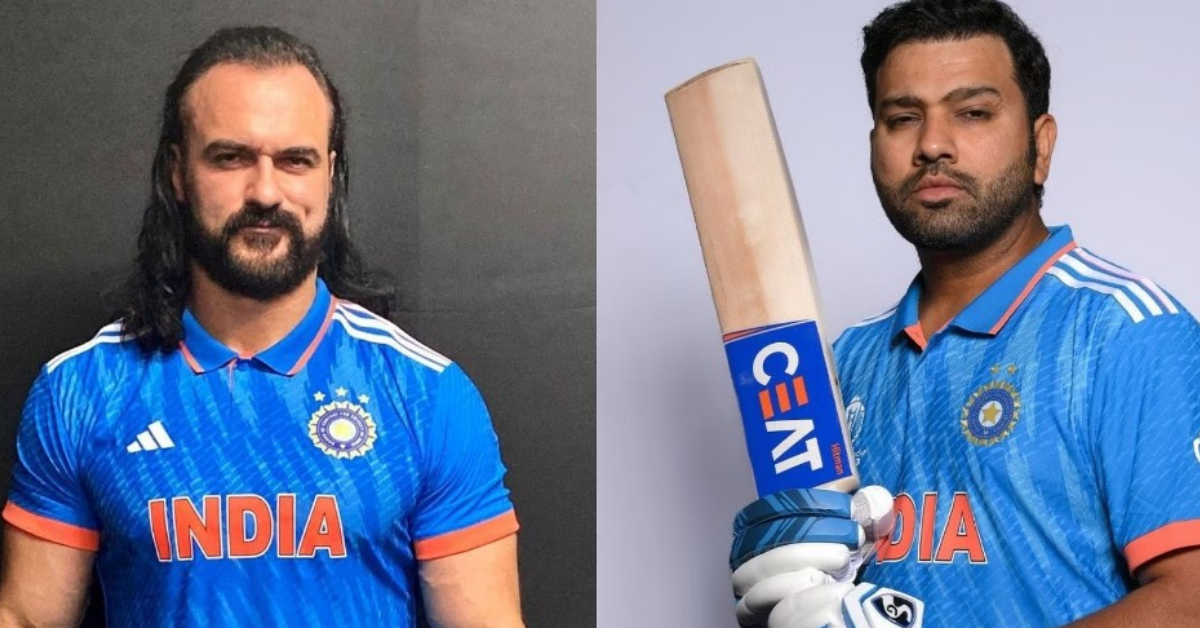 Drew McIntyre's World Cup Wishes to Rohit Sharma
WWE Superstar Drew McIntyre Wishes Rohit Sharma and Indian Team Luck for 2023 World Cup
World Wrestling Entertainment (WWE) superstar Drew McIntyre has extended his heartfelt wishes to Rohit Sharma, the captain of the Indian cricket team, and the entire Indian squad for the upcoming 2023 ODI World Cup, set to begin in India on Thursday.
A few days ago, a photo of Drew McIntyre wearing the Team India jersey went viral on social media, capturing the attention and admiration of fans worldwide. In a show of support and camaraderie, McIntyre once again donned the Indian cricket team's jersey in a recent post on his social media handle, known as "X." Accompanying the image was a message of good luck directed towards Rohit Sharma and his teammates:
"Good luck to Rohit Sharma and the rest of his team as India gets ready to host the Cricket World Cup 🇮🇳."
In addition to his best wishes, Drew McIntyre took a moment to express his gratitude for the exceptional hospitality and warmth he has experienced from Indian fans and the country as a whole during his visits:
"The hospitality and love you show me every time I'm there is amazing 💙 #CWC23."
With the 2023 World Cup just around the corner, fans are buzzing with excitement. The tournament is scheduled to kick off with a highly anticipated match between defending champions England and the runners-up from the 2019 edition, New Zealand. The opening showdown will take place at the iconic Narendra Modi Stadium in Ahmedabad, Gujarat.
Team India's debut in the competition is eagerly awaited, and they are set to take on Australia in their first match. The MA Chidambaram Stadium in Chennai will host this high-profile clash, scheduled for Sunday.
During a recent Captain's Day event leading up to the ODI World Cup, Indian skipper Rohit Sharma shared his thoughts and aspirations. He spoke about the desire of every leader to achieve something exceptional for their country, emphasizing that the same applies to him:
"Every leader sitting here wants to achieve something special for their country. The 50-over World Cup is something I've dreamt of (winning), as will be the case for everyone else here."
Drew McIntyre's heartfelt message and support have resonated deeply with cricket enthusiasts, amplifying the excitement surrounding the tournament. As fans eagerly await the cricketing extravaganza, the camaraderie between sports and entertainment worlds continues to create memorable moments and unite fans worldwide.
The 2023 ODI World Cup promises to be a spectacular event filled with thrilling matches, extraordinary performances, and unforgettable moments. With Drew McIntyre's best wishes and Rohit Sharma's determination, Team India aims to make this tournament truly special for the nation and cricket enthusiasts around the globe.
For More Related Updates Visit Our Official Website
By- Sahiba Suri