Bughanaim guides HAJADIE DU CROATE to Al Gharafa Cup win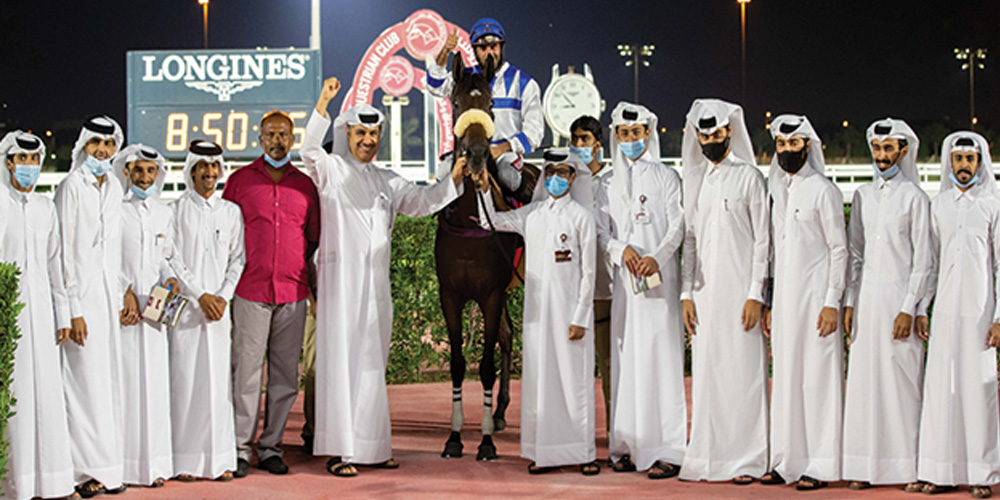 Nasser Saeed Al Eida's HAJADIE DU CROATE (AF AlBahar x Topaze Du Croate) won on her Qatar debut in thrilling fashion when Qatari jockey Faleh Bughanaim guided Gassim Mohammad Ghazali's ward to a second victory overall in the AL GHARAFA CUP (3yo Purebred Arabians) on Thursday. In the mile-long turf feature, the filly, who reached Qatari shores after landing a seven-furlong run in France in August, edged out the Alban Elie Marie De Mieulle saddled MUQLA (Tabarak x Sarahmina), ridden by Ronan Thomas in the colours of Umm Qarn, by a quarter of a length at the post. Mohammed Nasser Al Naimi's VEVERKA PY (Nizam x Di Amantina Py) too made a promising Qatar debut finishing third under Francois Herholdt, two lengths behind the front duo.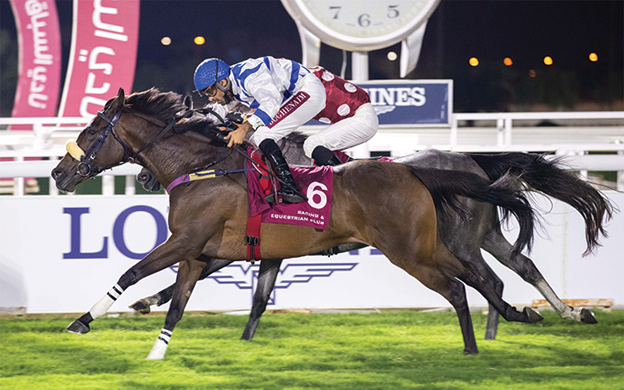 Abdulatif Hussain Al Emadi's BLACK PEARL (Footstepsinthesand x Ella) had won all but one of his six outings coming into Thursday's LOCAL THOROUGHBREDS sprint on turf. Ibrahim Saeed Ibrahim Al Malki's ward stayed true to his favourite status when he entered the winner's enclosure for the sixth time, but first time under Soufiane Saadi. In the six furlong run, the 4yo gelding edged out Alberto Sanna ridden Mosayter by a quarter of a length at the post for the second victory on the day for the jockey and the trainer.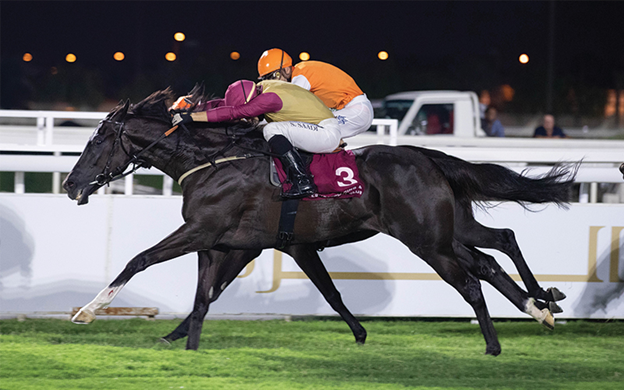 Umm Qarn's GOLD AMER (Amer x Al Hanoof) brushed aside a less-than top outing on his last C&D to register his third career win on Thursday. Under Ronan Thomas, who had ridden Alban Elie Marie De Mieulle-saddled 5yo to his last handicap win in December, was in the saddle again for PUREBRED ARABIAN HANDICAP (90 & below). Together, the duo picked up a fine win beating Alberto Sanna and his mount Ennab by a length at the post.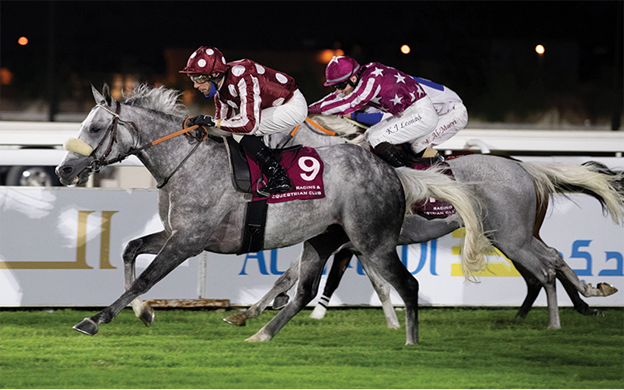 Al Jeryan Stud's ARABIC CHANNEL (English Channel x Mahogany Lane) made good use of a break when he picked up a thrilling victory in the seven furlong THOROUGHBREDS (Class 2) on turf. After a C&D win in February, Hadi Nasser Rashid Al Ramzani's ward had a disappointing end to the season in March. However, on Thursday, the 4yo bounced back with Eduardo Pedroza in the saddle as they edged out Ronan Thomas helmed Take A Nap by a short head at the post.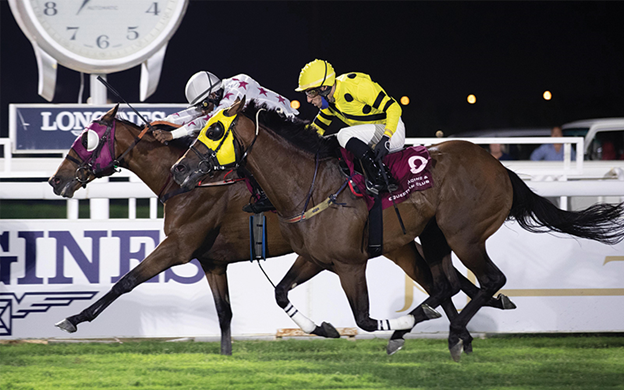 Saeed Mohammed Shafi Al Shafi's AL MIKDAM (Myboycharlie x Kilfarasy) was the first winner of the season for Qatari rider Rashid Ali Al Marri as the 6yo raced to his fourth career win on Thursday. The bay horse, who had a C&D victory back in 2018, with a win each over two slightly longer trips, lined up in Gate 3 in the packed field for the mile long THOROUGHBRED HANDICAP (75 & below). Apprentice rider Al Marri had little trouble as he led a one-two for Qatari riders with Faleh Bughanaim guiding War Order to second a length and three quarters behind.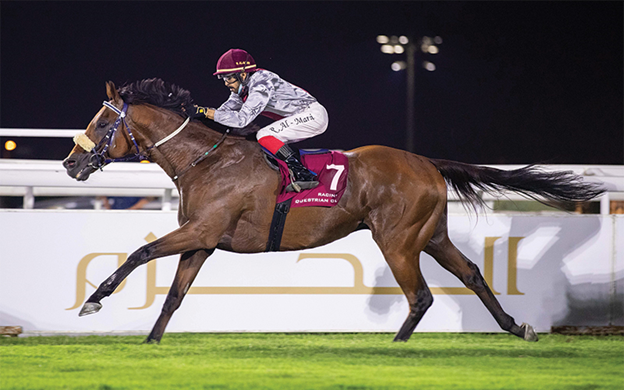 Ibrahim Saeed Ibrahim Al Malki's ZYZZYVA (Siyouni x Zanatiya) opened his account in Qatar after some mixed results in five outings coming into the race on Thursday. In the six furlong THOROUGHBRED HANDICAP (Class 3) (70-90) sprint on turf, the 5yo had Ronan Thomas for company and the dual winner from France sprinted to a fine first win at Al Rayyan Park beating the competition by a length and a quarter.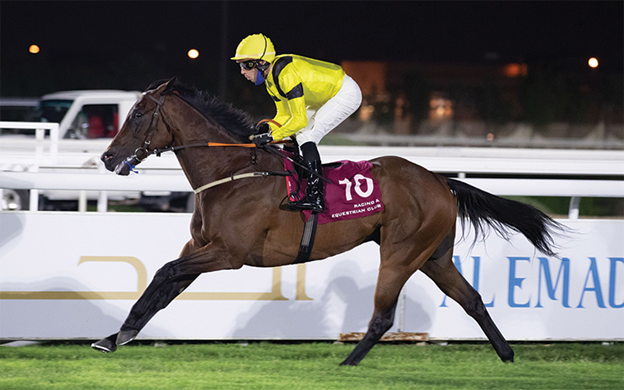 Ali Bin Saeed Aljafali Al Nuaimi's AJAL (Domestic Fund x My Sweet Natalie) improved heavily on his previous two C&D finishes of sixth and 11th, when he topped the LOCAL THOROUGHBRED MAIDEN PLATE in comfortable fashion. On Thursday in the miler on turf, Alberto Sanna was astride Majed Mahadi Seifeddine trained colt for the first time in a race and the two did enough to finish three lengths and three quarters in front of Soufiane Saddi ridden Al Khor Surprise.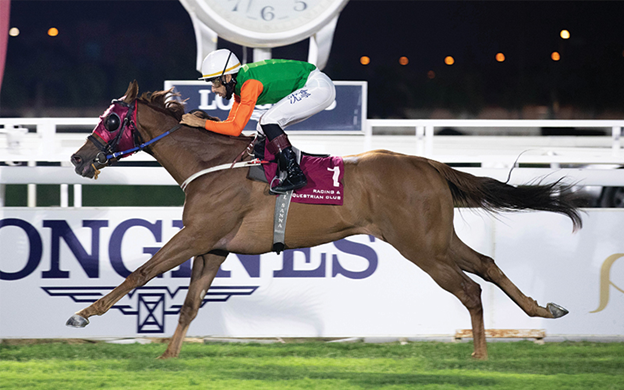 Umm Qarn's DREAM BOY (Toast of New York x Fahirah) made a fantastic debut, leading a one-two for the connections and trainer Alban Elie Marie De Mieulle in the LOCAL THOROUGHBRED MAIDEN PLATE (3 Year Olds) on Thursday. In the opening race of the turf card Soufiane Saadi was astride the 3yo in the six-furlong sprint and the two beat Dream Boy's stablemate and fellow debutant Equinoxe, ridden by Ronan Thomas, by two lengths for a comfortable victory.