Barwa Grand Prix Racing in Qatar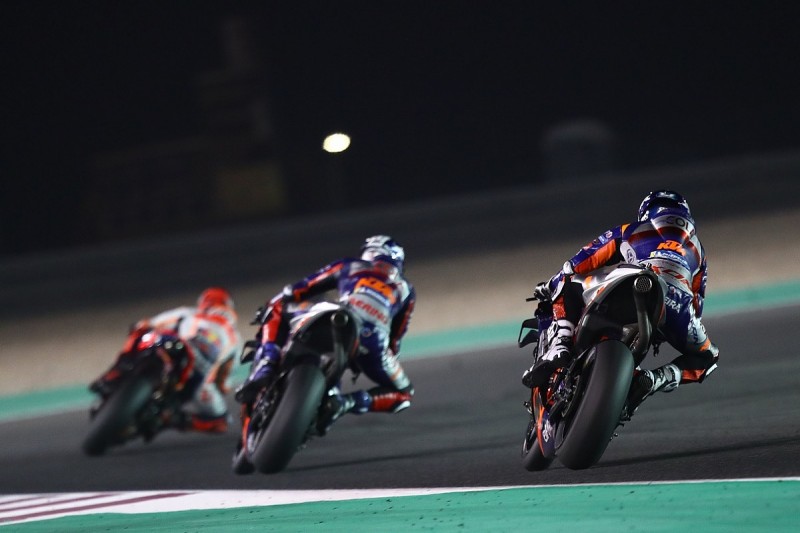 This will be the 18th occasion that a Grand Prix has been held at Losail International Circuit and the 14th under floodlights. This will be the 15th successive year that the track has hosted the season opener, although in 2020, only Moto2™ and Moto3™ races were held as the MotoGP™ race was cancelled due to the Covid-19 pandemic. Qatar is the seventh different Asian country to host a Grand Prix (all solo classes) along with Thailand, Turkey, Japan, Malaysia, China and Indonesia. Losail is the 11th different circuit that has been used for Grand Prix racing in Asia. The other circuits that have been used in Asia are: Motegi (63 Grand Prix races), Sepang (62), Suzuka (56), Shah Alam (21), Shanghai (12), Istanbul Park (9), Fisco/Fuji (8), Sentul (6), Buriram (6) and Johor (3).Yamaha is the most successful manufacturer in Qatar with eight MotoGP™ wins, with three different riders: Valentino Rossi (2005, 2006, 2010, 2015), Jorge Lorenzo (2012, 2013, 2016) and Maverick Viñales (2017).
Ducati have five MotoGP™ wins here with two riders: Casey Stoner (2007, 2008, 2009) and Andrea Dovizioso (2018, 2019). Losail is Ducati's most successful premier class track, along with Sepang, Austria and Motegi. Honda have three MotoGP™ wins in Qatar, the most recent of which was Marc Marquez in 2014 from pole. Since he stepped up to the premier class, Marquez has always been the first Honda in the MotoGP™ race. Suzuki's best MotoGP™ result in Qatar: fourth with John Hopkins in 2007 and Alex Rins in 2019. Reigning Champion Joan Mir has raced only once in the class in Qatar, taking eighth in 2019 as the highest-placed rookie. Aleix Espargaro's P6 in Qatar in 2017 equalled Aprilia's best MotoGP™ result achieved by Colin Edwards at Suzuka in 2003. Espargaro equalled it in Aragon in 2017 and 2018, as did Andrea Iannone in Australia in 2019. KTM made their full-time debut in MotoGP™ in Qatar in 2017. The best result for the Austrian manufacturer at
this track in the class is Pol Espargaro's 12th place in 2019. Along with Johann Zarco in 15th, that was also the only time so far that KTM riders scored points in Qatar. The MotoGP™ race in Qatar has only been won four times by a rider who has not qualified on the front row:
Valentino Rossi (2006, 2015), Casey Stoner (2008) and And ea Dovizioso (2018). The top 15 in the MotoGP™ race in Qatar in 2019 is the closest ever in the premier class. There were 15.093 seconds between Andrea Dovizioso and Johann Zarco.