Armitage and Donaldson share Cyprus lead as darkness suspends play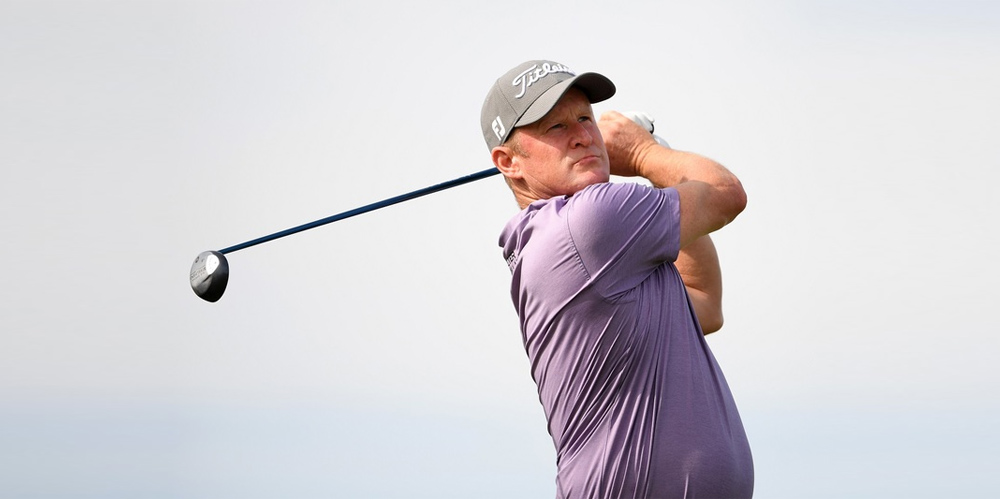 Marcus Armitage and Jamie Donaldson share the lead at the Aphrodite Hills Cyprus Open on 11 under par but will need to complete their second rounds on Saturday morning as play was suspended due to fading light.
The pair will return to the course at Aphrodite Hills Resort at 8:00am local time to finish their rounds. 2014 Ryder Cup star Donaldson has one hole to finish, with 33-year-old Armitage still to putt-out on the 16th green. Welshman Donaldson is five under par for his round while Armitage, of England, is six under.
In a share of third place on ten under par are Scotland's David Drysdale, Englishman Richard McEvoy and Finland's Sami Välimäki. Drysdale is playing in his 509th European Tour tournament and would equal Malcolm Mackenzie's record of events before earning his first victory if he were to win this week.
---
"I've been working hard," said Drysdale. "To be honest I had an injury when I came back. I missed four or five events. Trying to get fit and regain some form. My scores haven't been great but I've been starting to see nine holes where there has been good ball striking – that's trending a bit.
"A lot of golf to be played. 11-under is leading at the moment – a lot of golf to be played today. Might be within two or three of the lead at the end of the day. I haven't had that many opportunities over my career. I'll give it a crack over the weekend and see what happens."
Välimäki, in his rookie season on the European Tour, is seeking a second win on the 2020 Race to Dubai after earning his maiden title at the Oman Open in March. McEvoy is looking for a second European Tour success to add to his 2018 Porsche European Open win.
"Yesterday was probably actually slightly better. Tee to green I was very, very strong yesterday," said Hebert. "I missed two fairways and one green all day so I gave myself plenty of chances. The today, a couple more small mistakes, I missed a couple more greens, but the short game was good to get out of trouble when I needed to."
Sharing sixth place on nine under par are six golfers including Frenchman Benjamin Hébert, who carded the lowest round of the day, a seven under par 64, and India's Shubhankar Sharma, who has made his sixth consecutive cut. 
---
"As professional golfers this is what you strive for, you want to be in the mix going into the weekend," said Sharma. "It's been a while since that has happened. I felt that at the Scottish I was quite close, I was 13th after two days. My game was coming around. The Scottish wasn't too many weeks back. I'm really happy to be in this position and I'm looking forward to the weekend.
"Experience plays a big role. This is my third year on Tour and I've been in this situation many times before – that will definitely help. But, on this course, anyone can shoot a low number. If there's no wind and it's calm, I think there's a ten under out there. These players are really good. You just have to stay on your toes, keep firing away and see what happens on Sunday."
---
| | | | | | | |
| --- | --- | --- | --- | --- | --- | --- |
| Pos. | Player | To Par | Thru | R1 | R2 | Total |
| T1 | Jamie Donaldson | -11 | 17 | 65 | | 65 |
| T1 | Marcus Armitage | -11 | 15 | 66 | | 66 |
| T3 | David Drysdale | -10 | F | 65 | 67 | 132 |
| T3 | Richard McEvoy | -10 | F | 66 | 66 | 132 |
| T3 | Sami Välimäki | -10 | F | 65 | 67 | 132 |
| T6 | Thomas Detry | -9 | F | 66 | 67 | 133 |
| T6 | Benjamin Hebert | -9 | F | 69 | 64 | 133 |
| T6 | Shubhankar Sharma | -9 | F | 67 | 66 | 133 |
| T6 | Callum Shinkwin | -9 | F | 67 | 66 | 133 |
| T6 | Jordan Smith | -9 | F | 67 | 66 | 133 |
| T6 | Johannes Veerman | -9 | F | 64 | 69 | 133 |
| T12 | Wil Besseling | -8 | F | 67 | 67 | 134 |
| T12 | Garrick Higgo | -8 | F | 68 | 66 | 134 |
| T12 | Matthias Schwab | -8 | F | 67 | 67 | 134 |
| T12 | Andy Sullivan | -8 | F | 65 | 69 | 134 |
| T12 | Mitch Waite | -8 | F | 64 | 70 | 134 |
| T17 | Aaron Cockerill | -7 | F | 69 | 66 | 135 |
| T17 | Lorenzo Gagli | -7 | F | 66 | 69 | 135 |
| T17 | David Horsey | -7 | F | 66 | 69 | 135 |
| T17 | Robert MacIntyre | -7 | F | 68 | 67 | 135 |
| T17 | Wilco Nienaber | -7 | F | 68 | 67 | 135 |
| T17 | Julian Suri | -7 | F | 70 | 65 | 135 |
| T17 | Clement Sordet | -7 | 15 | 66 | | 66 |
| T24 | Alejandro Cañizares | -6 | F | 70 | 66 | 136 |
| T24 | Louis De Jager | -6 | F | 68 | 68 | 136 |
| T24 | Gonzalo Fernandez-Castaño | -6 | F | 66 | 70 | 136 |
| T24 | Sebastian Heisele | -6 | F | 68 | 68 | 136 |
| T24 | Matthew Jordan | -6 | F | 69 | 67 | 136 |
| T24 | Masahiro Kawamura | -6 | F | 69 | 67 | 136 |
| T24 | Maximilian Kieffer | -6 | F | 69 | 67 | 136 |
| T24 | Adrien Saddier | -6 | F | 67 | 69 | 136 |
| T24 | Kalle Samooja | -6 | F | 70 | 66 | 136 |
| T24 | Robin Sciot-Siegrist | -6 | F | 69 | 67 | 136 |
| T24 | Jason Scrivener | -6 | F | 70 | 66 | 136 |
| T24 | Cormac Sharvin | -6 | F | 69 | 67 | 136 |
| T24 | Joël Stalter | -6 | F | 65 | 71 | 136 |
| T24 | Scott Vincent | -6 | F | 68 | 68 | 136 |
| T24 | Dale Whitnell | -6 | F | 68 | 68 | 136 |
| T24 | Jeff Winther | -6 | F | 68 | 68 | 136 |
| T40 | Jorge Campillo | -5 | F | 69 | 68 | 137 |
| T40 | Dave Coupland | -5 | F | 69 | 68 | 137 |
| T40 | Sebastian Garcia Rodriguez | -5 | F | 69 | 68 | 137 |
| T40 | James Morrison | -5 | F | 68 | 69 | 137 |
| T40 | Haydn Porteous | -5 | F | 69 | 68 | 137 |
| T40 | Antoine Rozner | -5 | F | 71 | 66 | 137 |
| T40 | Matthew Southgate | -5 | F | 68 | 69 | 137 |
| T40 | Paul Waring | -5 | F | 68 | 69 | 137 |
| T48 | Alexander Björk | -4 | F | 69 | 69 | 138 |
| T48 | Yikeun Chang | -4 | F | 73 | 65 | 138 |
| T48 | Pedro Figueiredo | -4 | F | 66 | 72 | 138 |
| T48 | Grant Forrest | -4 | F | 69 | 69 | 138 |
| T48 | Gregory Havret | -4 | F | 69 | 69 | 138 |
| T48 | Calum Hill | -4 | F | 69 | 69 | 138 |
| T48 | Mikko Korhonen | -4 | F | 68 | 70 | 138 |
| T48 | Joost Luiten | -4 | F | 70 | 68 | 138 |
| T48 | Thorbjørn Olesen | -4 | F | 69 | 69 | 138 |
| T48 | Alvaro Quiros | -4 | F | 68 | 70 | 138 |
| T48 | Ricardo Santos | -4 | F | 69 | 69 | 138 |
| T48 | Joel Sjoholm | -4 | F | 69 | 69 | 138 |
| T48 | Sebastian Soderberg | -4 | F | 69 | 69 | 138 |
| T48 | Maverick Antcliff | -4 | 17 | 69 | | 69 |
| T62 | Laurie Canter | -3 | F | 67 | 72 | 139 |
| T62 | Nicolas Colsaerts | -3 | F | 69 | 70 | 139 |
| T62 | Joakim Lagergren | -3 | F | 72 | 67 | 139 |
| T62 | Romain Langasque | -3 | F | 70 | 69 | 139 |
| T62 | Matthieu Pavon | -3 | F | 71 | 68 | 139 |
| T62 | Carlos Pigem | -3 | F | 69 | 70 | 139 |
| T62 | Ashun Wu | -3 | F | 68 | 71 | 139 |
| T69 | Richard Bland | -2 | F | 70 | 70 | 140 |
| T69 | Steven Brown | -2 | F | 69 | 71 | 140 |
| T69 | Bryce Easton | -2 | F | 71 | 69 | 140 |
| T69 | Will Enefer | -2 | F | 66 | 74 | 140 |
| T69 | Oliver Farr | -2 | F | 66 | 74 | 140 |
| T69 | Jack Harrison | -2 | F | 68 | 72 | 140 |
| T69 | Sam Horsfield | -2 | F | 72 | 68 | 140 |
| T69 | Niklas Lemke | -2 | F | 73 | 67 | 140 |
| T69 | Alexander Levy | -2 | F | 68 | 72 | 140 |
| T69 | Adrian Meronk | -2 | F | 75 | 65 | 140 |
| T69 | Damien Perrier | -2 | F | 68 | 72 | 140 |
| T69 | Ben Stow | -2 | F | 70 | 70 | 140 |
| T69 | Oliver Wilson | -2 | F | 67 | 73 | 140 |
| T69 | Tapio Pulkkanen | -2 | 15 | 69 | | 69 |
| T83 | Jonathan Caldwell | -1 | F | 69 | 72 | 141 |
| T83 | S.S.p. Chawrasia | -1 | F | 71 | 70 | 141 |
| T83 | Pablo Larrazabal | -1 | F | 71 | 70 | 141 |
| T83 | Toby Tree | -1 | F | 72 | 69 | 141 |
| T87 | Ewen Ferguson | E | F | 70 | 72 | 142 |
| T87 | Garrick Porteous | E | F | 70 | 72 | 142 |
| T87 | Richie Ramsay | E | F | 73 | 69 | 142 |
| T87 | Kristoffer Reitan | E | F | 72 | 70 | 142 |
| T87 | Robin Roussel | E | F | 69 | 73 | 142 |
| T92 | Michael Campbell | 1 | F | 70 | 73 | 143 |
| T92 | Sean Crocker | 1 | F | 75 | 68 | 143 |
| T92 | Ignacio Elvira Mijares | 1 | F | 69 | 74 | 143 |
| T92 | Gavin Kyle Green | 1 | F | 75 | 68 | 143 |
| T92 | David Howell | 1 | F | 71 | 72 | 143 |
| T92 | Bernd Ritthammer | 1 | F | 70 | 73 | 143 |
| T98 | Ross Fisher | 2 | F | 74 | 70 | 144 |
| T98 | Jack Senior | 2 | F | 67 | 77 | 144 |
| T100 | Rikard Karlberg | 3 | F | 78 | 67 | 145 |
| T100 | Connor Syme | 3 | F | 73 | 72 | 145 |
| T100 | Lars van Meijel | 3 | F | 76 | 69 | 145 |
| 103 | Marcus Kinhult | 4 | F | 73 | 73 | 146 |
| T104 | Haotong Li | 6 | F | 75 | 73 | 148 |
| T104 | Chris Paisley | 6 | F | 71 | 77 | 148 |