ANOC World Beach Games packs a punch for New Zealand's kata star Andrea Anacan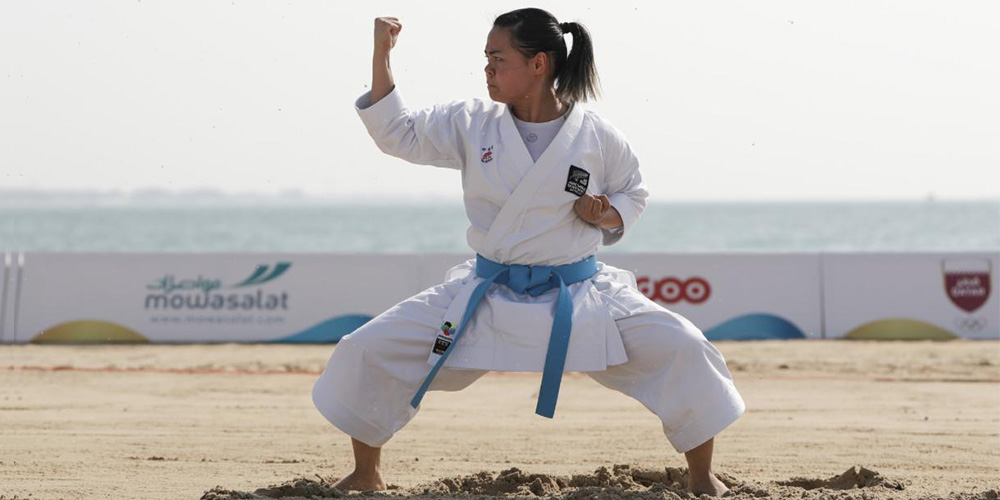 For New Zealand's kata star Andrea Anacan, competing in an ANOC World Beach Games in Doha was not where she would have anticipated being last October.
Kata is not a sport traditionally associated with the beach and it took Anacan a moment to get her bearings.
"When we arrived in Doha and I saw the venue my jaw dropped," she said. "I thought, this is so beautiful. I had to refocus myself and remind myself you're here to compete. Looking at the beach and then the competition; I was so grateful to be there and the view was so nice."
It wasn't just the beautiful setting that was new for Anacan, but also competing in a multi-sport event with athletes from nearly 100 NOCs.
"I loved the atmosphere of the Games; seeing all the different countries in the same hotel and all the different sports. At first I was in awe looking at them because as kata people we are quite short and you get the volleyball players who are quite tall from different countries!"
The Athletes' Village certainly presented plenty of opportunity for athletes to mix and learn more about each other's sports and cultures. But on the field of play there was no time for niceties.
"The level of competition was extremely high," Anacan recounted. "We were competing against the world champions and world medallists. But it is not just karate it was the same with all the different sports.
"I watched quite a few of the sports and it was so exhilarating because a lot of the top people were there and the competition was really high so I felt like wow this is like a really high calibre event not just for karate but for all the events."
The ANOC World Beach Games is about more than elite sport and for Anacan it is clear the experience left a positive impression on her. So much so she hopes the Games could come to her home country one day.
"I would love New Zealand to host the ANOC World Beach Games. A lot of Kiwis are quite sporty and we have a lot of beautiful beaches here." Photo caption: New Zealand kata athlete Andrea Anacan.