Al Shaqab hosts the first leg of the Longines Global Champions Tour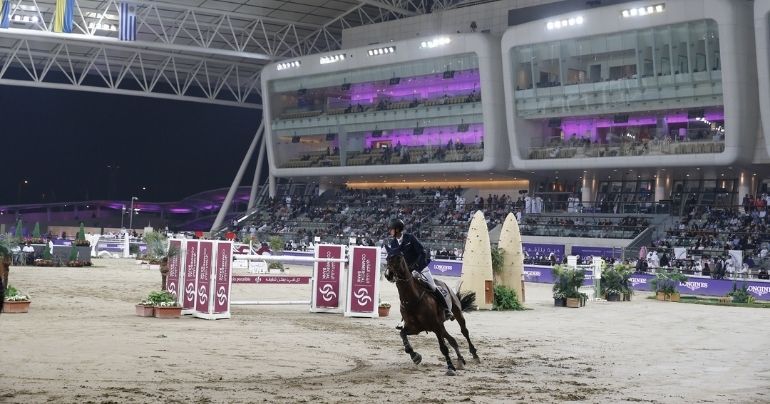 From Thursday to Saturday, Al Shaqab will hold another esteemed and one of the world's most famous showjumping events, the Longines Global Champions Tour (LGCT).

Just a few days after staging its flagship event, the CHI Al Shaqab, the Longines Arena at Al Shaqab, one of the world's finest equestrian centers, will host the LGCT's first leg which will feature the world's best riders vying for top honors.

The CSI5* event will feature as many as 48 foreign riders, including Christian Ahlmann of Germany, who won the CHI Al Shaqab Grand Prix last week. Pieter Devos (BEL), Marcus Ehning (GER), Maikel van der Vleuten (NED), Penelope Leprevost (FRA), Peder Fredricson (SWE), Christian Ahlmann (GER), Edwina Tops-Alexander (AUS), Gregory Wathelet (BEL), and Eric Lamaze (BEL) will be accompanying him (CAN).

With a golden ticket to the Longines World Champions Tour Super Grand Prix at the GC Prague Playoffs on the horizon, the showjumping stars will be taking out all the stops to try and land on the top step of the podium in Doha.

A media conference was held near the outdoor riding arena at Al Shaqab to kick off the action. It was discussed by Omar al-Mannai, Al Shaqab's Event Organizer and Commercial Advisor, Jan Tops, LGCT and GCL's President and Founder, and Marco Danese, LGCT's Sports Director.

"Events like the Longines Global Champions Tour and Commercial Bank CHI Al Shaqab Hosted by Longines, which are held back-to-back at Al Shaqab, lead to Qatar's National Vision 2030 and help to foster the country's equestrian growth. It also represents Qatar's contribution to equestrian activities on a national basis.

The LGCT opener is a major relief for riders and promoters worldwide since the current pandemic and the European winter have stopped the sport from taking place. Doha is a massive comfort and welcome.

Marco Danese, LGCT's Sports Manager, praised the hosts for rendering the LGCT's first leg possible.