Al Sadd holds the Qatar Cup title with a victory over Al Duhail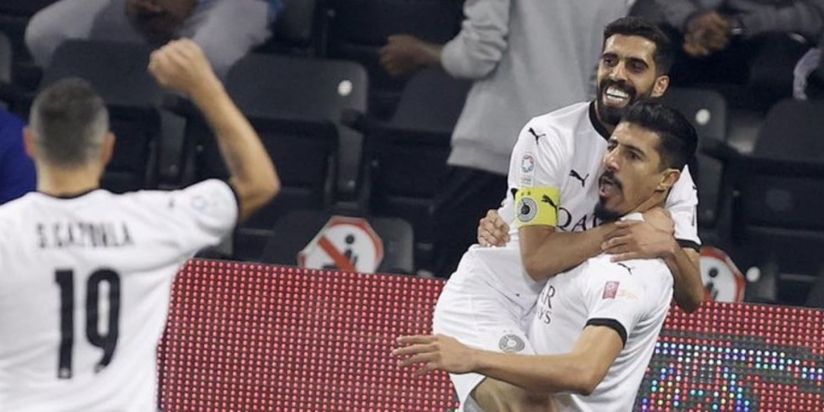 As Al Sadd kept the Qatar Cup title with a 2-0 win over Al Duhail in the final at Abdullah Bin Khalifa Stadium, the dreaded striker Baghdad Bounedjah scored a brace.
Al Sadd won the second award in the tournament yesterday, after its relaunch under the new name in 2014.
That was also the Wolves' 74th overall title when they lived up to their idol's name in front of socially-disconnected fans against The Red Knights.
Bounedjah, who also scored a brace in last December's 2-1 victory over Al Arabi in the Amir Cup final, began his account yesterday with a brilliant 9th minute headed goal, before netting his second goal in the 77th minute to motivate the Xavi Hernandez-coached side to the current season's first trophy.
Qatar Olympic Committee (QOC) President HE Sheikh Joaan bin Hamad Al Thani handed over the trophy to Xavi and captain Hasan Al Haydos.
The cup was handed over to Xavi and captain Hasan Al Haydos by the President of the Qatar Olympic Committee (QOC), H E Sheikh Joaan bin Hamad Al Thani.
But, as predicted, Al Sadd controlled Al Duhail, who were far from their strongest.
After a mediocre first half, the Red Knights improved in the second half, but they squandered several opportunities to allow Al Sadd to prevail. After a poor start to the final, Al Sadd took the lead when Nam Tae-attempt hee's from a threat region took a rebound from the defender touching Bounedjah, who hit the ball with a first overhead kick past Al Duhail goalkeeper Salah Zakaria.
After Al Sadd's first goal, Al Duhail launched a few strikes, but none of them were successful.
After reviewing VAR, referee Khamis Al-Marri overturned his decision to grant a penalty to Al Sadd ten minutes before halftime, with a video replay revealing Mohamed Musa Ali did not make any contact with Bounedjah, trying to storm inside the box.
Al Sadd went with a path into the pipe, but after the arrival of Michael Olunga, Al Duhail returned as a stronger hand, replacing Karim Boudiaf and Ismail Mohamad, coming in for Ali Malolah.
The Red Knights produced possibilities, but due to lack of execution, the target was once again to elude them.
With the clock hitting the hour mark, after receiving a superb cross from Captain Almoez Ali, Olunga missed a golden chance, but his shot from close the penalty area was too far. The Kenyan striker and Paulo Dasilve Edmilson, in moves mainly led by Almoez, made further attempts to score.
Instead, Al Sadd scored their second goal after Xavi substituted Yusuf Abdurisag Yusuf for Alhaydos in the 72nd minute.
Cazorla sent Bounedjah a great pass, and after a short sprint, the Algerian pounded the ball over Zakaria to secure Al Sadd's win.
Sultan Hussain Al Brake was sent off for pulling down Al Sadd's Yusuf Abdurisag in frustration during Al Duhail's losing final.
Al Sadd, who are chasing a treble, is predicted to earn their second title of the season when they face Umm Salal on March 7, as they are just one win away from winning the QNB Stars Championship.