World Cup Disappointment: Spain Edges Out Sweden in Semi-Final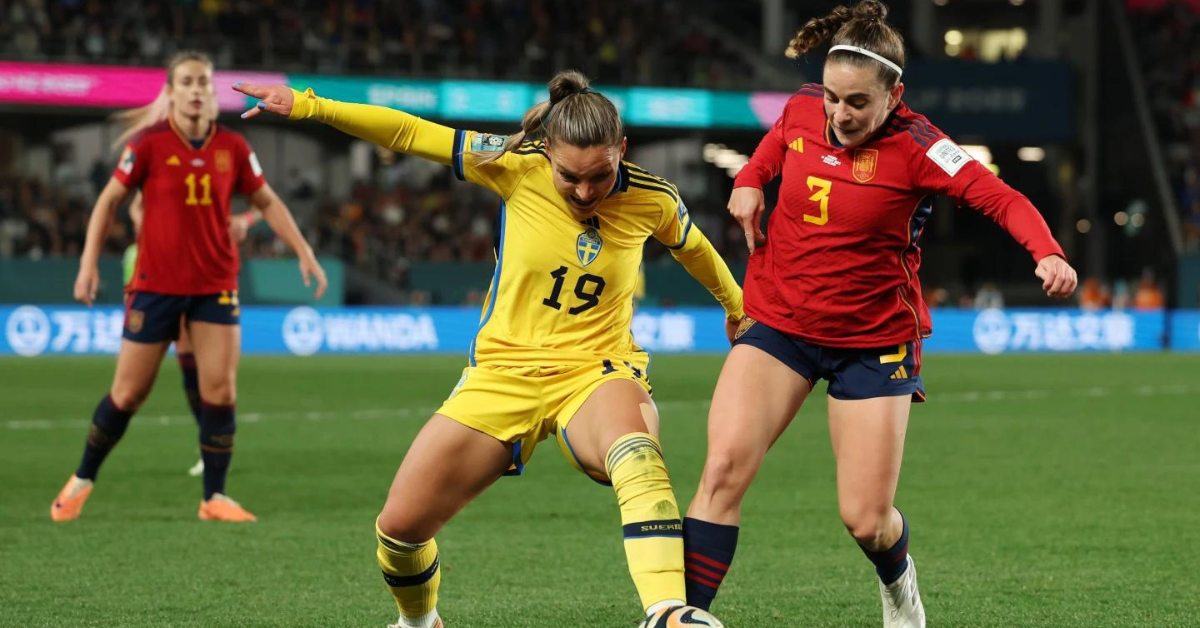 In a thrilling encounter in Auckland, the hopes of our Swedish Blues were dashed as they suffered a narrow 2-1 defeat against Spain in the World Cup semi-final.
The clash marked the historic first meeting between Sweden and Spain in a World Cup. The Swedish team, no strangers to this stage, were competing in their fifth semi-final, while Spain embraced their inaugural appearance in the semi-final of the tournament.
With a spot in the final at stake, our Swedish Blues were determined from the outset against Spain. Zecira Musovic, who had garnered attention with her stellar performances, remained the goalkeeper, while Johanna Rytting Kaneryd had consistently posed a threat on the wings.
Zecira Musovic stood out with impressive performances for Sweden at the World Cup this summer
Early possession was dominated by Sweden, but Spain began to grow in confidence after the first 15 minutes. Olga Carmona found space to drive forward and came close to opening the scoring for Spain, but her left-footed strike narrowly missed the target.
The first half was closely contested, with Spain attempting to trouble Sweden with deep crosses into the box. The Swedish defense held firm, but they were yet to create a clear-cut chance to challenge Spain's goalkeeper, Cata Coll.
Right before halftime, Sweden came close to scoring when a looping cross towards the back post met Fridolina Rolfo, who volleyed powerfully, only to be denied by Coll, leaving the teams level at the break.
Intense Finale
As the second half commenced, both teams continued to battle intensely for a breakthrough, yet opportunities remained scarce as the game passed the hour mark. Rytting Kaneryd made a promising run behind Spain's defense, but her forceful cross eluded three yellow shirts in the box.
Spain's best chance of the half came with 20 minutes left, as Alba Redondo found herself with an opportunity. A left-sided cross was skillfully kept in play by Salma Paralluelo, who found Redondo, but her close-range shot hit the side-netting, eliciting a sigh of relief from Sweden.
In the frantic closing minutes of normal time, Spain appeared to land the decisive blow when Paralluelo netted from close range. However, Sweden swiftly retaliated through Rebecka Blomqvist. Yet, Carmona's long-range effort shattered Swedish hopes, sending Spain to their maiden World Cup final and relegating Sweden to the third-place play-off.
Musovic's pivotal role in Sweden's semi-final journey was highlighted by a single-game World Cup record of 11 saves in the Round of 16 against the United States.
What Comes Next?
Spain is set to face the winners of the semi-final clash between Australia and England in the World Cup final in Sydney on Sunday, August 20, with kick-off scheduled at 11am (UK time).
As for Sweden, they will contend against the defeated team from the Australia vs. England semi-final in the third-place play-off match in Brisbane on Saturday, August 19, with kick-off at 9am (UK time).
By – Sahiba Suri