Real Madrid vs. Manchester Two Standout Players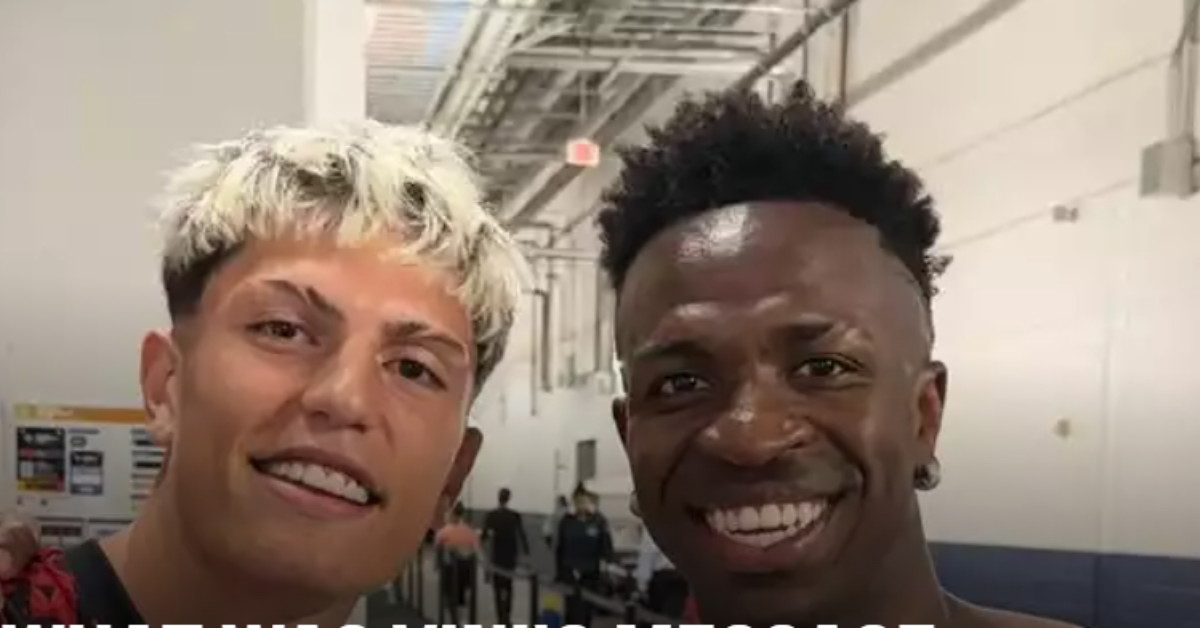 Real Madrid vs. Manchester City's Two Standout Players
two standout players were the left wingers, Vinicius Jr and Alejandro Garnacho. Despite it being a friendly fixture at the NRG Stadium in Houston, both players displayed electrifying performances.
Vini, only 23 years old, is recognized as one of the brightest stars in world football, notably scoring the winning goal in the Champions League final last year. On the other hand, Garnacho, four years younger, has been making a name for himself with an impressive debut season at Old Trafford.
Following the friendly, a heartwarming moment occurred outside the locker rooms in Texas. Vinicius Jr presented Garnacho with his signed no.7 shirt, beginning the message with 'Para mi hermano,' meaning 'For my brother' in Portuguese. He also described Garnacho as 'el crack,' a Spanish football term for a superstar player. The gifted shirt left Alejandro visibly delighted.
Anthony Garnacho, the talented Manchester United winger, left a lasting impression in the recent match, showcasing his prowess on the field. His contribution to the game was evident as he continuously tested the opposition's goalkeeper, Andriy Lunin, with a series of powerful efforts. It was a testament to his skills and determination that he managed to keep the Real Madrid defense on their toes throughout his time on the pitch.
Garnacho's performance was nothing short of impressive, demonstrating his ability to take on defenders, create scoring opportunities, and unleash powerful shots on goal. His presence on the field added a dynamic dimension to Manchester United's attacking play, and he proved to be a constant threat to the Real Madrid backline.
However, like all good things, Garnacho's time on the pitch came to an end when he was substituted by manager Erik ten Hag in the 61st minute. The substitution was likely part of a tactical decision to rotate the squad and provide valuable playing time to other members of the team. While Garnacho's departure from the match was met with disappointment from fans who were enjoying his performance, it also highlighted the depth and versatility of the Manchester United squad.
Looking ahead, Garnacho now sets his sights on a key role in the upcoming match against Borussia Dortmund, which will take place in the vibrant city of Las Vegas. This match marks the conclusion of Tour 2023 for Manchester United, and it presents an exciting opportunity for Garnacho and the team to cap off their preseason preparations on a high note.
The clash with Borussia Dortmund promises to be an intriguing contest, as both teams will be eager to fine-tune their strategies and assess their readiness for the upcoming competitive season. For Garnacho, it's a chance to build on his impressive form and continue making a case for a prominent role in Manchester United's starting lineup.
As the anticipation builds for this exciting encounter in Las Vegas, fans eagerly await Garnacho's performance and the overall team dynamics. It's not just a preseason match; it's a chance to gauge the team's progress, chemistry, and potential ahead of what promises to be an exciting and challenging season for Manchester United. Garnacho's journey is far from over, and with each match, he inches closer to establishing himself as a key figure in the club's pursuit of glory.
For more related updates visit our official website .
By- Sahiba Suri