Messi and Verratti heartfelt exchange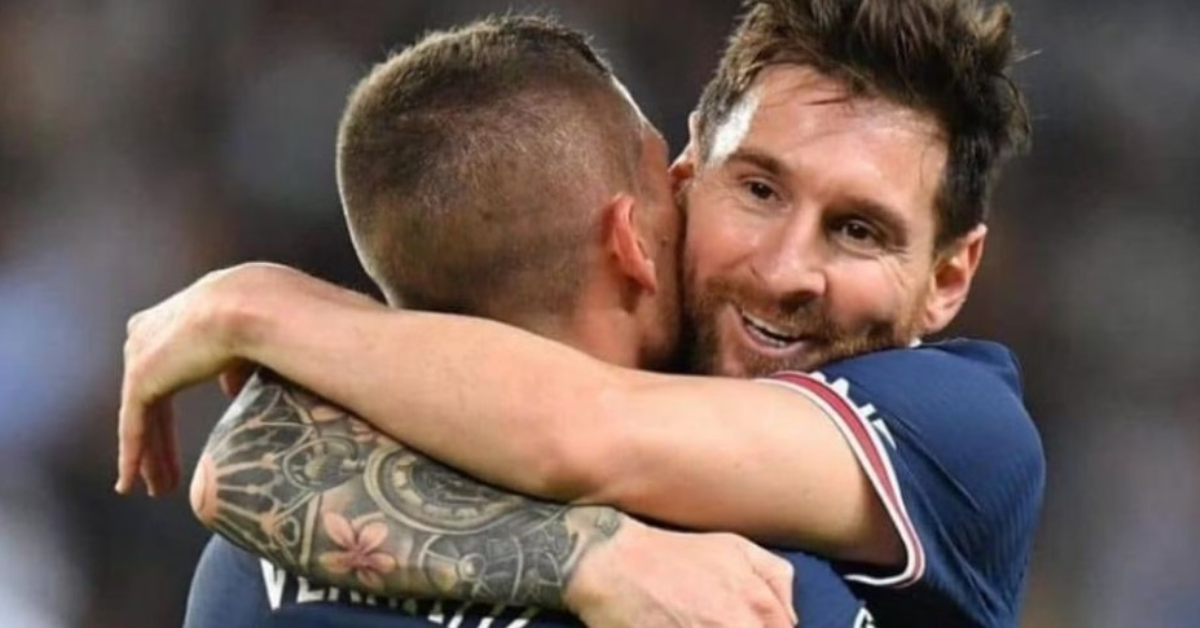 Messi and Verratti heartfelt exchange
Lionel Messi Sends Heartfelt Message to Marco Verratti After Al-Arabi Transfer
Inter Miami superstar Lionel Messi has sent a touching message to his former Paris Saint-Germain (PSG) teammate Marco Verratti following Verratti's recent transfer to Saudi Pro League club Al-Arabi.
Verratti's move marked the end of his remarkable 11-year journey with PSG, where he made 416 appearances, scored 11 goals, and provided 61 assists. During his time with PSG, Verratti achieved tremendous success, winning 30 trophies, including nine Ligue 1 titles and six French Cups.
Messi and Verratti had the opportunity to share the field during Messi's two-season tenure in Paris from 2021 to 2023. Together, they secured two Ligue 1 titles and the Trophee des Champions, but fell short in their quest for the UEFA Champions League.
In response to Verratti's transfer to Al-Arabi, Messi took to Instagram and shared a heartfelt post featuring a photo of the duo chatting in the dressing room after a match between Italy and Argentina. Messi's caption, dated September 13, conveyed his well-wishes to Verratti: "All the luck in your new stage, @marco_verratti92!!! You already know I wish you the best always."
During their time together at PSG, Messi and Verratti shared the pitch 56 times, with Messi providing an assist to Verratti once. Their partnership yielded 35 victories and 12 losses, with an overall goal tally of 132-61 in PSG's favor.
In addition to their club encounters, Messi and Verratti faced each other eight times in the knockout stages of the Champions League when Messi was still with Barcelona. Each team won three matches, with two draws in their competitive history.
The touching interaction between Lionel Messi and Marco Verratti on social media serves as a poignant reminder of the deep camaraderie and profound mutual respect that often exists between footballing talents. These two players, who have graced the world stage with their extraordinary skills, have not only shared memorable moments on the field but have also developed a genuine friendship beyond the confines of the pitch.
The world of football is replete with stories of teammates who form enduring bonds through their shared experiences on the grassy battlegrounds of stadiums worldwide. While the sport is defined by competition and rivalry, it is equally characterized by the bonds of friendship and camaraderie that can develop among players who share a common passion for the game.
Lionel Messi and Marco Verratti's journey together at Paris Saint-Germain (PSG) was marked by both triumphs and challenges. The pair donned the PSG jersey, creating magic with their footballing prowess, securing two Ligue 1 titles and the Trophee des Champions. These accomplishments solidified their status as champions in the footballing world. However, the elusive UEFA Champions League title remained just out of their grasp, serving as a testament to the unpredictable nature of football.
For more related updates visit our official website .
By- Sahiba Suri