Maine Road stood as Manchester City's home for a remarkable 80 years before the Club made a significant ..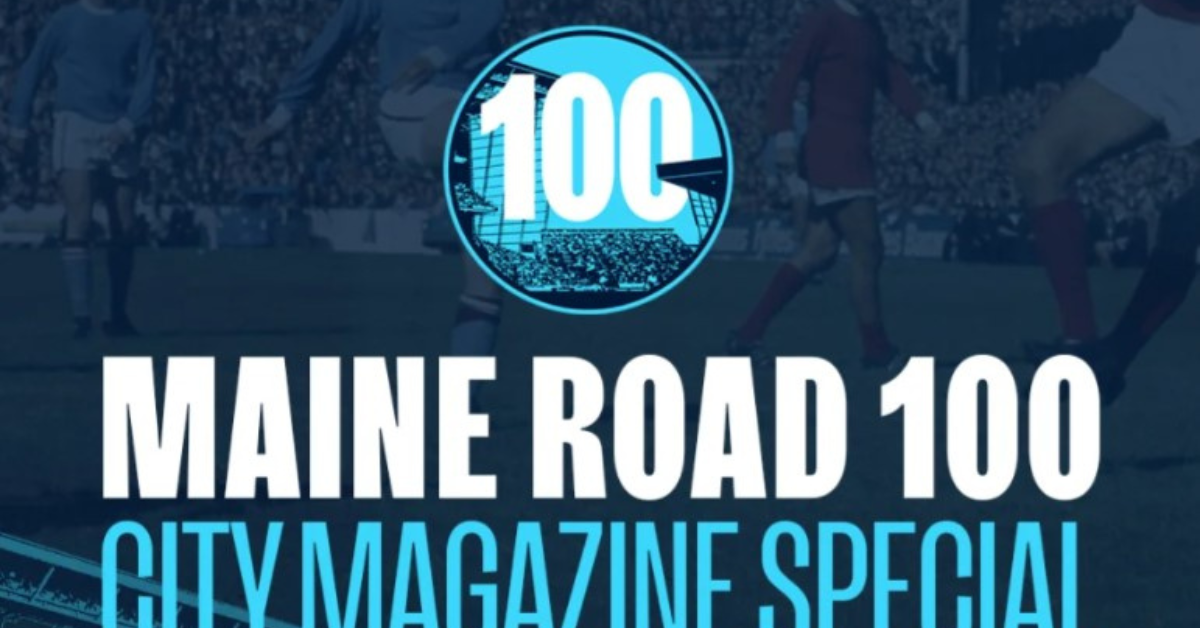 Move across Manchester to what was then commonly referred to as Eastlands.
This transformation occurred two decades ago, and since then, the Etihad Stadium has undeniably become our new cherished abode.
Yet, in this unique edition of the City Magazine, we honor the 100th anniversary of the commencement of the Blues' tenure at Maine Road.
Within these pages, we journey through the history of City during the vibrant 80 years spent in Moss Side. We delve into the cherished matches and remarkable individuals that made this venue an extraordinary space.
While we can merely provide a snapshot of that era, we aspire to encapsulate the core essence and spirit of Maine Road within these following pages.
We trust that this endeavor will rekindle fond memories, ignite smiles, and offer you an enjoyable tribute to Maine Road through our City Magazine.
City 2-1 Sheffield United
August 25, 1923, Division One
City Lineup: Mitchell, Cookson, Fletcher, Hamill, Woosnam, Pringle, Donaldson, Roberts, Johnson, Barnes, Murphy.
Sheffield United Lineup: Gough, Milton, Cook, Pantling, Waugh, Green, Mercer, Sampy, Johnson, Gillespie, Tunstall
Attendance: 56,993
A moment of immense pride enveloped Manchester City and its devoted fans as the Blues stepped onto the hallowed grounds of their brand-new home in Moss Side for the very first time in August 1923.
The impressive crowd of 56,993 attendees marked a new attendance record for the club, having moved from the less grand environs of Hyde Road just a few months prior.
While the memory of their former home and its distinctive ambiance lingered, fragments of the past were preserved at Maine Road. Goal posts and multiple turnstiles found their place while the roof of the old main stand journeyed to Halifax Town's The Shay stadium, sheltering a fresh set of shivering souls from the rain.
Determining the exact cost of the new stadium proves challenging, yet various reports suggest it stood around £150,000. Designed by the adept Manchester architect Charles Swain and constructed by the skilled hands of Sir Robert McAlpine builders in less than twelve months, the ambitious project served as a testament to the dedication of all involved in its creation.
Maine Road's seating capacity doubled that of Hyde Road, accommodating approximately 80,000 spectators. In England, only Wembley Stadium, inaugurated merely months earlier, could surpass that capacity. The expansive terrace that met the players as they took the field was initially known as the 'popular side' (later becoming the Kippax). It was where the majority of City fans congregated for the inaugural match, a trend that would endure until the ground's closure eighty years later.
Though only the Main Stand was sheltered, the resounding cheers of the crowd dissipated into the open air, yet an undeniable aura resonated as Ernest Magnall's team graced the pitch. The legendary all-round sportsman Max Woosnam captained the side, leading them out onto the field while the assembled band played 'Ours is a nice house, ours is.'
Woosnam's absence throughout the 1922/23 season, due to a leg injury sustained from colliding with a wooden fence at Hyde Road, and his subsequent inability to defend his Wimbledon doubles title during that time, made his proud moment even more remarkable. Undoubtedly filled with immense pride, Woosnam rallied the team, ensuring that the opening game at Maine Road culminated in victory. Following the captain's leadership, the Lord Mayor of Manchester made his introduction to the players before ceremonially kicking off the match. Tommy Johnson then did the same moments later on referee Howcroft's whistle, marking the true beginning of an entirely new era for the Blues
By- Sahiba Suri