Etihad Stadium Turns 20: A Glance Through 20 Key Facts and Figures!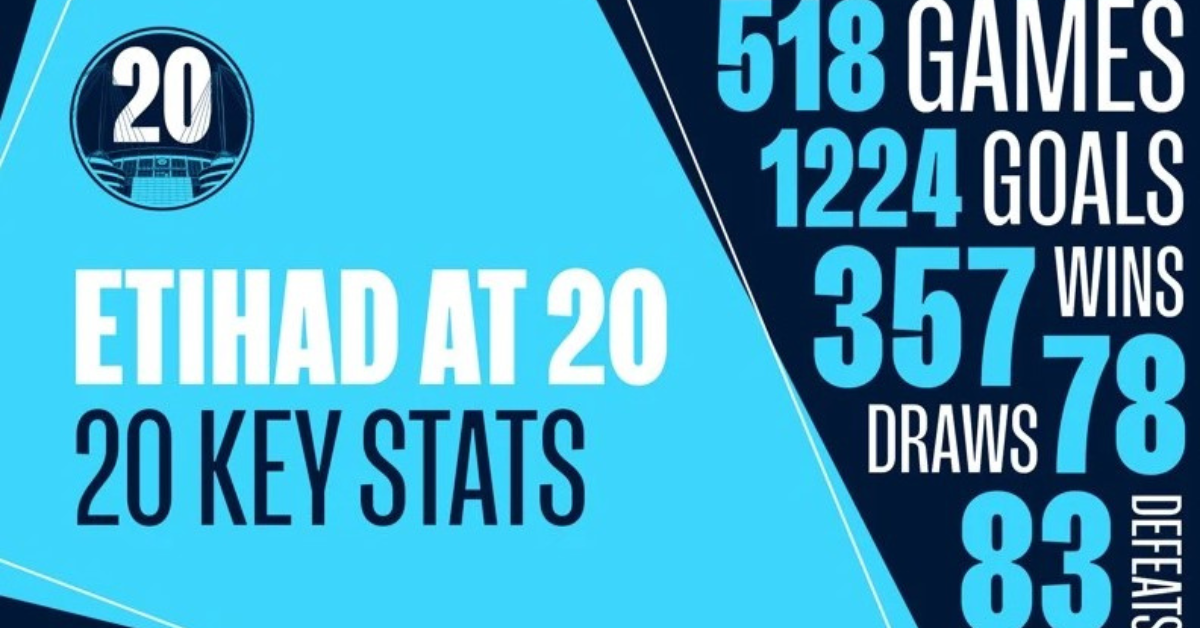 Today marks a splendid two decades since the inaugural kick-off resonated within the walls of our cherished home, the Etihad Stadium.
MEN'S TEAM
Honoring Etihad at 20: Chairman's Salute to Stadium's Pulsating Energy!
From that memorable friendly clash against FC Barcelona in 2003, this hallowed ground has etched itself into history, symbolizing not just sensational football moments, but also a treasure trove of trophies.
Our unwavering presence in the Premier League at this iconic venue has spanned every season, and the latter ten years have sculpted the pinnacle of the Club's triumphs.
Since our triumphant transition from Maine Road, the 2011 FA Cup was our maiden conquest, acting as the opening act to an unparalleled era of dominance in English football. With seven Premier League titles, three FA Cups, six League Cups, and the crowning glory of our maiden Champions League trophy last season, our men's team has been the unyielding heartbeat of the beautiful game.
Crafting this legacy demanded a whopping 518 appearances at the Etihad Stadium across varied competitions. Among them, 357 have culminated in exultant City victories, while 78 concluded in a shared spoils, and a mere 83 ended in defeats.
These 518 clashes witnessed City's net bulge on 1,224 occasions, while the back of our net gently quivered with just 449 goals conceded. Leading this electrifying spectacle is the indomitable Sergio Aguero, who has struck 149 times on this revered pitch.
Our ultimate feat of triumph, a resounding 9-0 victory over Burton Albion in 2019, reigns supreme as our most monumental conquest at the stadium. Alongside, the overpowering 8-0 drubbing of Watford in 2021 stands as a towering triumph within the annals of the Premier League.
During the unforgettable reign of Roberto Mancini, our home league supremacy manifested as an extraordinary winning streak, extending between March 2011 and 2012. This remarkable stretch of 20 consecutive victories, adorned with 56 goals scored and a mere 8 conceded, secures the accolade of the second-longest home winning run in Premier League history.
In the realm of appearances, none rival David Silva, who gracefully graced the Etihad turf a staggering 216 times during his illustrious ten-year stint in Manchester.
As we honor Etihad Stadium's two decades of grandeur, we present a curated collection of the most compelling statistics and intriguing tidbits that illuminate the vibrant journey we've embarked upon within these storied walls.