CITY'S BARCLAYS WSL 2023/24 STATS SO FAR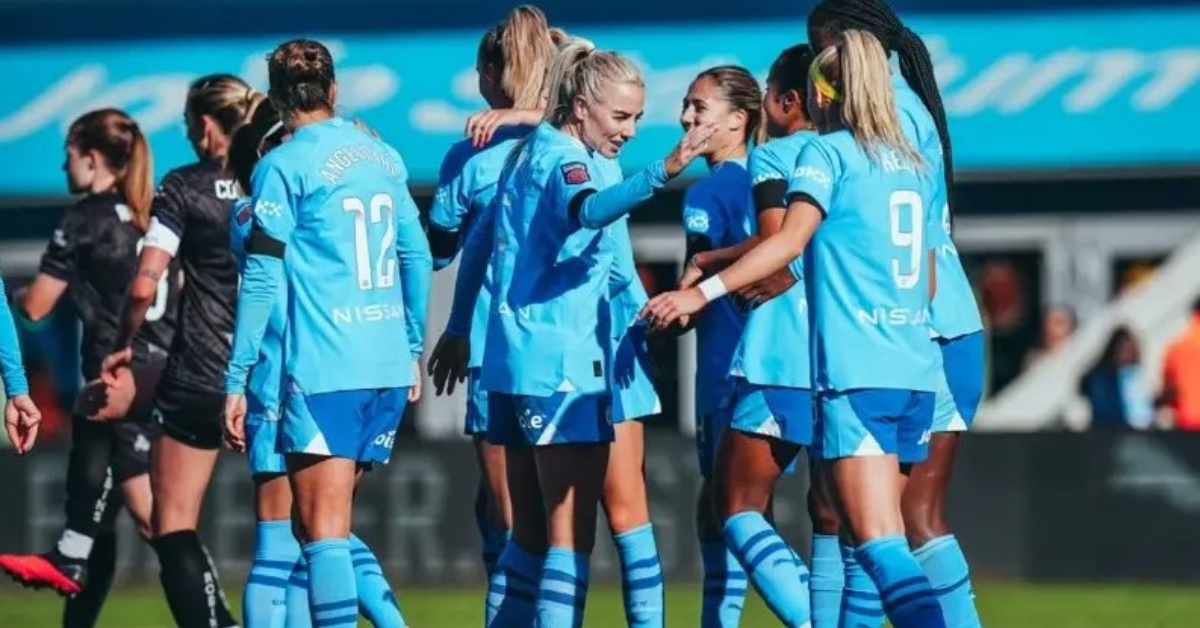 As Sunday approaches, City's gearing up to return to Barclays Women's Super League action following the recent international break. Our upcoming clash with Arsenal at 12:30 (UK) presents another opportunity to test our title-contending credentials, with next weekend's match against Brighton at the Joie Stadium set to be broadcast live on CITY+.
Under the leadership of Gareth Taylor, our team has made a positive start to the new campaign, securing 10 points from the first four games. Currently, we share the top spot in the table with reigning champions Chelsea, with the only points dropped being in a 1-1 home draw.
Let's delve into the key statistics that have contributed to this promising start:
SOLID AS A ROCK
The foundation of a strong team lies in its defense, and Gareth Taylor's side is no exception. We have conceded just one goal, which occurred in the late stages of the game against Chelsea while we were down to nine players. In contrast, Liverpool, currently in sixth place, has conceded two goals, but this has come at the expense of their offensive threat, as they have scored only four times, while we have already netted nine goals. As a result, our goal difference of +8 is the best in the division.
Our defensive lineup has remained stable, with 19-year-old Khiara Keating playing every minute in goal, earning the distinction of being the only goalkeeper with three clean sheets so far. With an xGA (expected goals against) of 3.2 and a league-leading save percentage of 91.7, Keating has been instrumental in thwarting opponents' efforts. She has received protection from players like Alex Greenwood, Alanna Kennedy, and Laia Aleixandri in every game. Esme Morgan and Leila Ouahabi have also contributed to the team's defensive efforts. With experienced players like Steph Houghton, Kerstin Casparij, and Ruby Mace ready to step in when needed, and two international goalkeepers supporting Keating, our defense appears robust for the entire season.
MA-ROORD-ING START
Jill Roord, our summer signing, has seamlessly adapted to life at City. She is currently our top scorer with three goals, including a strike on the opening day against West Ham and two goals in the 5-0 victory over Bristol City. Roord has taken a total of 10 shots, with four of them on target. She has also provided an assist to Chloe Kelly for her goal against Leicester City, marking her first assist of the campaign. Roord has recorded 16 shot-creating actions, a statistic that includes passes or runs. This is the highest figure for City and ranks fifth across the league.
GOALS FROM EVERYWHERE
City's offensive threat has been diversified among various players. Bunny Shaw, last year's record-breaker, has scored two goals in two games and is poised to replicate her previous season's achievements now that she is back to full fitness. Chloe Kelly has also netted twice, while Lauren Hemp and Laia Aleixandri have contributed one goal each. In terms of assists, Mary Fowler and Aleixandri have two assists each, while Greenwood and Roord have provided one assist each.
BACK TO FRONT
City's distinctive playing style has remained prominent this season. Our defenders and deepest midfielder, Yui Hasegawa, have played pivotal roles in advancing the ball. Five of the league's top 10 players for passes into the final third are from City. Alex Greenwood leads the way with 34 passes into that section of the pitch, closely followed by Esme Morgan (29), Alanna Kennedy (28), Hasegawa (26), and Laia Aleixandri (26). While most prominent sides have one defender capable of this style of play, our team stands out with multiple players capable of breaking the lines with incisive passes, allowing our offensive threat to originate from various positions on the field.
For More Related Updates Please Visit Our Official Website
By- Sahiba Suri