CITY DNA #40: JOE MERCER – Architect of Glory, Guardian of Dreams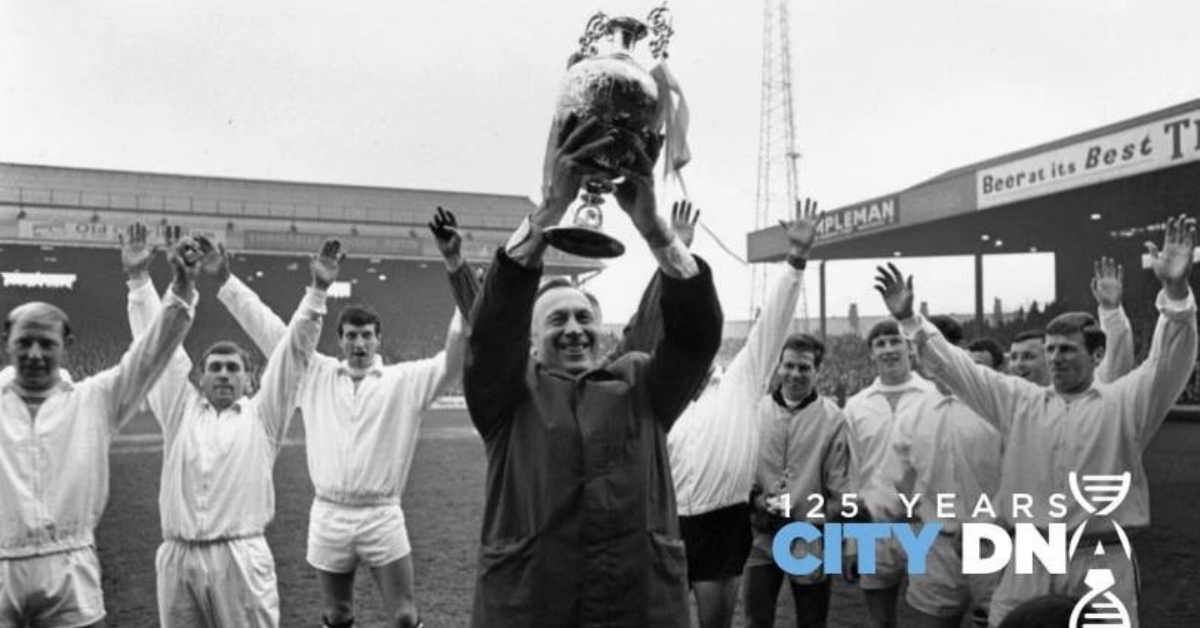 In the hallowed echoes of time, where legends are woven into the very fabric of history, one name emerges as a beacon of brilliance – Joe Mercer. Today, on the solemn 23rd anniversary of his departure, we stand at the crossroads of memory and majesty, revisiting the extraordinary life of a man who etched his essence into the soul of our beloved city.
The term "legend" often dances carelessly on the lips, but for Joe Mercer, it was a truth universally acknowledged. A luminary among post-war football luminaries, Joe remains an icon, a guardian of Manchester City's legacy, and a weaver of dreams that continue to paint our history in hues of glory.
His presence is more than a chronicle; it's an intricate thread woven into our DNA. On this very day in 1965, Joe Mercer assumed the mantle of leadership, becoming the guardian of a legacy that would resonate through generations.
The symphony of Joe's genius harmonized with the visionary notes of coach Malcolm Allison, orchestrating an era that remains an enchanted memory. From the mid-sixties to the early seventies, they sculpted a saga that catapulted City onto the world stage.
A virtuoso manager, Joe curated a constellation of stars that ignited the firmament of English football. His assembly of players radiated a brand of play that mirrored his optimism and exuberance – a reflection of his own positive outlook on life.
In a world that often seemed monochrome, Joe's boys painted the town sky blue, etching smiles on the faces of fans fortunate enough to witness their brilliance.
Names like Colin Bell, Francis Lee, Mike Summerbee, Neil Young, Tony Book, Mike Doyle – they were more than names; they were constellations of talent that still shimmer across the canvas of time. Their legacy endures, an eternal fire ignited by Joe's guiding light.
The Maine Road maestros, sculpted under Joe's meticulous care, basked in a cascade of silverware during those halcyon days – Division One titles, FA Cups, League Cups, and the coveted European Cup Winners Cup. Each trophy a testament to Joe's inspiration and his unparalleled knack for nurturing greatness.
Yet, silverware was a familiar companion to Joe Mercer long before his managerial reign.
Born in the tapestry of 1914 in Ellesmere Port, a town steeped in football heritage, Joe was destined for greatness. The son of a former Nottingham Forest and Tranmere Rovers professional, he embraced the legacy passed down by his father. A left-half of immense talent, Joe's journey commenced at Everton in 1932. He contributed 186 league appearances, a vital cog in the Goodison machine that clinched the 1938/39 first division title.
Even as World War Two cast its shadow, Joe's brilliance couldn't be dimmed. Five England caps adorned his legacy before the world plunged into turmoil.
As the war's echoes faded, Joe's journey took him to Arsenal in 1946, a transfer that belied his age but magnified his impact. With the captain's armband gracing his arm, Joe orchestrated Arsenal's conquest of two league titles and an FA Cup, scripting tales of glory that adorned his legacy.
The final whistle of his playing days marked the beginning of another chapter, a chapter that saw Joe don many hats – grocer, aspiring journalist, and finally, manager.
The journey was a tapestry of highs and lows, culminating in his arrival at City. An initial challenge at Sheffield United was a precursor to his ascent, leading Aston Villa from the depths of despair to the summit of success, an overture of what awaited the City faithful.
Today, as we stand on the shoulders of history, we pay homage to Joe Mercer – a Maine Man who transformed dreams into destiny, etching his memory as an indelible mark on the heart and soul of Manchester City.