Kyle Walker's New Attacking Role at Manchester City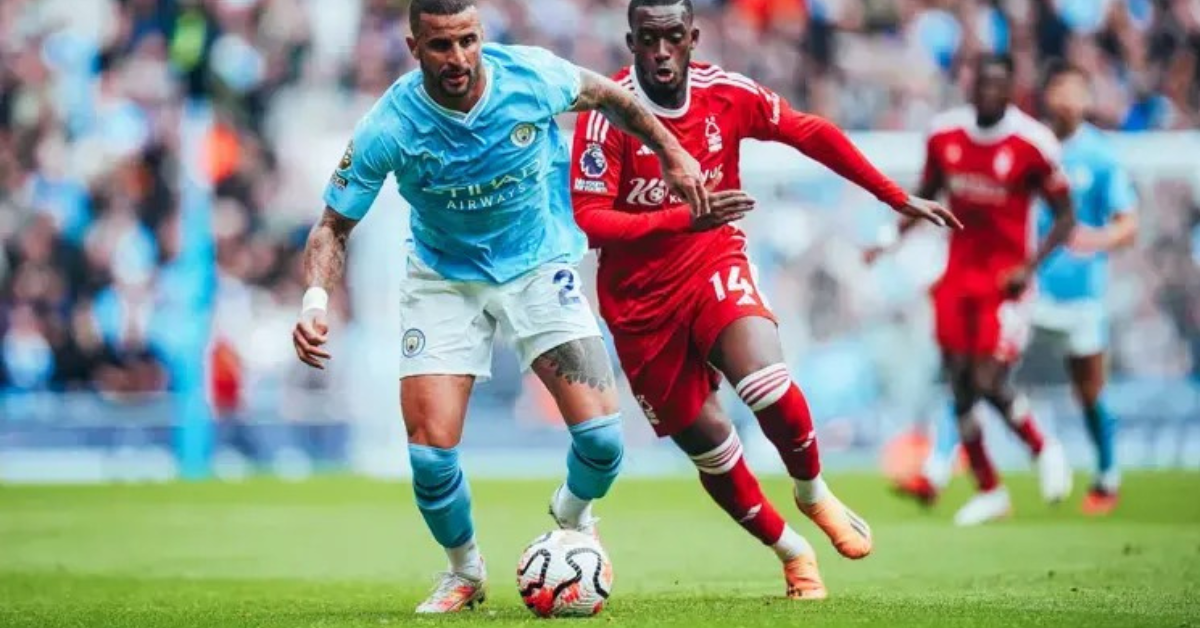 Kyle Walker's Embraces New Attacking Role as Manchester City Maintains Perfect Record
In the world of football, adaptability is key. Players often find themselves in new positions, roles, or formations to suit the ever-evolving tactics of their teams. This season, one such adaptation has been on display at Manchester City, and it involves none other than their captain, Kyle Walker.
In a recent Premier League match against Nottingham Forest, Walker showcased his newfound attacking responsibility, a role that has been assigned to him by the maestro of tactics himself, Pep Guardiola. The result? A beautifully orchestrated goal that demonstrated Walker's ability to contribute not only defensively but also in the attacking third.
The play that led to the goal was a testament to the meticulous planning and execution seen in Guardiola's Manchester City. Walker, typically a full-back known for his defensive prowess, made an incisive run behind the Nottingham Forest defense. This intelligent run was not only identified by his teammate Rodrigo but also executed perfectly. Rodrigo spotted Walker's run and delivered a perfectly timed pass into his path, allowing Walker to provide the assist that set up Phil Foden's goal.
The Etihad Stadium erupted in celebration, but this was more than just a goal; it was a glimpse into Manchester City's tactical evolution for the 2023/24 season.
After the match, Walker shared his insights into this new role. He emphasized the significance of the timing of his runs, a technique that makes it incredibly challenging for defenders to stop him. As a full-back himself, Walker understands the difficulties defenders face when dealing with such runs. He is now utilizing this knowledge to exploit opposition defenses.
"This season, I'm playing a slightly different role," Walker explained. "I find myself positioned higher up the field, where I can contribute not only with assists but also with goals. It's all about the attacking power we have as a team. I stretch wide and make those deep runs. I hope to continue delivering performances at this level."
This evolved role for Walker isn't just about scoring goals or providing assists; it's about adding a new dimension to Manchester City's attacking play. His positioning higher up the field forces opposition full-backs to defend deeper, creating space and opportunities for other attacking players. It's a tactical tweak that adds another layer to Guardiola's intricate system.
However, it's not always smooth sailing for any team, even one as dominant as Manchester City. In this match, they had to overcome adversity when Rodrigo was shown a straight red card, leaving them with ten men. The team had to dig deep, and Walker commended his teammates for their resilience.
"When you play matches every three or four days, tiredness can affect your emotions," Walker noted. "It's a lesson we need to learn from. We have a busy schedule ahead, and we can't allow our emotions to dictate our actions on the field."
Rodrigo took responsibility for the red card and apologized to his teammates in the dressing room. Walker believes this incident serves as a valuable lesson for everyone on the team about maintaining composure, especially during challenging moments.
"We move on," Walker affirmed. "These situations are opportunities to learn and grow. When you're on the field, you carry a level of responsibility. It's all part of the journey."
As Manchester City continues its quest for glory, Kyle Walker's adaptation to his new attacking role and the team's ability to learn from challenges are indicative of a side that remains hungry for success. Under Guardiola's guidance, they aim not only to maintain their perfect record but also to continue evolving, adapting, and conquering the ever-changing landscape of football.
For More Related Updates Visit Our Official Site
By- Sahiba Suri