Europa Triumph: Liverpool Dominates Toulouse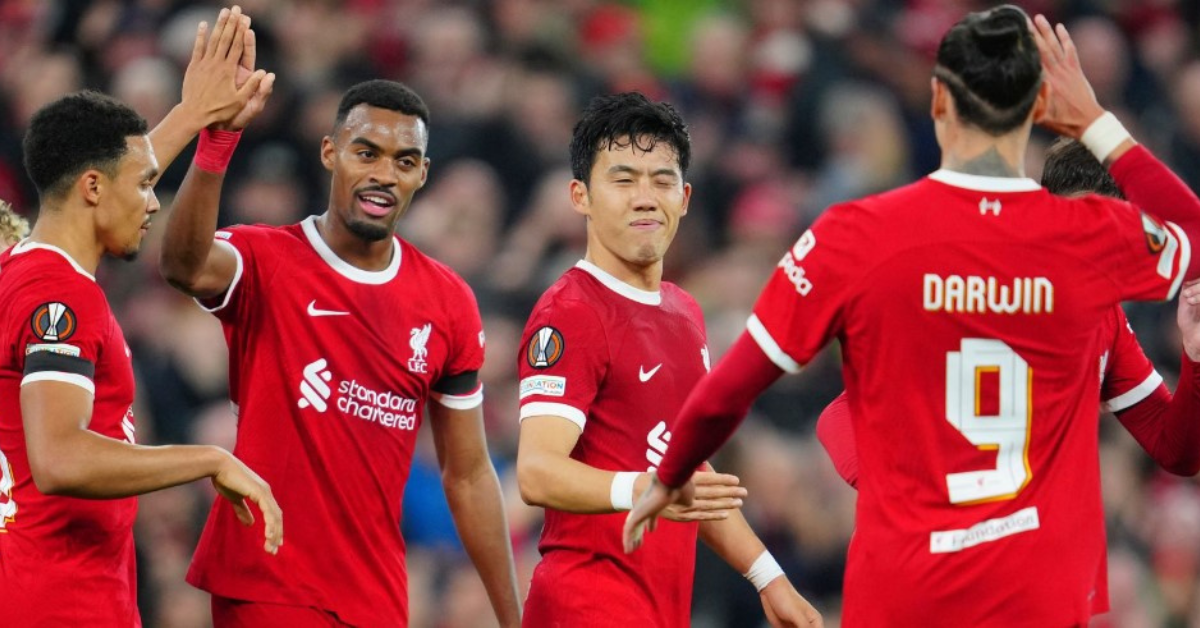 Liverpool secured a convincing 5-1 victory over Toulouse in the Europa League, with midfielder Ryan Gravenberch delivering a standout performance. This win puts Liverpool in a commanding position in Group E and a step closer to the knockout phase of the competition.
The match at Anfield started with an early goal from Liverpool, as Diogo Jota scored just nine minutes into the game after an impressive run. However, Toulouse responded quickly, equalizing with a goal from Thijs Dallinga five minutes later.
Wataru Endo, who had yet to score for Liverpool, headed in his first goal for the club to regain the lead. This was followed by another goal from Darwin Nunez before the half-time break. Mohamed Salah came off the bench to add a fifth goal for Liverpool in stoppage time, further cementing their victory.
Gravenberch's performance was a highlight of the match, and Liverpool manager Jurgen Klopp praised the young midfielder. Speaking about Gravenberch, Klopp stated, "I'm so happy for him that he starts really enjoying his football again. His first touch is incredible, his acceleration with the ball. He's not even halfway there. The good thing is that he has a lot of things to improve."
Klopp was also impressed with Wataru Endo's performance. The Japanese midfielder played a crucial role in the game, breaking the lines with his passing and heading in a goal. Klopp praised Endo, saying, "He was really strong… [The goal is] a nice next step for him."
Liverpool's victory extended their winning streak in the Europa League to three games, creating a five-point lead at the top of Group E. This puts them in a favorable position to progress to the knockout phase of the competition.
The victory over Toulouse showcased Liverpool's strength and depth, with several players contributing to the team's success. Klopp's side dominated the game, and if they continue this form, they are likely to advance further in the tournament.
While Liverpool's performance was exceptional, there was a comical moment during the game when Darwin Nunez missed an open goal. However, Klopp was not concerned about the miss, stating, "I couldn't care less about Darwin miss. He's in a good moment."
Liverpool's next Europa League fixture is against Toulouse in France on November 9. A victory in that match would confirm their progression to the next round. Additionally, if second-place Union SG, a Belgian club part-owned by Brighton chairman Tony Bloom, were to drop points, Liverpool could secure the top spot in their group.
Overall, Liverpool's 5-1 victory over Toulouse demonstrated their strength in the Europa League and showcased the talents of emerging players like Ryan Gravenberch and Wataru Endo. As they continue their campaign in the competition, Liverpool fans have reason to be optimistic about their team's chances of success.
For More Related Updates Please Visit Our Official Website
By- Sahiba Suri