Etihad Player of the Month: September Nominees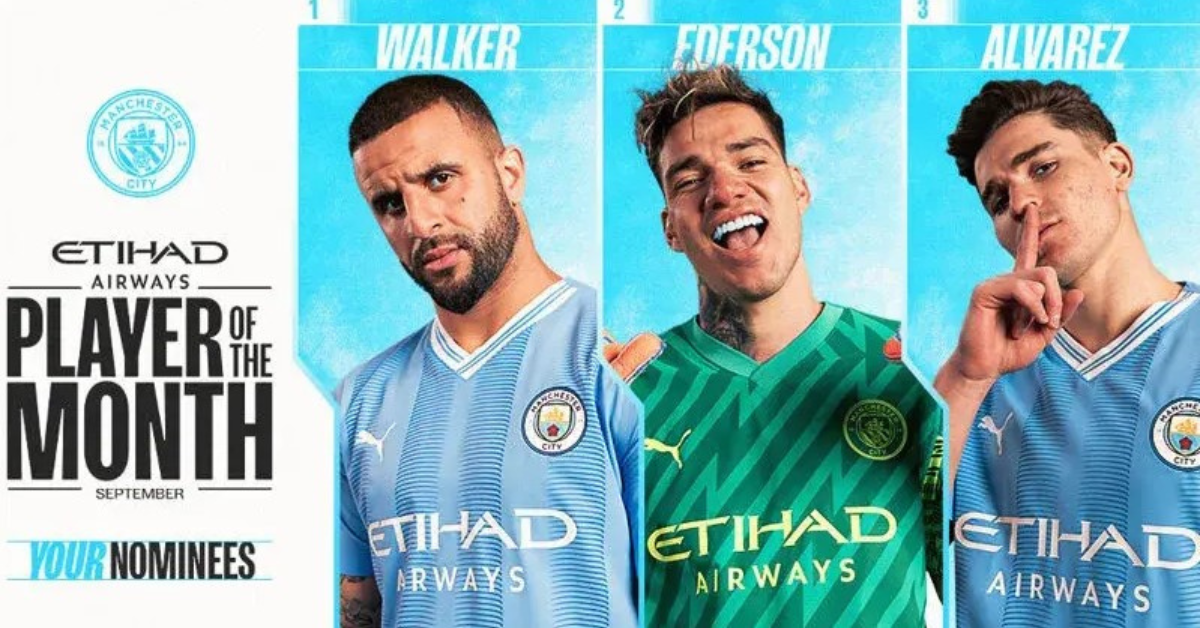 Etihad Player of the Month: September Nominees
Cast Your Vote for September's Etihad Player of the Month
Men's Team
As the second month of the 2023/24 campaign unfolded, Manchester City showcased their dominance in the Premier League with three impressive victories against Fulham, West Ham, and Nottingham Forest, solidifying their position at the top of the table.
Pep Guardiola's squad also kicked off their defense of the Champions League crown with a stellar 3-1 victory over Red Star Belgrade in the opening group match.
Despite narrow losses to Newcastle in the Carabao Cup and Wolves in the league towards the end of the month, the team delivered several commendable performances.
September's Nominees:
The spotlight is now on three exceptional players for the Etihad Player of the Month award: Kyle Walker, goalkeeper Ederson, and striker Julian Alvarez.
Kyle Walker
Kyle Walker, who recently committed his future to Manchester City by signing a new two-year extension, has demonstrated his commanding presence both on and off the field. He was elected to City's five-member leadership group by his peers, underscoring his significance to the club.
Walker's defensive prowess, anticipation, and game reading are unmatched. Simultaneously, his lightning-fast pace and knack for seizing opportunities while surging forward have added an extra attacking dimension to the team. At 33 years old, Walker's invaluable experience shone through in September, emphasizing his critical role within the City squad.
Ederson
Brazilian goalkeeper Ederson continued to be an indispensable last line of defense for Guardiola's side throughout September. His exceptional performance in the 3-1 victory against West Ham included crucial saves to deny Michail Antonio and Kurt Zouma when the score was level at 1-1.
Ederson's unwavering focus and all-around excellence were evident in denying Nottingham Forest during a late rally when City played with ten men, securing a 2-0 victory at the Etihad. With his outstanding distribution and kicking abilities, Ederson has consistently provided an additional layer of attacking prowess. In his seventh season at the club, Ederson sets the benchmark for Premier League goalkeepers.
Julian Alvarez
Argentine World Cup winner Julian Alvarez had an outstanding start to the 2023/24 campaign. In September, he showcased his incisiveness and predatory instincts. Alvarez opened the month by scoring in City's 5-1 victory against Fulham, earning a penalty subsequently converted by Erling Haaland.
Alvarez continued his impressive form by scoring two crucial goals as City came from behind to defeat Red Star Belgrade 3-1 in the opening Champions League group game. He also displayed his expertise in set pieces, striking the bar with a remarkable free-kick in the 3-1 triumph over West Ham and converting a stunning set-piece delivery into the top left corner in the recent 2-1 loss to Wolves. Alvarez's consistent growth is undeniable.
Three exceptional contenders are vying for your vote. Who will be the Etihad Player of the Month for September? Cast your vote now, and the winner will be announced next week.
For More Related Updates Visit Our Official Website
By- Sahiba Suri