Premier League 2018/19 – Season Roundup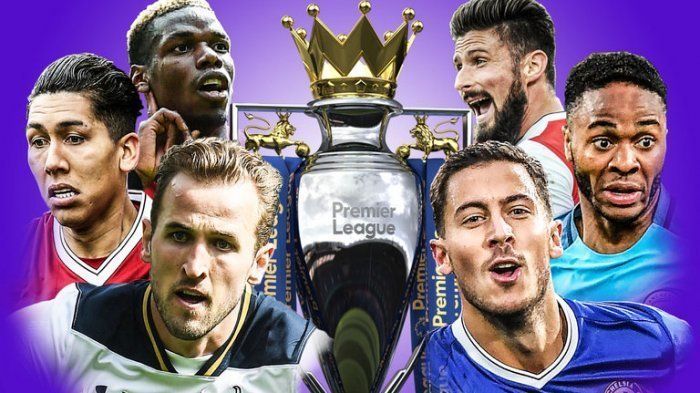 The Premier League title's destination was decided on the very last day of the season, after Manchester City smashed Brighton and Hove Albion 1-4 to retain the title that they had won in such exquisite fashion just last season. Although they fell just short of the centurions mark this time around, this year's title win was a significantly harder affair.
Liverpool and Manchester City went toe-to-toe, trading blows the entire season, with the top spot on the league table changing hands a record 34 times over the season. Once a remarkable 10 points behind Liverpool, minor slip ups here and there by the Reds helped Manchester City claw back the deficit bit by bit.
Going on a remarkable 14 (consecutive) match winning streak from the end of January to mid-May, Manchester City proved themselves to be the best team in England, and deservedly picked up the league title, after Sergio Aguero equalised on Sunday, and then Aymeric Laporte headed in the title winning goal. Riyad Mahrez and Ilkay Gundogan then put the icing on the cake with 2 sumptuous goals in the second half.
For Liverpool, this was a brilliant season. Jurgen Klopp procured the right players to implement his high intensity pressing game, and reached an historic 97 points, the most ever for any 2nd placed side in all of Europe's top 5 leagues. They should walk with their heads high, as they strive for a 6th Champions League title.
The remainder of the Top 4 is occupied by UEFA Europa League and Champions League finalists Chelsea and Tottenham Hotspur respectively. In Maurizio Sarri's first season in English football, he has done a splendid job to finish 3rd with the ageing squad he inherited. However, with the transfer ban looming and Eden Hazarad's departure seeming inevitable, Sarri faces a serious fight to replicate this season, let alone better it.
After spending literally nothing on new signings this season, Mauricio Pochettino can be content with a top 4 finish in the league. Although Spurs were at one point challenging for the title, the depth of their squad was simply too less to be able to fire on all fronts when the fixture list became congested. Pochettino now has an opportunity to cement his Tottenham Hotspur legacy by beating Liverpool in the Champions League final, but it will be anything but straightforward.
Unai Emery's Arsenal fell 1 win short of a guaranteed Champions League berth, but there was a significant improvement from last season's campaign. Furthermore, Emery now knows exactly where his squad needs strengthening, with defence and flanks the prime areas in need of serious upgradation. Should Emery get a significant transfer budget this season, Arsenal could make that 3rd spot their own. However, it will take them a little more than a single transfer window to usurp either Manchester City or Liverpool from their Top 2 positions.
Manchester United slumped to a new low this season. What best sums their season up is the fact that their top 2 candidates for their club's Player of the Season Award were Luke Shaw and Victor Lindelof (Both defenders), in a season where they conceded the most goals they have ever let in (54) during a single league campaign. Ole Gunnar Solsjaer was at the wheel, but their end-of-season form reflected his lack of a driving licence. Serious, serious work needs to be put in – both in the squad and behind the scenes – to restore Manchester United to their former glories. And it is imperative that a defensive reshuffle leads the way.
Making up 'the best of the rest' were (in order) Wolves, Everton, Leicester City and West Ham. After extremely shrewd and slightly lavish dealing in the transfer windows, all 4 clubs showed they had what it took to upset the established order. I personally believe that should Chelsea's ban stand and should Man United's board be as lethargic in recruitment as they were this summer, either of these 4 clubs (contingent on a successful summer transfer window) could put up a gladiator-like battle for the Top 6 spot.
At the other end of the table, Huddersfield Town, Fulham and Cardiff City were relegated. Huddersfield's drop was of little surprise, for they were one of the most uninspiring teams to ever grace the league, held up last season exclusively through the sheer brilliance of David Wagner. Fulham were a shock candidate, for after spending a 100 million in the summer, their manager Jokanovic was unable to figure out his best starting XI or his best formation. Naturally, catastrophe followed. And finally, Neil Warnock's Cardiff City. Favourites for the drop, Cardiff showed their no nonsense, old school, hard tackling playing style against everyone they faced this season. Unfortunately, they didn't have the technical prowess up top that was required to fire in the goals.
Here are the English Premier League's top goalscorers of the season:
Pierre Emerick-Aubameyang – Arsenal; 22 goals
Mohamed Salah – Liverpool; 22 goals
Sadio Mane – Liverpool; 22 goals
Sergio Aguero – Manchester City; 21 goals
Jamie Vardy – Leicester City; 18 goals
Raheem Sterling – Manchester City; 17 goals
Harry Kane – Tottenham Hotspur; 17 goals
These were the English Premier League's top 5 managers of the season:
Pep Guardiola – Manchester City
Jurgen Klopp – Liverpool
Nuno Espirito Santo – Wolves
Rafael Benitez – Newcastle United
Maurizio Sarri – Chelsea
These were the Premier League's top 6 most important matches of the season:
Liverpool v/s Manchester City; Anfield (0-0)
Manchester City v/s Liverpool; Etihad Stadium (2-1)
Chelsea v/s Manchester City; Stamford Bridge (2-0)
Manchester City v/s Crystal Palace; Etihad Stadium (2-3)
Everton v/s Liverpool; Goodison Park (0-0)
Manchester United v/s Liverpool; Old Trafford (0-0)
These were the Premier League's best goals of the season (Top 10):
Aaron Ramsey, for Arsenal v/s Fulham (Away)
Andros Townsend, for Crystal Palace v/s Manchester City (Away)
Vincent Kompany, for Manchester City v/s Leicester City (Home)
Mohamed Salah, for Liverpool v/s Chelsea (Home)
Eden Hazard, for Chelsea v/s West Ham United (Home)
Kyle Walker, for Manchester City v/s Newcastle United (Home)
Son Heung-Min, for Tottenham Hotspur v/s Chelsea (Home)
Gylfi Sigurdsson, for Everton v/s Leicester City (Away)
Ricardo Peirera, for Leicester City v/s Manchester City (Home)
Pierre Emerick-Aubameyang, for Arsenal v/s Leicester City (Home)
A truly enthralling, exhilarating season of Premier League football came to a close on Sunday. If the upcoming English Premier League season (19/20), starting August 10th, 2019, is anything like the one that just culminated, we will be in for a treat!