Carabao Cup: Chelsea vs. Newcastle Quarter-Final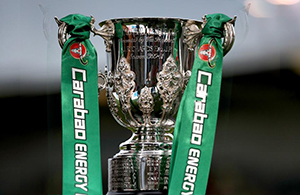 Chelsea Set for Exciting Carabao Cup Quarter-Final Clash with Newcastle at Stamford Bridge
In the thrilling world of English football, the Carabao Cup is one of the prestigious competitions that showcases the nation's top talent and brings fans a series of exciting and often unpredictable fixtures. As the competition progresses, we find ourselves eagerly awaiting a high-stakes quarter-final clash between Chelsea and Newcastle United.
The anticipation surrounding this match is immense, as both teams have showcased their footballing prowess in previous rounds. Chelsea, with their storied history in this competition, have been a dominant force in the Carabao Cup. The Blues last clinched the title in 2015 and are hungry for another chance at glory.
Chelsea's journey to this stage has been nothing short of impressive. Their latest triumph, a resounding 2-0 victory over Blackburn Rovers, was an emphatic display of their footballing prowess. The team's commitment and determination shone brightly as they secured their place in the quarter-finals.
Newcastle United, on the other hand, has experienced their own fair share of ups and downs. Their recent performance against Manchester United, where they triumphed with a remarkable 3-0 win at Old Trafford, has showcased their ability to rise to the occasion. Their path to the quarter-finals has been marked by moments of brilliance, and they now stand ready to take on Chelsea.
The match between Chelsea and Newcastle promises an electrifying showdown, with both teams eager to secure a spot in the semi-finals. The week commencing Monday, December 18, will be a date etched in the calendars of football enthusiasts worldwide, as they eagerly await this thrilling encounter.
In the world of football, history often shapes the narrative of matches, and these two teams have their own history in the Carabao Cup. Two significant quarter-final encounters stand out. In 2001, Chelsea faced Newcastle at Stamford Bridge, and a last-minute Jimmy Floyd Hasselbaink header clinched a hard-fought 1-0 victory for the Blues. This match left a lasting impression, illustrating the intensity and drama that comes with cup football.
Fast forward to 2006, and these two teams met again in the quarter-finals, this time at St James' Park. Didier Drogba etched his name in Chelsea's history with a memorable free-kick that secured the team's progress to the semi-finals. These clashes are part of the rich tapestry of the Carabao Cup's history, and fans can only hope for more unforgettable moments when the two sides meet again.
As the match date approaches, football enthusiasts worldwide are eagerly waiting for additional details, including ticket information, to be announced. The prospect of witnessing two of England's footballing giants in action at Stamford Bridge is an exciting one. The atmosphere will undoubtedly be electric, as fans from both sides will come together to support their teams.
With a place in the semi-finals at stake, this match is more than just a competition; it's a chance for players to become heroes and etch their names in football history. The fans, too, play a vital role, as their unwavering support provides the extra push that can make all the difference on the pitch.
The Carabao Cup is a tournament that brings out the best in teams and players. It's a platform for new talents to emerge and for seasoned professionals to show their experience and skill. The quarter-finals are where dreams of lifting the trophy are closer to becoming a reality, and each team's journey to this stage has been marked by dedication, hard work, and passion for the game.
As we count down the days to this exciting quarter-final match between Chelsea and Newcastle United, the football world is alive with anticipation. Both teams have demonstrated their capability to compete at the highest level, and their desire for success is palpable.
Football fans will be glued to their screens, and for those fortunate enough to secure tickets, the experience of witnessing this clash in person will be nothing short of extraordinary. The Carabao Cup has a unique charm, and this upcoming fixture is set to add another thrilling chapter to its storied history.
For More Related Updates Please Visit Our Official Website
By- Sahiba Suri