"Saka Clinches PFA Young Player of the Year Award"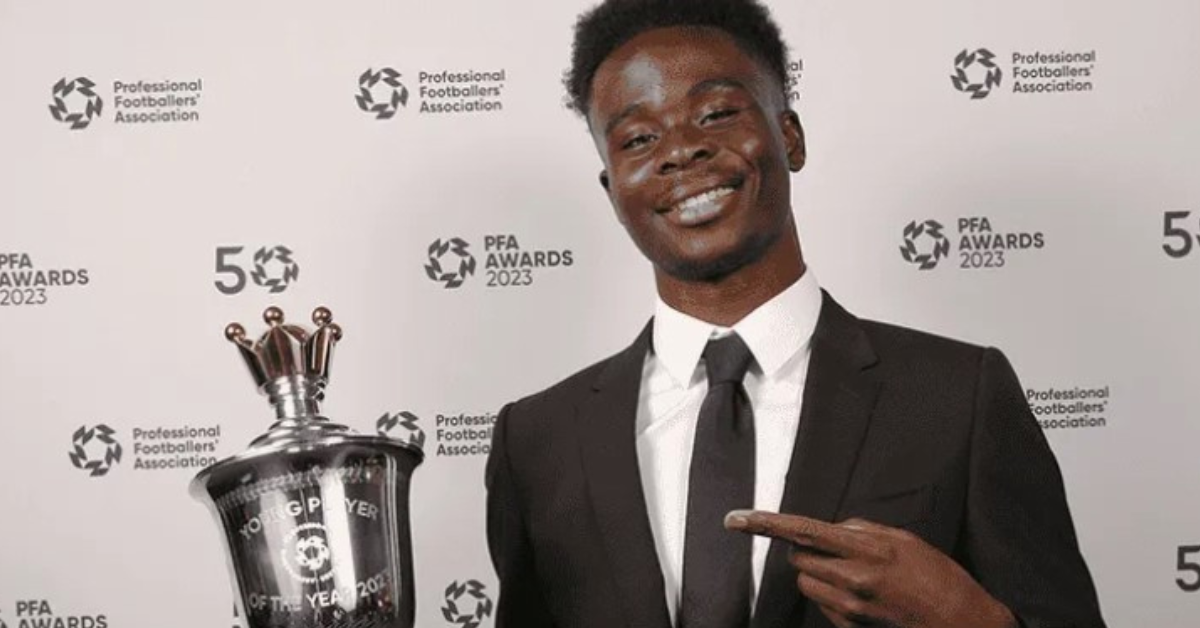 Bukayo Saka's Triumph: PFA Young Player of the Year for 2022/23
Bukayo Saka has clinched the coveted PFA men's Young Player of the Year award, a well-deserved recognition for his exceptional performances throughout the 2022/23 football season. After being nominated thrice before, the 21-year-old's outstanding contributions in the previous season garnered him overwhelming support from his fellow professionals, leading him to emerge as the winner in the eyes of the members of the Professional Footballers' Association who cast their votes.
Among the contenders, Saka prevailed over teammate Gabriel Martinelli, who was also a strong contender with his impressive tally of 15 Premier League goals, sharing the top goal scorer spot for the campaign alongside Martin Odegaard.
The roster of candidates was also graced by Manchester City's prolific scorer, Erling Haaland, Aston Villa's Jacob Ramsey, Brighton striker Evan Ferguson, and Moises Caicedo, Saka's former Seagull teammate, who had recently joined Chelsea.
Saka's victory was truly justified, considering his remarkable feats throughout the season. The young talent achieved a career-high of 15 goals across all competitions and contributed a commendable 11 assists. Notably, he displayed his consistency by participating in all 38 Premier League matches for the second consecutive season. Saka's prowess was not limited to club football; he showcased his brilliance on the international stage as well. During England's campaign at the 2022 World Cup in Qatar, he demonstrated his scoring prowess by finding the net three times in four games, playing a pivotal role in England's journey to the quarter-finals.
The culmination of Saka's successful season was marked by his signing of a new long-term contract with the club where he first stepped in at the age of eight.
Watch:https://www.sportsmonks.com/football-news/inside-the-pfa-awards-bukayo-sakas-victory/
Saka's contributions were acknowledged in the previous season as well, as he claimed the Football London Young Player of the Year award and secured third place in the Football Writers' Association Player of the Year voting. His stellar performances led to nominations for both the Premier League's Player and Young Player of the Season accolades, ultimately culminating in the prestigious PFA Young Player of the Year award.
This year marks the 50th anniversary of the award's inception in the 1973/74 season. Saka's triumph makes him the 45th distinct recipient of this honor and the sixth Arsenal player to attain this prestigious recognition. He follows in the footsteps of illustrious Arsenal figures such as Tony Adams (1986/87), Paul Merson (1988/89), Nicolas Anelka (1998/99), Cesc Fabregas (2007/08), and Jack Wilshere (2010/11).
The presentation of the award was made even more special as it was handed over by Jack Wilshere himself, a significant moment that united two significant Hale End products on the stage at the Lowry Theatre in Manchester.
For more related updates , visit our official website.
By- Sahiba Suri