Pires Magic: Arsenal's Invincible Flashback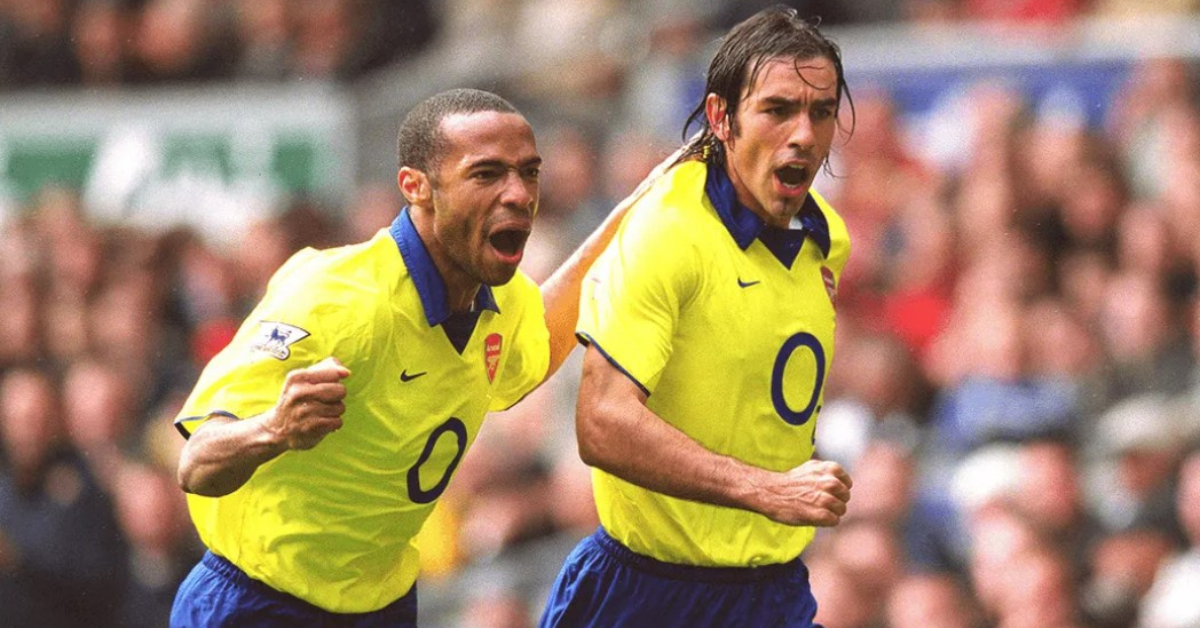 Pires Magic: Arsenal's Invincible Flashback
"Arsenal's Invincible Flashback: Pires Magic Stuns Liverpool"
In this week's trip down memory lane, we revisit a pivotal moment from Arsenal's legendary Invincible season 20 years ago, where Robert Pires lit up Anfield with a mesmerizing strike.
As the Gunners continued their remarkable journey, let's delve into the details of that thrilling encounter and the surrounding stories from that memorable week.
Setting the Stage
After navigating a challenging fixture list that included clashes with Inter Milan, Manchester United, Newcastle United, and Lokomotiv Moscow within 13 days, Arsenal faced another stern test. Their next challenge was an early Saturday kick-off against Liverpool at Anfield, just before an international break.
Injuries forced Arsene Wenger to shuffle his lineup, but his side sat atop the league table after six games. Wenger felt optimistic about the season, noting their ability to overcome difficult periods in matches, a marked improvement from the previous season.
From the Dressing Room
Veteran defender Martin Keown, who was enjoying a resurgence, shared his thoughts on England's young central defenders, hinting at a potential return to the national team. Keown praised the emerging talents, including John Terry, Jonathan Woodgate, and Matthew Upson.
On the Pitch: Arsenal's Triumph
In the pivotal encounter against Liverpool on October 4, 2003, Arsenal faced an early setback as Harry Kewell netted for the hosts. However, the Gunners displayed resilience, equalizing through a Sami Hyypia own goal, with Edu instrumental in the build-up. The match took a magical turn when Robert Pires unleashed a breathtaking strike from 25 yards, securing a 2-1 victory for Arsenal.
This victory showcased Arsenal's mental strength, especially after their midweek trip to Moscow. Wenger was rightfully proud of his team's character and determination.
What the Press Said
The Times acknowledged Arsenal's efficient results, describing the team as "grinding out results with an efficiency bordering on the Teutonic." The Guardian praised Arsenal's solid performance against Liverpool, emphasizing the "solidarity of the squad." The Sun noted Sol Campbell's positive impact.
League Standings
After this win, Arsenal topped the league table with six wins and two draws in eight games, earning 20 points. Manchester United and Chelsea closely followed with 19 points each.
Elsewhere in Football
John Halls embarked on a month-long loan to Stoke City, eventually securing a permanent move.
Sol Campbell faced a £20,000 fine from the Football Association for his actions in the Community Shield.
The football world mourned the loss of legendary striker Joe Baker.
Image of the Week
A 20-year-old Jeremie Aliadiere made his full debut for Arsenal in this match against Liverpool. Despite injury setbacks, Aliadiere's potential impressed Thierry Henry, who praised his speed, finishing ability, and understanding of the game.
Top of the Charts and Pop Culture
In the UK, Black Eyed Peas' "Where Is the Love?" remained the number one single for the third consecutive week. The Darkness dominated the album chart with "Permission to Land" for the fourth week. At the box office, "Calendar Girls" captured audiences' attention.
Elsewhere in the World
Arnold Schwarzenegger made headlines by winning the California gubernatorial election.
Magician Derren Brown's Russian roulette stunt on live TV held viewers in suspense.
The England football squad considered a strike during a qualifier in Turkey following Rio Ferdinand's omission due to a missed drug test.
This glimpse into Arsenal's Invincible season showcases their unwavering spirit and flair, epitomized by Robert Pires' sensational goal at Anfield. As the journey continues, stay tuned for more iconic moments from that unforgettable campaign.
For More Related Updates Visit Our Official Website
By- Sahiba Suri
Tags
[wbcr_php_snippet id="21419"]