Intricate Tactics Behind Arsenal's Victory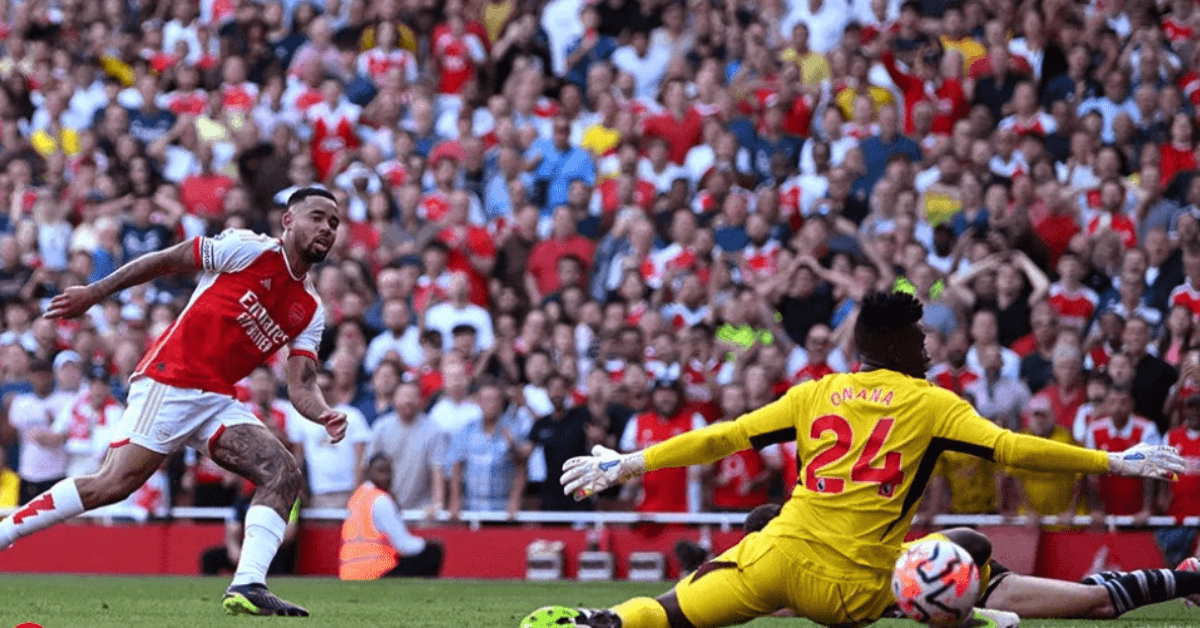 Intricate Tactics Behind Arsenal's Victory
Arsenal's resounding 3-1 victory over Manchester United on Sunday left a lasting impression on Gooners worldwide. It was a match filled with unforgettable moments and a display of tactical brilliance that will be etched in the memory of fans for years to come. But what were the key elements that guided the Gunners to this crucial win?
In a comprehensive analysis of the game, Adrian Clarke dissects the intricacies of the match once more, uncovering five pivotal factors that not only secured victory but also offered valuable insights into the team's performance. Let's take a closer look at these elements that set the stage for Arsenal's triumph over Erik ten Hag's formidable squad, marking their third win in the opening four matches of the season.
1. Territorial Domination:
One of the defining features of Arsenal's victory was their territorial dominance throughout the match. Unlike previous encounters, the Gunners were not forced to weather sustained pressure from ten Hag's side. Instead, Manchester United heavily relied on counter-attacks as their primary strategy to create scoring opportunities. They adopted a cautious approach, often opting to maintain possession deep within their own half.
What's particularly noteworthy is that a staggering 61.7% of Manchester United's passes were confined to their defensive territory. This conservative ball movement allowed Arsenal to maintain a compact defensive shape when pressing, effectively preventing the visitors from advancing through the middle thirds. As a result, the forwards of the visiting team found themselves starved of the service they needed to make an impact on the game.
This territorial control by Arsenal not only limited Manchester United's attacking opportunities but also allowed the Gunners to dictate the tempo of the match. They were able to circulate the ball comfortably in midfield, patiently waiting for the right moments to launch their own attacks.
2. Tactical Discipline:
Another crucial aspect of Arsenal's victory was their tactical discipline. Mikel Arteta's men displayed an impressive level of defensive organization. They were compact without the ball, denying Manchester United space to exploit. The midfielders pressed intelligently, cutting off passing lanes and disrupting the opposition's rhythm.
The backline, led by experienced defenders, held their positions admirably. This disciplined defensive approach frustrated Manchester United's attacking players, who found it challenging to break down Arsenal's resolute defense.
3. Creative Midfield:
While Arsenal's defensive organization was a cornerstone of their victory, their creative midfielders played a vital role in breaking down Manchester United's defense. The likes of Bukayo Saka and Emile Smith Rowe showcased their dribbling skills and vision, consistently unlocking the opposition's defense.
Their ability to carry the ball forward and create goal-scoring opportunities was a testament to their growing influence in the team. Saka, in particular, was a constant thorn in Manchester United's side, providing the crucial assist for one of Arsenal's goals.
4. Clinical Finishing:
In football, creating opportunities is one thing, but converting them into goals is another. Arsenal demonstrated clinical finishing in front of goal, making the most of the chances that came their way. The forwards, led by Gabriel Jesus, displayed composure and accuracy in their finishing, putting the ball beyond the reach of the opposition's goalkeeper.
This clinical edge ensured that Arsenal capitalized on their dominance and maintained control of the game's narrative.
5. Game Management:
As the match progressed, Arsenal exhibited astute game management. They maintained their shape, controlled possession, and managed the tempo of the game. This prevented Manchester United from mounting a late comeback and allowed Arsenal to secure the victory comfortably.
In conclusion, Arsenal's 3-1 victory over Manchester United was the result of meticulous planning, disciplined execution, and an unwavering commitment to their tactical approach. The Gunners' territorial domination, defensive discipline, creative midfield, clinical finishing, and effective game management were the pillars of their triumph.
As Gooners around the world celebrate this memorable victory, they can take pride in the fact that their team showcased not only their attacking prowess but also their defensive resilience. It was a complete performance that underlines Arsenal's potential to compete at the highest level.
For more related updates visit our official site .
By- Sahiba Suri