"Gunners Prepare for United Showdown"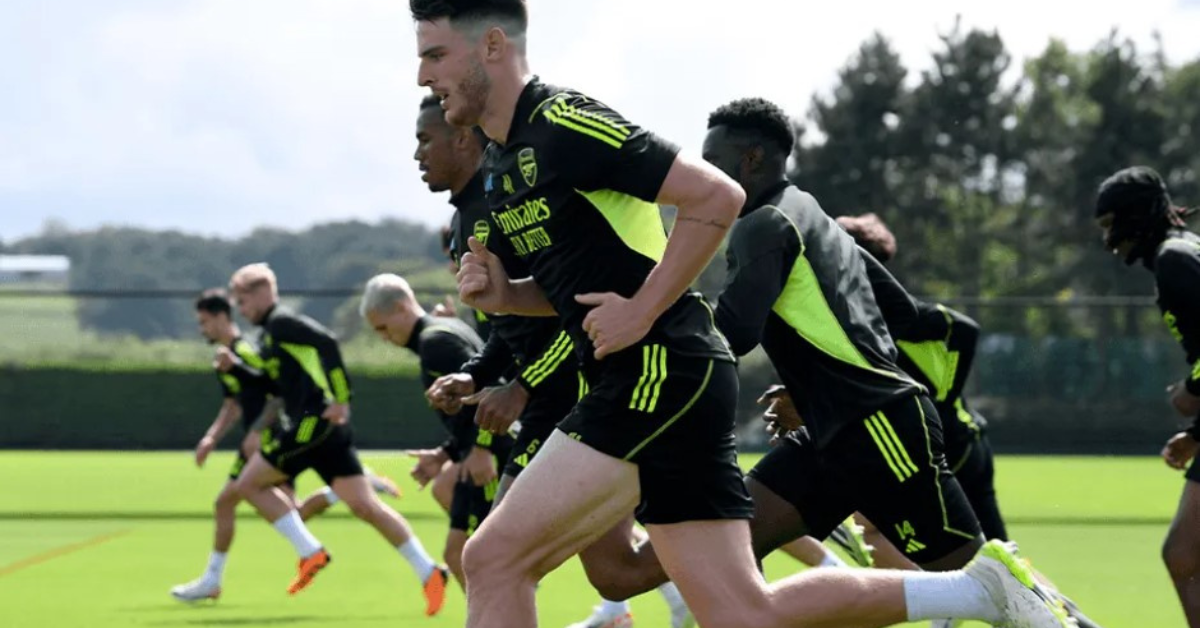 Get ready for an exciting showdown as our Gunners gear up to face Manchester United this coming Sunday. The stage is set for a clash of titans, and to give you a sneak peek into their preparation, we've put together a comprehensive training gallery capturing every moment of the team's dedication, hard work, and strategic planning.
In the previous season, our encounter against Manchester United was nothing short of exhilarating. Eddie Nketiah's last-minute winner secured a dramatic 3-2 victory, leaving fans and players alike on the edge of their seats. With that victorious memory fresh in our minds, we're eager to replicate that success and create another unforgettable moment for our supporters.
After a spirited 2-2 draw against Fulham in the last match, our team is more determined than ever to bounce back and secure a decisive victory against Manchester United. The players have been putting in relentless hours on the training ground, fine-tuning their strategies, honing their skills, and ensuring they are in peak physical condition for the upcoming challenge.
Our training gallery provides an exclusive look into the intense preparation that goes into each match. From tactical drills to team bonding exercises, every aspect of our Gunners' training regimen is captured, showcasing the meticulous planning that takes place behind the scenes.
But it's not just about the physical preparation. The mental aspect is equally crucial. The players' focus, determination, and unwavering commitment to success are evident in every shot of the gallery. As they push themselves to the limit, their camaraderie and team spirit shine through, underscoring the unity that drives our team forward.
Watch:https://www.sportsmonks.com/football-news/bundesliga-fantasy-matchday-3-bargains/
As the anticipation builds and the excitement mounts, take a deep dive into our training sessions through the comprehensive gallery. Witness the sweat, the effort, and the heart that our Gunners bring to the field as they prepare to take on one of the league's toughest opponents.
Every pass, every sprint, and every goal-oriented drill is a testament to the dedication of our players and the expertise of our coaching staff. With each training session, our team grows stronger, more cohesive, and better equipped to face the challenges that lie ahead.
So mark your calendars and clear your schedules for the highly anticipated match against Manchester United. As our Gunners step onto the field, they'll be fueled by their passion for the game, their commitment to victory, and the unwavering support of our fans.
Expect nothing less than an electrifying performance from our team as they give it their all to secure a triumphant victory and continue our journey towards success in the season. The battle is on, and our Gunners are ready to make us proud once again.
For more related updates , visit our official website .
By- Sahiba Suri