Explore how Arsenal fosters young talents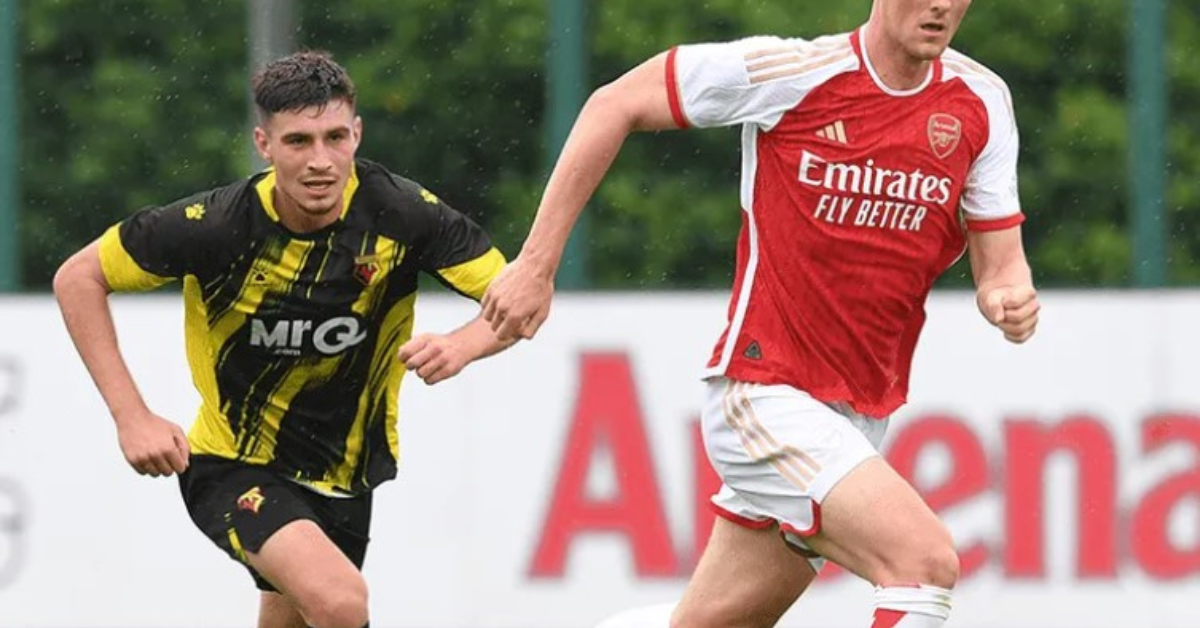 Explore how Arsenal fosters young talents
Alex Kirk and Kido Taylor-Hart Embark on Season-Long Loans with Bromley
In a bid to provide valuable development opportunities for their young talents, Arsenal has made a strategic move by loaning out two promising prospects, Alex Kirk and Kido Taylor-Hart, to National League side Bromley. These season-long loan deals mark a significant step in the careers of both players, offering them a chance to gain valuable experience and continue their growth in a competitive football environment.
Alex Kirk's Promising Journey
At just 20 years old, Alex Kirk is a versatile defender who has been a part of Arsenal's academy since July 2013. His dedication and progress within the club earned him his first professional contract in January 2021. Kirk's growth continued last season when he embarked on a loan spell with Ayr United in the Scottish Championship. During his time with Ayr United, he showcased his skills by making 24 appearances in all competitions, contributing with both goals and assists.
This loan move to Bromley signifies the next chapter in Kirk's development, where he will have the opportunity to refine his defensive abilities and gain further match experience in a competitive footballing environment.
Kido Taylor-Hart's Ascent
Kido Taylor-Hart, also 20 years of age, joined Arsenal in September 2017 and quickly made an impact. The England youth international signed his first professional contract with the club in July 2021, underscoring Arsenal's belief in his potential. Last season, Kido embarked on a short-term loan with Derby County under-21s, competing in the Premier League 2. During his stint with Derby County, he made nine appearances and even found the back of the net once, showcasing his attacking prowess.
Now, Kido Taylor-Hart's journey continues at Bromley, where he will aim to further hone his skills and develop as a versatile midfielder. This season-long loan offers him the opportunity to experience the demands of senior football and contribute to Bromley's campaign in the National League.
Arsenal wishes both Alex Kirk and Kido Taylor-Hart the best of luck during their loan spells with Bromley and looks forward to monitoring their progress and growth as footballers.
Please note that these transfers are subject to the completion of regulatory processes, highlighting the careful and meticulous planning involved in these loan deals.
As these talented individuals embark on their respective journeys, Arsenal continues to prioritize the development and nurturing of young talents, ensuring a bright future for the club.
---
Gabriel Magalhaes Leads the Arsenal Contingent in International Action
In a testament to the global reach of Arsenal Football Club, several members of the men's first-team squad have been called up to represent their countries during the current international window. This recognition not only showcases the talent within Arsenal's ranks but also highlights the diversity of the club's player pool.
Gabriel Magalhaes: Pursuing a Dream for Brazil
One of the standout names in this international call-up is Gabriel Magalhaes. The Brazilian centre-back has been selected as part of a 23-man squad that will compete in the 2026 World Cup qualifiers. While Gabriel has been named in previous squads, this time, he harbors hopes of making his debut for the Selecao. Joining him on this international journey are fellow Arsenal teammates Gabriel Martinelli and Gabriel Jesus, each bringing their unique skills to the Brazilian national team.
English Arsenal Quartet Takes Center Stage
For England, four Arsenal players have earned their places in the squad for an upcoming Euro 2024 qualifier against Ukraine. Among them is striker Eddie Nketiah, who aims to earn his first senior cap. Nketiah's journey to the senior squad is a testament to his growth as a player. Joining him are Declan Rice, Aaron Ramsdale, and Bukayo Saka, forming a formidable contingent in the England squad.
This fixture also presents an intriguing matchup, as the England squad will face teammate Oleksandr Zinchenko, who represents Ukraine. With England leading the group with four wins from four matches, this encounter promises to be a pivotal clash in the Euro 2024 qualifiers.
Diverse International Representation
Beyond these high-profile call-ups, Arsenal players from various nations are gearing up to represent their countries in crucial fixtures. From France to Germany, Norway to Spain, and beyond, the international stage provides an opportunity for Arsenal players to contribute to their national teams' success.
As these players embark on their international journeys, they carry with them the experiences gained at Arsenal and aim to make their mark on the global football stage. The club wishes them success and safe travels during their international duties.
In summary, Arsenal continues to nurture its young talents through strategic loan moves, providing them with invaluable experience. Additionally, the club proudly celebrates the international call-ups of its players, highlighting the global impact of Arsenal's diverse and talented squad. These developments demonstrate Arsenal's commitment to both player development and international excellence.
For more related updates visit our official site .
By- Sahiba Suri