Announcement: Arsenal's 2023/24 Women's Super League Fixture List Revealed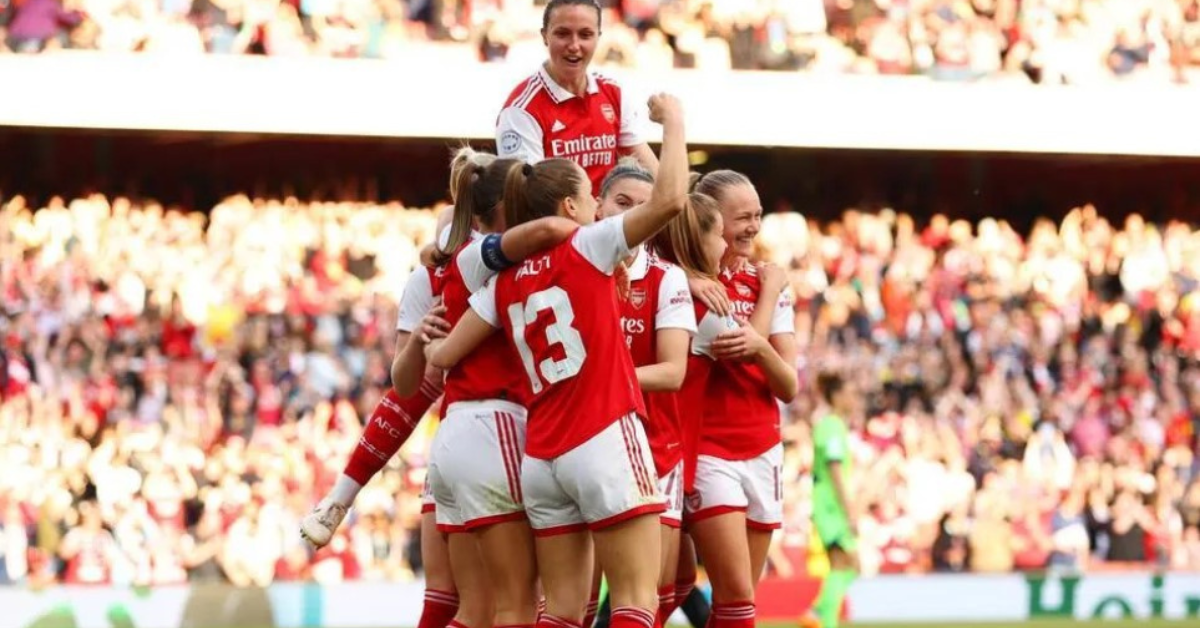 We are thrilled to unveil the fixture schedule for the 2023/24 Barclays Women's Super League (WSL), and we are excited to confirm that our campaign will kick off with a home match against Liverpool at the iconic Emirates Stadium.
Mark your calendars for our much-anticipated season opener against Liverpool, set to take place on Sunday, October 1, with a kick-off time of 2pm at the Emirates.
Don't miss the chance to secure your prime seats at Emirates Stadium for all five of our exhilarating WSL matches next season by obtaining the Home Advantage Pack. Starting from just £50 for General Admission and £150 for Club Level, this exclusive package offers an unbeatable viewing experience. Tickets for this captivating encounter will be available for purchase starting August 3.
Following our league opener, we embark on a journey northward to clash with Manchester United on October 8, only to return to the Emirates on October 15 for a showdown against Aston Villa. A trip to Bristol City, the newly-promoted side, will conclude our dynamic league fixtures for the month.
In November, we are set to welcome Manchester City to Meadow Park on November 5 before traveling to Leicester City and Brighton & Hove Albion. The month concludes with a home fixture against West Ham on November 26.
Brace yourself for an electrifying December as we host Chelsea at Emirates Stadium on December 10. Then, on December 17, we face Tottenham Hotspur in our final league encounter before the winter break.
Kicking off the WSL action in 2024, we look forward to our clash against Everton on January 21, followed by a journey to Liverpool a week later.
The month of February sees us on the road against West Ham United on February 4, and back at Emirates Stadium for a riveting contest against Manchester United on February 18.
The highly anticipated north London derby is scheduled for March 3, with Tottenham Hotspur visiting Emirates Stadium. This match holds particular significance, as it replicates last year's fixture that set a new WSL attendance record with over 53,000 tickets sold. Trips to Chelsea and Aston Villa lead us to our final league game of the month against Bristol City at home on March 31.
As April dawns, we prepare to host Leicester City at home on April 21, followed by an away match against Everton on April 28.
The penultimate chapter of our season takes us to Manchester City on May 5, followed by our finale – a home match against Brighton & Hove Albion on May 18.
Although 2023/24 season tickets have already sold out, you can still join the waiting list. Keep an eye out for the sale of match tickets ahead of each fixture, with updates posted on our official website and social media platforms.
Kindly note that all fixture dates are subject to potential adjustments based on broadcast selections. However, the much-awaited Week 1 clash against Liverpool is set in stone for Sunday, October 1, with a 2pm kick-off.
Stay tuned for an exhilarating WSL season ahead!
Our 2023/24 WSL Fixtures:
Sunday, October 1
Arsenal vs Liverpool
Emirates Stadium
Sunday, October 8
Manchester United vs Arsenal
Sunday, October 15
Arsenal vs Aston Villa
Emirates Stadium
Sunday, October 22
Bristol City vs Arsenal
Sunday, November 5
Arsenal vs Manchester City
Meadow Park
Sunday, November 12
Leicester City vs Arsenal
Sunday, November 19
Brighton vs Arsenal
Sunday, November 26
Arsenal vs West Ham
Meadow Park
Sunday, December 10
Arsenal vs Chelsea
Emirates Stadium
Sunday, December 17
Tottenham vs Arsenal
Sunday, January 21
Arsenal vs Everton
Meadow Park
Sunday, January 28
Liverpool vs Arsenal
Sunday, February 4
West Ham vs Arsenal
Sunday, February 18
Arsenal vs Manchester United
Emirates Stadium
Sunday, March 3
Arsenal vs Tottenham
Emirates Stadium
Sunday, March 17
Chelsea vs Arsenal
Sunday, March 24
Aston Villa vs Arsenal
Sunday, March 31
Arsenal vs Bristol City
Meadow Park
Sunday, April 21
Arsenal vs Leicester City
Meadow Park
Sunday, April 28
Everton vs Arsenal
Sunday, May 5
Manchester City vs Arsenal
Saturday, May 18
Arsenal vs Brighton
Meadow Park