Qatar Grand Prix (MotoGP) 2020 Schedule, Dates, Match Timings and Venues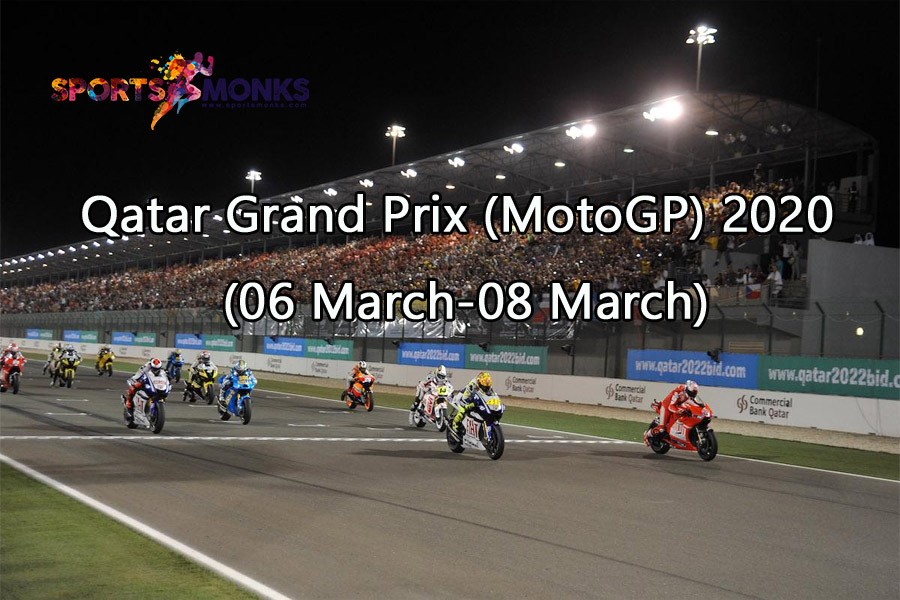 The Qatar Motorcycle Grand Prix is an eagerly awaited motorcycling event that is a prestigious part of the FIM Grand Prix motorcycle racing calendar. The Losail racing track at Qatar is where every MotoGP season starts and the first night event for MotoGP was held here in the year 2008.
Qatar MotoGP History and Past Winners
The Qatar Grand Prix has had a chequered history over the ages, having witnessed superlative triumphs of hallowed riders. Jorge Lorenzo is one of the most successful riders here, having won in the years 2012, 2013 and 2016 in the MotoGP while Casey Stoner has won at Qatar previously in the years 2008, 2007, 2011 and 2009. The legendary Valentino Rossi has won here in the years 2005, 2006, 2015 and 2010 while Marc Marquez won in 2014.
The 2018 and 2019 MotoGP in Qatar were won by Andrea Dovizioso while Maverick Vinales won it in 2017. In 2019, Moto3 was won by Kaito Toba from Honda while Moto2 was won by Lorenzo Baldassarri from Kalex. Andrea Dovizioso from Ducati won MotoGP in 2019 as mentioned earlier.
Qatar Moto GP 2020 Schedule
The event will take place between the 6th and 8th of March, 2020, at the Losail International Circuit under floodlights. MotoGP here will feature some of the best riders in the world and will be the defining event of the season spanning 19 rounds, 16 countries and 4 continents.
The event will start at 13:00 h on 6th March (Friday) and 12:00 h on 7th March (Saturday) while it will start at 13:00 h on 8th March (Sunday). The events will take place between 1 PM and 10 PM.
Q-Tickets.com is the official ticketing partner for the all sports events happening in the Qatar Region. Book Your Tickets Now
Qatar Moto GP 2020 Tickets, Access and other information
There will be General Grandstand Tickets where children of 11 years or below will get free access, provided they are accompanied by a legal representative or guardian. The VIP Village tickets will be above the pit boxes where children below 2 years old will get free access. There will also be Losail Club Grandstand tickets where children under 12 years old will have access free of cost. The Losail VIP Club will have children under 12 years old getting free access. Prices for General Grandstand are 60-85 QAR (Friday), 120-145 QAR (Saturday) and 180-220 QAR (Sunday) while Weekend tickets are priced between 220-280 QAR.
Also Read: Doha 2020 Fencing Grand Prix Schedule
The public zone behind the General Grandstand will comprise of a Fan Zone and options for family entertainment with free activities like an ATV track for children, Go Karting track, kids' zone, traditional activities, food court, official outlets for merchandising, taxi services and free parking access. VIP Village tickets will be priced at 2,300-3,850 QAR for Gold on Sunday while Saturday & Sunday tickets, i.e. Gold & Silver come for 3,300 QAR.
This is the official hospitality zone for MotoGP and is situated above the pit garages within the paddock zone. The ticket will offer access to the sports bar lounge, access to the paddock and Losail Club Grandstand across all 3 days in addition to great views, a 5-star gourmet buffet, non-alcoholic beverages, coffee bar, Official Program magazine, privileged parking, pit lane walk access, grandstand fan zone access and service road tour in BMW Cars if available.