Paris Saint-Germain: They've become a Dream Team, but are they ready for the Champions League trophy ?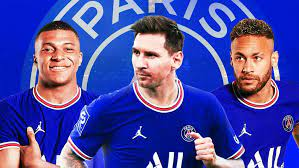 You look at their roster and you really wonder. How they can not make it? Pochettino's Paris has become a dream team, but is it ready to finally drink the sparkling water of the Champions League spring?
The greatest theft in football history
Mape's story and his honesty
With Ramos and Messi, the mindset changes
The puzzle that Pochettino has to put together
Paris Saint-Germain can't have any more unfinished business. This time they want to go all the way and be the ones to take the triumphant medal.
After losing a final, the first in their history, and the chance they didn't take a few months ago in the semi-final against City, the European trophy has been a huge longshot.
And this time it looks – in theory at least – something entirely achievable and realistic. This roster shines from the goalkeeping position to the spearhead. But is the team ready to take the big step towards the top of Europe?
The biggest theft in football history
The word "theft" next to Nasser Al-Kelaifi's name can never be combined. And yet, what Paris Saint-Germain did this summer can at least be described as such. Perhaps the greatest bargain in the annals of football. There may have been nothing quite like it. So many players, of such success and experience all moving to a club as a free agent to make it stronger.
European Champion with Italy, Gianluigi Donarumma left Milan having completed his contract and found a home in Paris. Sergio Ramos, who finally left Real Madrid closing the huge chapter of his career, by… misunderstanding after not understanding when his renewal offer was due to expire, went on to offer unparalleled quality at the back. Ginny Wijnaldum was released by Liverpool and Paris acquired one of the most modern half-backs who does a tremendous job on the pitch and can be found in all areas.
One of the two transfers (along with the loan of Nuno Mendes from Sporting Lisbon) on which money was spent was that of Ashraf Hakimi. The Moroccan full-back, after doing amazing things at Dortmund on loan from Real Madrid, moved to Inter, won the league and eventually Paris paid 60 million – beating Chelsea who also claimed him – and made him a resident of the City of Light. And this is where the big star comes in…
Lionel Messi is now a Parisian. This transfer shook up football until Cristiano Ronaldo decided to return to Manchester United and became that most talked about transfer in the annals of social media.
Messi never expected that he would leave Barcelona and it was inevitable, as LaLiga refused to make a single exception to protect their product as well, and as a result, the financial situation of the Blaugrana and the new financial realities of the league pushed the Argentine away. With him, Paris are dreaming. Big, as big as the Champions League trophy is…
The puzzle that Pochettino has to put together
The logic and desire of the world says MGM. Bape, Neymar, Messi. But what about the rest of them? There's Icardi in the equation, there's Angel Di Maria who can play in any of the three attacking positions, although the Argentine can… settle in a little further back.
If he goes further back, there's Verratti, Paredes, Rafinha, Wijnaldum, Draxler, Herrera and Guillaume. Who will take first place in Mauricio Pochettino's initial plans?
Yes, it is a blessing for any coach to have this roster in the hands of the Argentine coach. As Jose Mourinho mentioned long ago in a press conference regarding the material he has in his hands at Roma, "the only coach who is completely satisfied with his signings and the existing roster without wanting anything more must be Pochettino".
Agreed. But does he have the same opinion? Does he think he is so very blessed by all that he is experiencing at Paris or are his shoulders beginning to feel the immense pressure of managing this rich roster, with players who have money for three lives, to lead the club to titles and of course to the top of Europe?
Is this a squad that just goes in and plays itself or does it need absolute discipline and a plan from the bench? How will everyone remain satisfied? And everyone may be on good terms with each other at the moment and be photographed hugging each other in training, but will all these big egos of Paris Saint-Germain coexist in harmony?
Mauricio Pochettino ought to hold the reins. He too has his own challenge.
BetWinner Odds for PSG to get the Chl trophy is *7.5 lets see what will happens this year !