What is the Difference between Formula 1 & Formula E Races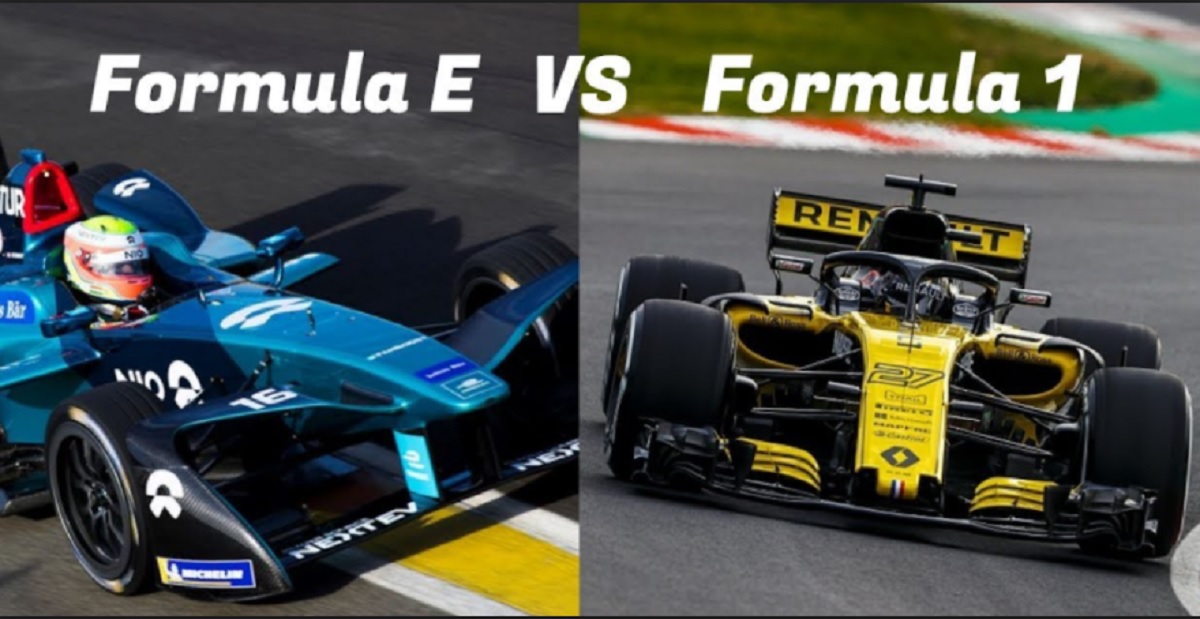 To the casual observer, both Formula 1 and Formula E might seem similar. However, the truth of the matter is that the two are pretty different from one another. Formula 1 races showcase racers with F1 cars that have combined internal combustion and electrical engines, whereas Formula E races are races with modern all-electric vehicles.
One of the main differences between the two series is in the cars but to fully understand the difference between the two championships, you must go deeper into the basics. In this article, we will do precisely that. Keep reading to find out how Formula 1 and Formula E races differ from each other.
Key Differences between Formula 1 and Formula E Races
1. Sustainability 
The Formula E vehicles and races came about in 2014, intending to promote the uptake of electric mobility and renewable energy through race cars. This helps to increase the adoption of electric cars both by consumers and manufacturers. The same, however, cannot be said about F1 races. Though these cars do run on less fuel compared to mechanical cars, they are not there to promote sustainable mobility in the longer term as Formula E cars.
2. Global Reach
Despite the rising popularity of Formula E cars ever since they came about, F1 cars still remain to be at the top. F1 still stages their GPs in over twenty-one countries, whereas the reach of Formula E races is still imited. Formula 1 races are still considered to be the most prestigious races out there, surpassing NASCAR and Indycar.
Despite that, it is clear that formula E sponsorships will become more popular as sponsors would want to promote the next generation of low-emission vehicles that will likely take over as more and more consumers become environmentally aware.
3. Street Circuits
Another difference between the races is in the racetracks. F1 cars are designed for better performance, which is why they are built to be raced on longer, wider, twistier, faster, and more complex circuits.
The same cannot be said for formula E-cars because they are made for racing on narrower, and straight street circuits with sharp turns than the average F1 tracks. Their street circuits are also designed to be closer to people. The sharp turns and layout of Formula E racetracks are designed with certain shapes and geometries to help recharge their batteries.
4. Race Format 
Since Formula E cars are designed to be more sustainable, their race formats are also designed differently. For example, in F1 races, the practice, qualifying, and actual race are all spread across three days, but for Formula E cars, it all takes place in one day. They also take place on Saturdays and not Sundays like the F1 races.  Similarly, Formula e races typically tend to be unpredictable in terms of who is going to win with racers who fought their way to the finish line. 
5. Points System
Just like with the F1 races, there is also a point system followed in the Formula E races. It awards points to the first ten drivers finishing first in the race, making it easy to follow. 
6. PitStops
The traditional F1 races require drivers to make mandatory pit stops during a race for tire changes each time. However, such is not the case with Formula E races, where the drivers can choose to make pit stops only when their tires are punctured and need to be changed. This is mainly due to the type of tires used in formula E-cars specially designed for all-weather and road conditions. 
7. Audience Engagement 
Since the cars are designed to be electric, it gives the audience a better chance to be part of the race through cool features. Some of these include the use of FanBoost, where fans can vote for their favorite drivers, and the top three ones receive 100Kj of energy. They can use this during their race to get ahead of their opponents. The only type of audience engagement in Formula 1 races, on the other hand, is cheering. 
8. Final Words
Despite the growing popularity of Formula E races, it stands clear that F1 races will continue to remain at the top in terms of motorsports sponsorships and fan favorites. Hence, while FE cars are safer for the environment, they still have a long way to go in surpassing F1 in terms of sponsorship value.
To learn more about formula 1 and formula E races and their sponsorships, visit RTR Sports Marketing!