FIFA reminisces 2019 as a Year to remember for Qatar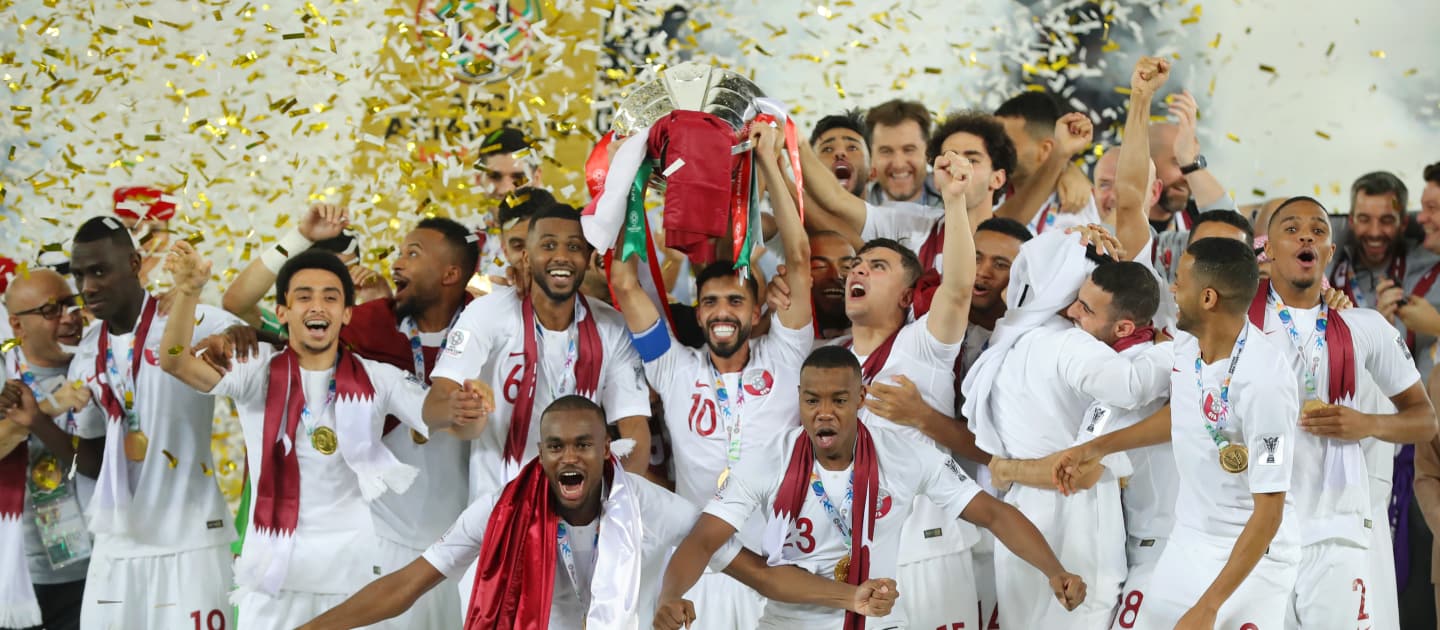 FIFA – the world's highest governing body of football recently lauded Qatar's achievements in 2019 by posting the following information on its official website:
Qatar are the FIFA/Coca-Cola World Ranking highest risers in 2019
Crowned AFC Asian Cup champions for the first time
Now focused on the 2022 FIFA World Cup™ on home soil
Qatar is accustomed to organising global sporting competitions. The latest of them, the 2019 FIFA Club World Cup, showed what the country can do when it comes to welcoming champions and provided a taster of what lies in store at the 2022 FIFA World Cup.
This year has also shown that the Qatari men's national team can be champions themselves. Thanks in the main to their historic AFC Asian Cup win, Al-Annabi (the Maroons) were the highest climbers in the FIFA/Coca-Cola World Ranking in 2019.
The Qataris collected no fewer than 138 points over the course of the year and rose 38 places to 55th. This time last year, they lay a lowly 93rd with many a daunting challenge ahead of them. Taking them all in their stride, the Maroons have gone from strength to strength in 2019. FIFA.com looks back at the three main highlights of their 12 months to remember.
2019 AFC Asian Cup Winners
To say Qatar's first AFC Asian Cup win was a major achievement would be something of an understatement. Felix Sanchez's men won all seven of their games en route to the title, having failed to win a single knockout match in their nine previous appearances in the competition. Three of their victims were teams that represented Asia at Russia 2018: Saudi Arabia in the group phase, Korea Republic in the quarter-finals, and Japan in the final.
Frontman Almoez Ali lead the Qatari charge with a tournament-record nine goals, beating the previous best of eight, set by legendary IR Iran striker Ali Daei in 1996. And the Maroons were just as impressive at the back, conceding just the one goal, scored by Japan's Takumi Minamino in the final.
Copa America 2019
Qatar made their very first appearance in South America's premier club competition, having been invited by CONMEBOL to take part, along with Japan. They travelled to Brazil with no specific objective in mind other than to gain some valuable experience against top-class opposition while they continue their preparations to host the World Cup in 2022.
Drawn in Group B with Argentina, Colombia and Paraguay, Qatar failed to make the knockout stage but acquitted themselves well. Trailing 2-0 in their opening match, against Paraguay, they fought back to claim a point, and far from disgraced themselves in going down to respective 1-0 and 2-0 defeats to Colombia and Argentina. Though it ended early for them, the tournament provided the Qataris with the perfect preparation for their next test back in Asia.
Fifa World 2022 Qatar Qualifying
Though their place at the next world finals is guaranteed as hosts, Qatar are still taking part in the Asian qualifying competition for the tournament, as it also doubles up as the qualifiers for the 2023 AFC Asian Cup.
The Qataris backed up their new-found status in their opening five matches in Group E, recording four wins and a draw to lead the section at the halfway stage, with 11 goals for and just one against.
Qatar's positive year:
FIFA/Coca-Cola World Ranking position on 1 January: 93
FIFA/Coca-Cola World Ranking position on 31 December: 55
Points won: 138
Overall record: 21 matches, 14 wins, two draws, five defeats, 45 goals for, 14 goals against.hg
AFC Asian Cup 2019 Highlights:
Almoez Ali scored a tournament-record nine goals in seven matches.
Saad Al Sheeb went a tournament-record 609 minutes without conceding a goal
Akram Afif served up a tournament-record ten assists in seven matches
Source: https://www.fifa.com/worldcup/news/a-year-to-remember-for-qatar-fifa-ranking