5 Youngsters who can take over from Federer, Nadal & Djokovic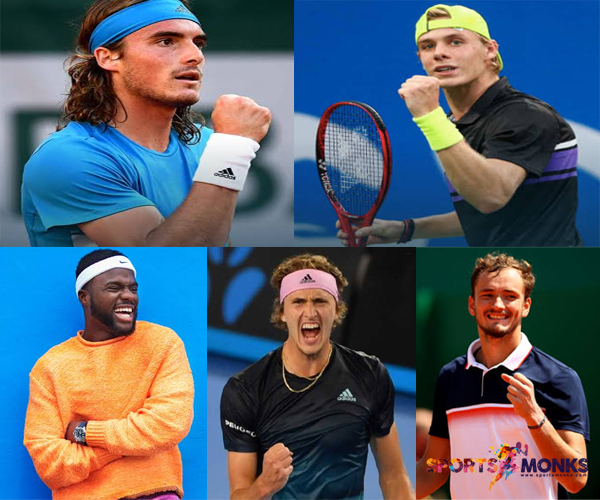 Roger Federer, Rafael Nadal and Novak Djokovic represent the ruling Trinity of world tennis at the moment. All three of them refuse to give up and they're usually locked in a fierce battle for titles, right from Wimbledon and the French Open to the US Open and Australian Open. Yet, both Federer and Nadal are steadily inching towards their sunset years and Djokovic has been riddled by several injuries which could give him just a few more years on court.
In this scenario, here are 5 youngsters who have the potential to take over from these three formidable tennis greats in the future.
Stefanos Tsitsipas: When Roger Federer trounced Pete Sampras at Wimbledon in the year 2001, it was called a major change in the scheme of things. Another similar incident took place when Stefanos Tsitsipas overcame Federer himself in the fourth round of the Australian Open recently. He defeated four Top-10 players in the Rogers Cup as well including Novak Djokovic, Dominic Thiem, Kevin Anderson and Alexander Zverev. He was only defeated by Rafael Nadal in the tournament. Tsitsipas is making a great tennis career for himself and has the potential to beat Top-10 players on a regular basis.
Frances Tiafoe: Tiafoe is a surprise inclusion in the list for many but he does have potential, electrifying the tennis circuit by defeating Alexander Zverev and Juan Martin Del Potro in the past. Tiafoe also was in good form at the Australian Open where he won over Kevin Anderson and also beat Grigor Dimitrov in round 4. He does have the talent and the ability to take over from the Big 3 in the near future. He is known for his powerful forehands and explosive serves.
Denis Shapovalov: Denis Shapovalov is a next-generation star who has had a great year in 2017. He created a niche for himself when he was 16 years of age and won the Wimbledon Junior's along with beating Del Potro and Nadal later on as well. He won over Nadal at the Rogers Cup at home and was the youngest tennis player to reach a semi-final for the Masters. He also got to the 4th round of the US Open. He should be one of the top 3-4 players in the world over the next few years as predicted by tennis pundits and experts.
Alexander Zverev: Undoubtedly, Zverev had an immensely successful year in 2018, beating Novak Djokovic to win the first ever World Tour Finals in his career. Reaching World Number 4 at only 21 years of age is no mean feat and he has won 10 ATP Titles with a World Number 3 ranking being his career-highest. He has already been knocking at the heels of the top 3 players in world tennis for quite some time now. He does have the potential to start winning Grand Slams which will be the normal route towards taking over from Federer/Nadal/Djokovic as a modern-day tennis great.
Daniil Medvedev: Daniil Medvedev is known for his aggression while playing on court but also his humble nature off it. He is a little shy in public although his grit comes to the fore when he's facing off against opponents. The Russian 23-year tennis prodigy is currently at number 4 in the ATP Rankings as well, having won 7 ATP Singles Titles which includes a couple of Masters 1000 Titles at the 2019 Rolex Shanghai Masters and 2019 Cincinnati Masters. He also reached the final of the 2019 US Open where he was defeated by Rafael Nadal. He does possess the ability to get into the top 3 globally in the future.