UNESCO Football World Heritage Official Visits Aspire Academy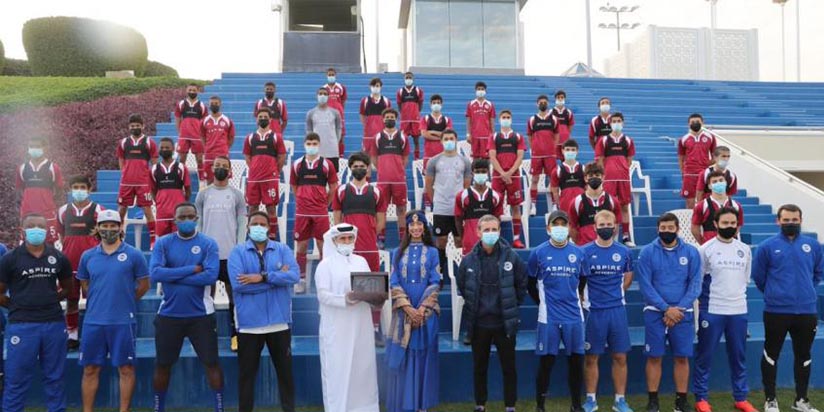 The official ambassador delegate for Football World Heritage of UNESCO, Princess Rani Vanouska T-Modely visited Aspire Academy and met with football student-athletes and coaching staff, during one of the football training sessions.
The UNESCO Official was met and welcomed to the world-renowned institution of youth sport development by Aspire Academy Deputy Director General, Ali Salem Afifa, who went on to accompany her to the academy outdoor football pitches where Aspire Academy football training sessions were taking place.
"l am happy to come to Aspire and see the future team players of Qatar national football team and to see the young players who will take over from likes of Almoez Ali is a testament to Qatars drive for sport development. l congratulate you for everything you are doing here, and its been an honor for me to visit Aspire Academy," said Princess Rani in a statement during her visit.
This visit of the UNESCO official to Aspire Academy comes within the announcement regarding Aspire graduate Almoez Ali, who had been selected as the UNESCO ambassador for Football World Heritage.
"We all know the involvement and commitment of Qatar about education of the youth and it is one of the reasons we chose Qatar in the candidacy for UNESCO Football World Heritage," she said on this occasion, adding "it is my role to put enlightenment on the leading role Qatar has been playing using the power of football for education, science and for development."
Princess Rani Vanouska T-Modely concluded her visit by addressing Aspire Academy a group of Aspire Academy Football student-athletes and encouraging them to make the most of the wonderful opportunities accorded to them at Aspire Academy and give of their best.