Qatar's two-time world high jump champion Mutaz Barshim, who will be chasing a first Olympic title in Tokyo later this year.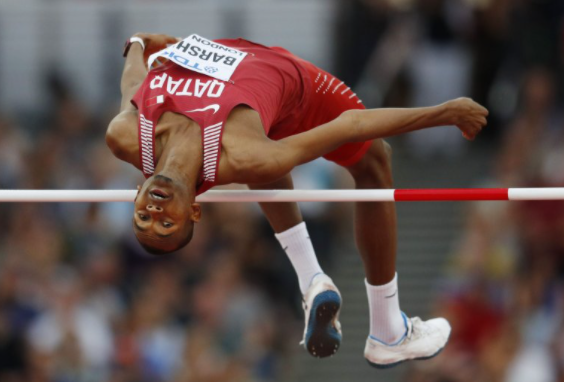 Your victory at the World Athletics Championships Doha 2019 in your home country of Qatar provided one of the abiding memories of the championships. Do you think you will ever be able to top this moment?
Mutaz Barshim: A moment like I experienced in Doha happens maybe just once in an athlete's career. To be honest, it is my career highlight so far. I don't know what can happen in future that would be bigger than that. To become the first man to successfully defend the title and to do so at home after coming back from an injury which threatened my career will not be easy.
Despite the very serious nature of the injuries you suffered, and the fact you underwent ankle surgery in 2018, did you always keep that belief that you could overcome that and win the world title?
MB: Always. That is why I wake up in every morning and put in the work. I always believe I will come back. After I won the gold my doctor said: "I did not want to rub it in your face but this is the worst injury of this nature I've seen." But I knew as an athlete what I'm capable of.
Can you assess your fitness levels in Doha?
MB: I would say close to 80%. In June and July of 2019, I'd been in terrible shape. I think the home crowd in Doha gave me the extra 20% I needed!
People talk about the positive impact a supportive crowd can make, so does it make much difference to your performance?
MB: It was so deep and personal for me. I love to compete and I enjoy the high-pressure moments. I'm no longer looking for easy wins at 2.33m or 2.35m, that does not matter to me anymore. I am at a point in my life where I'm looking for more than that. I'm looking at creating history and winning. Doha was so dear to my heart. I wanted to defend my title at home. I had my family and friends watching and I wanted to put on a show to inspire a generation. This was the moment that I'll tell my grandchildren about. I haven't watched the video too many times but when I do I get chills. It was an electric moment like I was in a movie.
Since winning the gold medal, are you recognised on the streets much more now?
MB: Of course, many people knew me before (the 2019 World Championships) but now it is on a whole different level. Whenever I go out, the restaurant bill is automatically paid. You can see people really appreciate what I've done.
Do you like the extra attention?
MB: It is nice sometimes, I am not going to complain about it. But I'm not the type of person who goes out very much. I occasionally go to restaurants but generally I stay at home or go to friends' houses.
You returned to training after Doha in late November 2019, but how did the global pandemic impact your training in 2020?
MB: Once the coronavirus situation started to escalate and we went into lockdown in March/April, I barely did anything. I had no access to a weight room or track and all I did was some running and exercises of a small grass field. In June I managed to get a flight out to Sweden (Barshim shares his training time between Doha and Sweden) and I was very surprised to find because everything was open, I could train freely there. I decided not to compete in 2020 because with no Olympics taking place, it was not worth risking any competition. I decided to do light training and use 2020 as a recovery year.
How did you greet the news the Tokyo Olympics would be pushed back to 2021?
MB: It was disappointing because we were programmed to think for so long that 2020 would be the year the Tokyo Olympics would take place. But the decision was totally understandable. Health is the most important thing. I just had to stay positive and prepare for 2021.
How has training gone in preparation for 2021?
MB: I re-started training in October with the view to competing indoors ahead of the World Indoors but since the event was postponed I'm now not looking to prepare for the indoor season. I also had a month off in December because I tested positive for Covid. My body felt a bit fatigued for two weeks and then I spent two weeks in quarantine. Since then I've picked up the pace in preparation for the outdoor season.
What are your aims and ambitions for 2021?
MB: My No.1 goal, as always, is to stay healthy. If I can, I will work hard to produce some good jumps and look for some records. The biggest thing is to be able to put up a good fight at the Olympics.
You are a three-time world champion (two outdoors, one indoor) and an Olympic silver and bronze medallist, how much of a desire do you have to win Olympic gold?
MB: I'm looking forward to what is next for me. I'm very fortunate to have been a professional for 10 years and I've won literally everything except an Olympic gold. It is the one thing missing from my CV – and I would like to add it!
When you clear a high bar, can you articulate what that feeling is like?
MB: It is amazing. I work hard all year for this feeling. When I'm soaring clear of the bar, it is like time slows and it feels like I'm flying. We all say that the human dream is to fly; well, I feel like I've been living that dream.
Can you recall one past jump when you have felt like you were flying?
MB: It is hard to pick just one. I liked my jump in New York in 2014 (when he set an Asian record of 2.42m) and another one in Eugene in 2018 (with a 2.36m clearance). Another good jump was in Hungary (at the Szekesfehervar meeting) in 2018. It was the same jump (2.40m) where I broke my foot but I remember the jump was good.
You are known for your stylish and almost effortless jumping style; is this something you have had to work on over the years?
MB: No, I never work on that, it just comes naturally. I hear some jumpers telling me "I jump exactly like you" but I tell them, yes, please jump, but don't copy me. In the high jump you have to find your own style that works.
Over the years you have suffered from your fair share of injuries. What kind of advice would you pass on to others also suffering from an injury?
MB: Be patient, always believe and surround yourself with a positive team. It is also important to listen to your body. It is no good if your body is hurting and you push too hard to finish a session but then you are unable to train the next day. Be smart and listen to your body.
You have been coached by Stanislaw Szczyrba for 12 years. What does he mean to you?
MB: He is not only a coach, he is like a second father. We see each other for 11 months of the year and we have a very special relationship. We talk not only about training, but can chat for hours about many other topics.
You have a passion for movies. So who would play your life story in a movie?
MB: That's a tough one. I liked how Will Smith played Muhammed Ali, so I'll go for him. He might need to get a bit fitter and lose some weight, but I feel like he could play the role of me coming back from injury to win in Doha.
How would you like to be remembered in the sport?
MB: When I retire I want to make sure high jump can never be mentioned without saying my name!