NFL Philip River's Wife Tiffany Rivers Biography & Age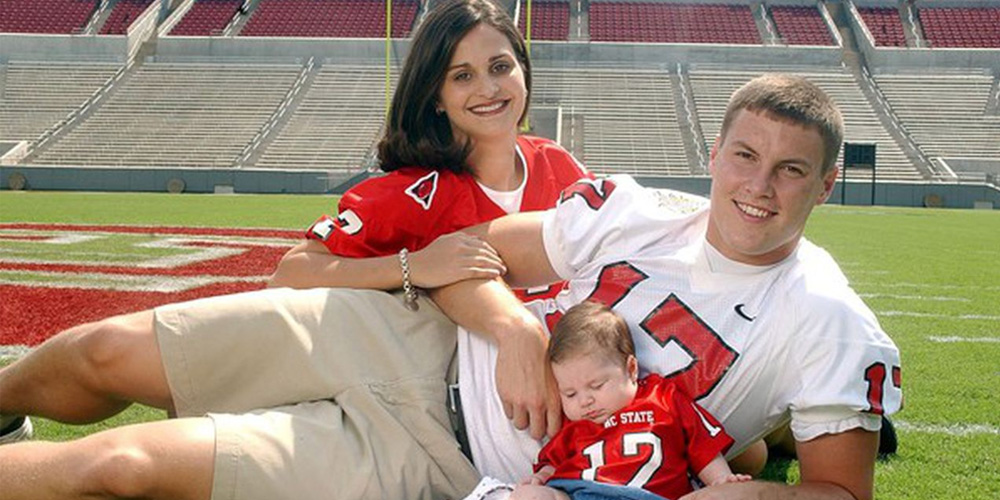 Tiffany was born in 1982, in Alabama, United States. She is on the long list of women that became famous for dating or getting married to famous men. She is married to Philip Rivers, and NFL player that plays for the Los Angeles Chargers. Although Tiffany's life is open for all to see, not much is known about her education, as well as her early life.
There is a huge likelihood that Philip is the only one Tiffany has ever been with as they began dating in junior high school. Although they dated for a relatively long time, Tiffany was able to remain chaste until she got married. Tiffany and Phillip go married in 2001. A year later, they had a child which they called Halle. It appears the marriage between Philip and Tiffany has been able to last the test of time as they have been able to give make 9 children. While there could be lots of reasons for their marriage lasing long and producing lots of children, one major reason is the fact that they are practicing Catholics. As reported by WashingtonBlog, Tiffany and Philip currently live in Northern San Diego. Phillip, however, heads to Los Angeles everyday for games.
Tiffany Rivers' Career
There is no a lot of information about what Tiffany does for a living. It, however, is common knowledge that she runs a foundation alongside her husband. This foundation is known as Rivers of Hope. It was set up to help orphans get families. The orphans that qualify for this should not exceed 12 years. To ensure that their foundation gets the level of support it requires, Tiffany, alongside her husband put together a fund run yearly. In addition to running a foundation, Tiffany takes care of her children and household.
How Many Children Does Tiffany Have?
Tiffany currently has nine children. Thus means together with her husband, her family has the perfect number for a football team. Although having nine children is a lot, Tiffany is still young and it does not look like she and her husband will stop having children anytime soon. Tiffany's husband is a famous football player. People, however, seem more interested in talking about his children than about his career so far.
Although some people would be offended if the number of children they have is made a subject of public debate, Rivers seems very comfortable with it as he enjoys having children around. For Philip Rivers, having lots of children is a dream come true. He was quoted to have said, "I'm literally living out my childhood dream." "We're playing in Seattle in that awesome atmosphere, the national anthem's playing and there are my oldest four of the eight we have watching me at 37 years old playing a game. It was kind of one of those surreal moments. You have those little snapshots of time that you're like,'Gosh, it doesn't get much better".
Tiffany's children are Halle, Caroline, Grace, Gunner, Sarah, Peter, Rebecca, Clare, and Anna. The oldest is 18 while the youngest is 1.
Body Measurements and Age
Tiffany is no longer a very young woman. Over the years, she has had nine babies. Nonetheless, she has maintained her youthful look and has remained vibrant. She has a pale skin color which is complemented by her dark eyes and short black hair. That's not all. She also has a small frame. Due to this, her husband always looks very big when he is around her.
Net Worth
Tiffany does not seem to have made a lot of money on her own. She has a running business and a charity organization. There, however, is not a lot of information about her net worth.