Man City have overcome winter 'hell' with21-game winning run-Guardiola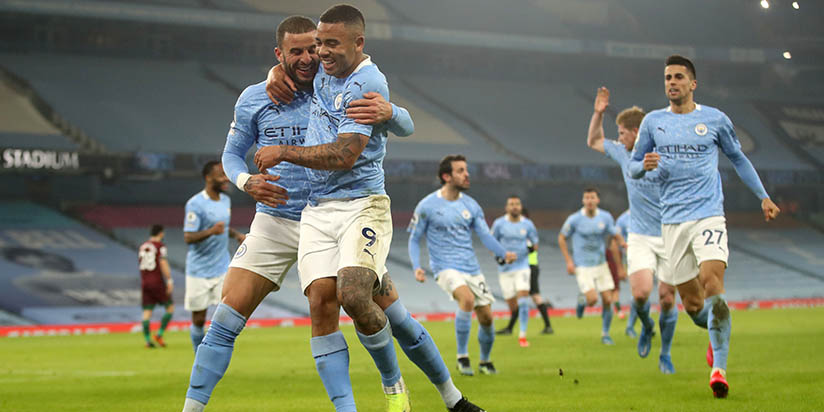 Pep Guardiola believes Manchester City have "come through hell and done something more than remarkable" by overcoming a tough winter schedule to extend their winning run to 21 games in all competitions by beating Wolverhampton Wanderers.
Their 4-1 victory courtesy of three goals inside the final 10 minutes means City have not dropped points in the league since drawing with West Bromwich Albion on 15 December and are now 15 points clear at the top of the table.
During that time they have played 21 games in all competitions, reached the final of the League Cup, the quarter-finals of the FA Cup and taken control of their last-16 Champions League tie against Borussia Monchengladbach.
"In winter time in England it's hell and in that time we did something incredible," Guardiola told BBC Sport. "It's more than remarkable.
"The players have all my compliments but Liverpool have the crown. To win the Premier League we need those points."
An unlikely second-half equaliser from Conor Coady – cancelling out Leander Dendoncker's first-half own goal – had threatened to thwart City's pursuit of a 15th consecutive Premier League win.
In what was an otherwise one-side encounter, Coady's 61st-minute header – his first Premier League goal and his team's first touch in their opponents' penalty area – gave the visitors hope of earning at least a point.
However Gabriel Jesus put City back in front at Etihad Stadium with a shot on the turn from Kyle Walker's deflected cross.
With Wolves' spirit broken, in-form Riyad Mahrez fired in his seventh league goal of the season before Brazil striker Jesus got his second with virtually the final kick as VAR ruled his effort onside.
The leaders face second-placed Manchester United on Sunday with the chance to move another step closer to the title.
"We have one or two days to rest and I realise how strong they are," Guardiola said of United "It's an incredible opportunity to make a huge step and we are going to try."
Source: BBC