Mall of Qatar to broadcast FIFA Club World Cup on giant screens at oasis stage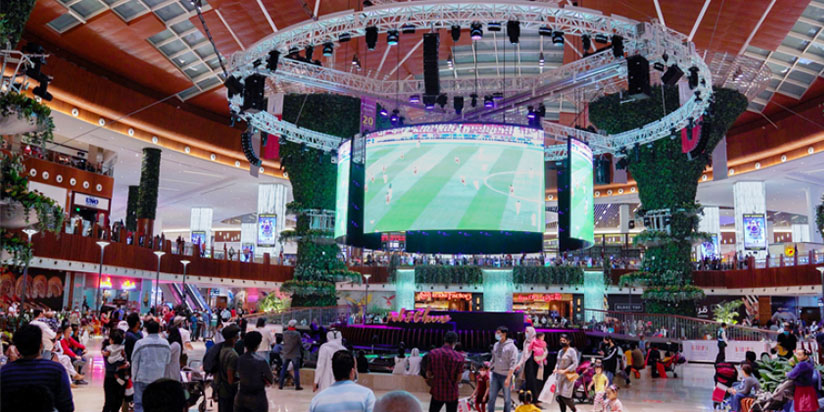 Mall of Qatar welcomes football fans at the Oasis to watch FIFA Club World Cup 2021 taking place in Doha from February 4 to 11 in Education City and Ahmed Bin Ali (Al Rayyan) Stadiums.
The Nation's Mall offers its visitors the best opportunity to live the excitement by watching the matches on the giant screens at the 360 degrees Oasis stage, giving them an ideal alternative to live watching of the games, and allowing an integrated shopping, dining, and watching experience in a safe environment. Surrounding restaurants will indulge customers with food from different cuisines, including Lebanese, oriental, Indian or international including Debs w Rumman, Cheesecake Factory, Jwala, Mokarabia in addition to a wide selection of restaurants in the food court at the first floor such as UNO Chicago, NEO, Dip & Dip among others.
In this regard, Mall of Qatar reaffirms taking the precautionary measures that maintain visitor safety, including social distancing and other necessary standards.
Football fans of the Qatari club Al Duhail can watch all the matches live starting the first day of the tournament when meeting the Egyptian club Al Ahli in an exciting match at 8:30 pm.
Emile Sarkis, General Manager, Mall of Qatar, stated: "The FIFA Club World Cup in Qatar is the talk of the town. Considering the limited number of fans who can enter the stadiums because of COVID-19, we are pleased to offer the spectators an incredible opportunity to live the matches' excitement on high-quality screens. Besides, Friends and families can still enjoy a wide variety of dining options in the surrounding restaurants and spend joyful moments in a safe environment. This is part of Mall of Qatar's continuous effort to provide the best customer experience ever".

"We wish Al Duhail club all the best and success in this tournament, which shows Qataris capabilities to host successful international events," Sarkis added.
The matches start on Thursday, February 4, between Tigres UANL (Mexico) and Ulsan Hyundai FC (Korea) at 5 pm, while the second match will gather two Arab clubs in an exciting game Al Ahli (Egypt) and Al Duhail (Qatar) at 8:30 pm.
The second round occurs on February 7 for the fifth place between the losers of the first two matches at 6 pm.
The big excitement continues in the semi-final round on February 7 at 9 pm between Palmeiras (Brazil) and the winner of the match between Tigres UANL (Mexico) and Ulsan Hyundai FC. Bayern Munich (Germany), the Champions League winner, will start its matches facing the winner between game Al Ahli (Egypt) and Al Duhail (Qatar) on February 8 at 9 pm.
On February 11, the tournament is concluded with the first match for third place at 6 pm, while the final match at 9 pm will crown the champions of the 2021 version.