Who is the better player: Lebron James or Kevin Durant?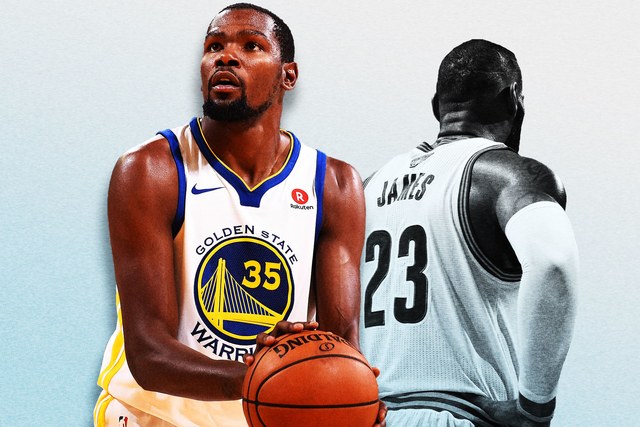 KD vs Lebron: Who is the better player? Lebron James was in the public spotlight since he was a teenager and had to shoulder the burden of expectations from a very young age. Kevin Durant came into the league and burst onto the stage with his exceptional shooting coupled with ball handling skills. To compare them, we must first acknowledge the similarities in their careers.
Both were drafted in the NBA before they were 20 years old. Both players won 'Rookie of the year'. Both averaged more than 20 points in their rookie year. Both struggled to reach the playoffs in their initial years. Lebron moved to Miami and created a superteam. KD moved to Golden State and created a superteam. Lebron won back-to-back championships with his superteam. KD won back-to-back championships with his superteam. Lebron won his first ring by beating the KD-led OKC. KD won his first ring by beating the Lebron-led Cavs team. Both have been regular season MVPs at some point in their careers. They are both having their best seasons right now. They were both criticized for leaving the teams that drafted them to create super teams. They both won Finals MVPs with their superteams.
Despite this overlap, there is one thing that sets them apart. KD won his rings by playing on arguably the best team ever. Even though he justified his decision to join a 73-win series by winning back-to-back Finals MVPs, he still had Steph and KD to help him. He took over consecutive Game 3s in the King's house by hitting clutch threes. Lebron is playing his best basketball in his 16th NBA season which is ridiculous. He has improved a lot on his perimeter shooting and has started to knock down some critical shots. He did beat the Warriors single-handedly and brought a championship to Cleveland.
The one reason that puts Lebron ahead of KD, in my opinion, is the state they left their teams in. Lebron has left Miami once and Cleveland twice now, and all three teams that were championship competing teams have slumped after Lebron left. All teams were in fear of missing the playoffs. The Cavs are 3-14 this season with virtually the same team minus Lebron. KD left OKC but OKC still had a winning record. They still qualified for the playoffs and almost won one series. This season they are looking better than ever and are favorites to win at least one series. This tells us a lot of things.
Also, Lebron won a championship with Cleveland and KD hasn't won a championship without the Warriors giving Lebron the edge over KD. Moreover, Lebron is not a pure scorer and still his numbers are like that of a scorer. KD has improved in the other areas except scoring too but is nowhere near the playmaking proficiency of Lebron. This coupled with Lebron's work off the court certainly puts him ahead of KD as the better player amongst them even though it is very close.