Wembanyama's Defensive Wall: Schroder's Challenge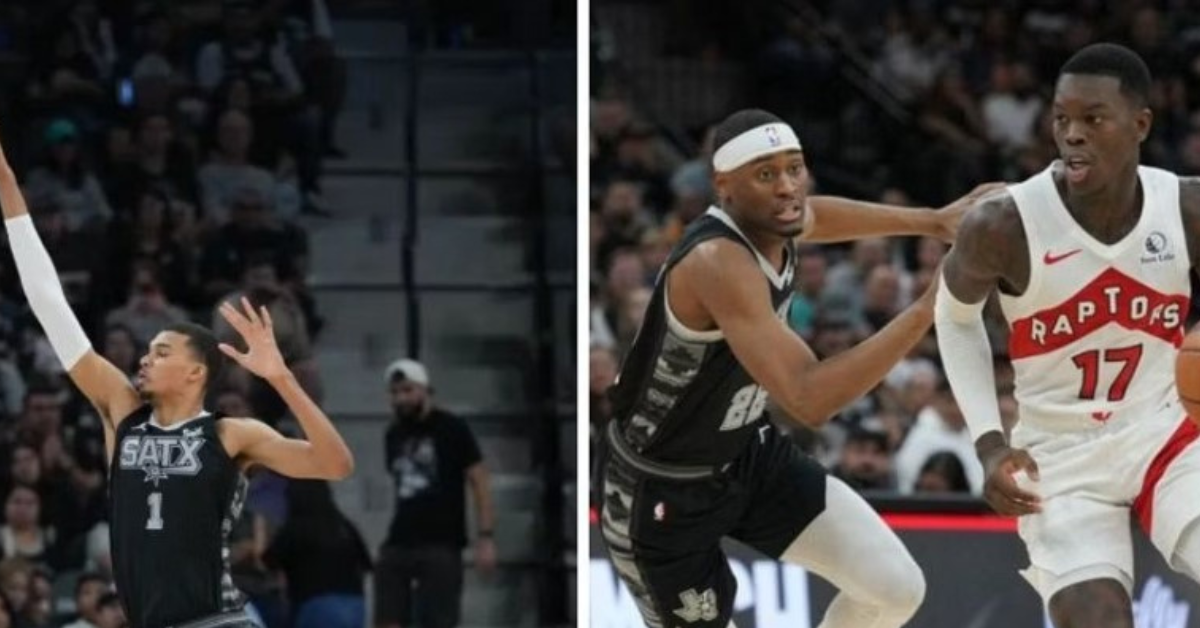 Wembanyama's Defensive Wall: Schroder's Challenge , In a recent matchup between the Toronto Raptors and the San Antonio Spurs, Dennis Schroder found himself in a challenging situation against the towering rookie center, Victor Wembanyama. Standing at 6-foot-1, Schroder, known for his intelligent scoring, faced difficulties shooting over the imposing 7-foot-4 French center.
The encounter unfolded as the Raptors faced the Spurs for the first time last week, providing an opportunity for players like Schroder to gauge the skills of the highly touted rookie, Wembanyama. The 2023 FIBA World Cup MVP has been making waves with his remarkable performance on both ends of the court, and Schroder's experience shed light on the defensive nightmare that Wemby poses for opposing teams.
During the game, Schroder attempted to shoot three-pointers over Wembanyama but faced unexpected challenges due to the rookie's towering presence. In a candid explanation, Schroder revealed that he airballed two of his shots, citing uncertainty about whether Wembanyama would block his attempts.
"So for me, I did try to shoot two threes over him and airballed it because I wasn't sure if he's blocking it or not," Schroder explained. When asked if he could see the rim during those moments when Wemby closed out on him, Schroder humorously admitted, "Not really, that's the reason why I airballed it. That was kinda funny."
Schroder's remarks provided insight into the challenges faced by shorter guards when playing against a formidable shot-blocker like Wembanyama. The French center's extraordinary length and shot-blocking ability create a defensive advantage that proves to be a significant obstacle for guards who lack the height advantage.
Wembanyama, in his first NBA season, has made an immediate impact for the San Antonio Spurs. Despite playing only seven games, he has showcased his versatility, averaging an impressive 19.4 points, 8.4 rebounds, and 2.6 blocks per game. The rookie's defensive prowess, highlighted by his shot-blocking skills, has become a defining feature of his contribution to the team.
Beyond individual matchups, Wembanyama's stellar performance has earned him recognition on a broader scale. ESPN's annual list of the 25 best NBA players under 25 years of age includes Wembanyama, positioning him as the third-best player in this category. This accolade is particularly noteworthy considering his limited NBA experience, as he surpassed established stars like Zion Williamson, Tyrese Haliburton, and Ja Morant.
Wembanyama's inclusion on the list underscores the basketball community's acknowledgment of his exceptional talent and potential as one of the league's rising stars. Notably, he wasn't the only rookie featured on the list, with Scoot Henderson and Chet Holmgren also making appearances.
As Wembanyama continues to make a significant impact in his debut NBA season, his performance against seasoned players like Schroder reinforces the notion that he is not just a promising rookie but a force to be reckoned with in the league. The challenges faced by experienced guards when contending with Wemby's defensive prowess highlight the unique and transformative impact the French center brings to the San Antonio Spurs and the broader landscape of the NBA.
For More Related Updates Please Visit Our Official Website
By- Sahiba Suri