Son Heung Min's Top Athletes List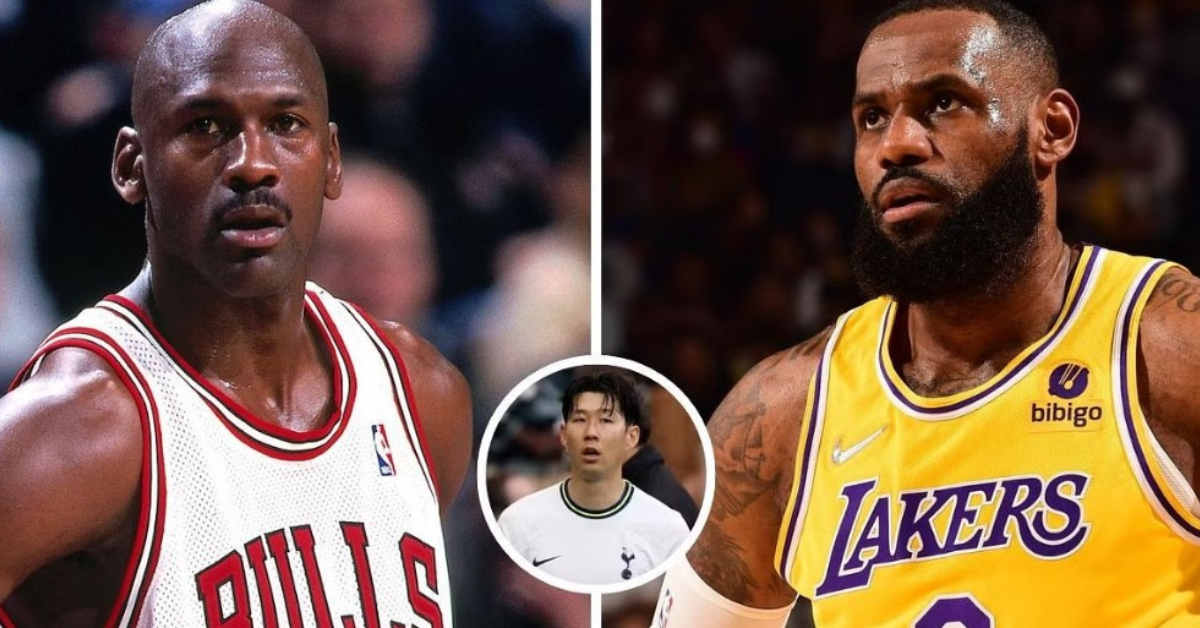 Son Heung Min's Top Athletes List
Tottenham Hotspur's star player, Son Heung Min, rattled the sports world by omitting LeBron James from his list of the four greatest athletes of all time, which included Michael Jordan, Tom Brady, and soccer maestros Lionel Messi and Cristiano Ronaldo.
Son's bold choices have ignited debates and speculation about the criteria he used to curate this exclusive roster of sporting legends.
"Michael Jordan, Tom Brady, Messi & Ronaldo," Son Heung Min said.
Tom Brady reigns supreme in the NFL. He boasts seven Super Bowl championships. The three-time NFL MVP just retired at 45 years old and defied age-related decline, which the 38-year-old James is still far from reaching.
Lionel Messi and Cristiano Ronaldo are two names that are synonymous with greatness on the soccer scene. Both stars have dominated the sport with numerous Ballon d'Or between them, and they are household names.
In basketball, Michael Jordan still stands out among all others, even two decades after retiring from the sport. His six championships and countless iconic moments have solidified his place in basketball greatness, which James is still chasing late in his career.
Son Heung Min choosing to leave LeBron James off his list of the greatest athletes of all time is a matter of preference. In his eyes, James didn't meet the criteria to be chosen among his top four, which consisted of Jordan, Brady, Messi, and Ronaldo.
The Michael Jordan vs. LeBron James GOAT debate
Michael Jordan and LeBron James have been synonymous with greatness in the world of basketball, and fans have been debating who is better than the other for years.
While Son Heung Min's list has stirred the pot, it's essential to remember that the debate over the greatest athlete of all time, or the "GOAT" (Greatest of All Time), is highly subjective and often fueled by personal biases, preferences, and the era in which an individual grew up.
Each of the athletes mentioned in Son's list has achieved remarkable success and has left an indelible mark on their respective sports.
Michael Jordan, often regarded as one of the greatest basketball players in history, led the Chicago Bulls to six NBA championships and earned numerous accolades, including five NBA Most Valuable Player (MVP) awards.
Tom Brady, considered by many as the greatest quarterback in NFL history, has won seven Super Bowl titles and holds numerous records, solidifying his status as a football legend.
Lionel Messi and Cristiano Ronaldo have redefined soccer excellence. They have each won multiple Ballon d'Or awards and have consistently performed at the highest level for over a decade, earning their places among the soccer elite.
LeBron James, on the other hand, has had a remarkable career, winning four NBA championships, four NBA MVP awards, and earning numerous All-NBA Team selections. He is often praised for his versatility, basketball IQ, and impact on and off the court.
In the end, Son Heung Min's list reflects his personal perspective on greatness in sports, and while it may differ from others, it adds to the ongoing discussion about the most exceptional athletes of all time. Sports enthusiasts will continue to engage in friendly debates and comparisons, but what remains undeniable is the incredible impact these athletes have had on their respective sports and the world of sports in general.
For More Related Updates Visit Our Official Website
By- Sahiba Suri