NBA Extends Global Reach with Youth Tournament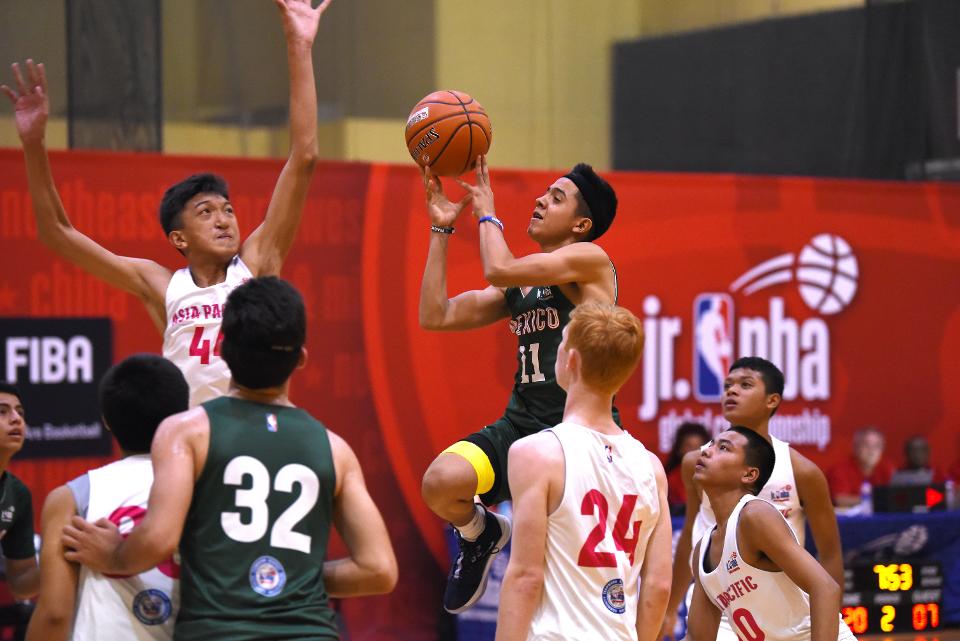 If you manage to withstand the heat and humidity that Central Florida will have in store for August, in all likelihood, you will find the future of the NBA cradles somewhere within the vast 25,000 acres that constitute Walt Disney World. Just south of both Orlando and Cinderella's Castle, this is where the Junior NBA Global Championship takes place at the ESPN World Wide of Sports. The round-robin tournament, with more than 350 teenagers representing 40 countries, comprises 16 teams from various regions across the U.S., while two other teams represent each of 8 international regions, namely, Africa, Asia Pacific, Canada, China, Europe/Middle East, India, Latin America, and Mexico. Teams fight it out against each other in the U.S. as well as at an international level, following which the winners travel to Orlando.
There has been a steady rise in the popularity and exposure of youth basketball, especially since basketball enthusiasts are keen to know who the next potential superstar is. Only 13 and 14 year olds are eligible to participate in this Tournament, and international players constitute half the competitors. Since the participants remain relatively anonymous, the need for the tournament is often questioned. However, in an exclusive interview, David Krichavsky, the NBA Senior Vice-President and head of youth basketball development, has stated that currently, they have established presence in 75 different countries with 50 million boys and girls. It has emerged to be a global entity but as far as markets such as China, India, and Africa are concerned, there is still immense growth potential which can be achieved by their grassroots programs. He further added that the tournament is a "significant expense" for the league, which takes into account not only travel and accommodation expenses for players and coaches, but also an extensive marketing campaign, besides an upgraded branding of the event. Organizers have recently been focusing on adding corporate sponsors since the inaugural event in 2018 and the tournament now has nearly 20 marketing partnerships.
Also Read: Raptors Brittni Donaldson becomes youngest assistant coach in NBA
However, FOX Sports, the current media partner of the tournament, is expected to play a key role in its future successes. Like other partners, FOX is all set to help develop the Global Championship into a shared viewing experience in households around the U.S. If we go by numbers, there has been phenomenal growth from the first year of the tournament. The last of the tournament, also referred to as "Championship Sunday", viewership saw a rise of 7% for a full slate of coverage. This is the day when the winners of each bracket compete for the title. The boys' final, between the team from Africa and the U.S. Region from the Central Region, viewership increased by 18%. With the impressive growth in viewership and the tournament's brand, the event itself has also been evolving, which was quite expected, thanks to its relative novelty. With the target of improved production value, televised contests were moved to single court. Game windows were lengthened to 90 minutes to accommodate contests from beginning to end on just a single FOX channel.
It is also interesting to note that the name itself was also changed to cater to the goal of global reach. It is also interesting to note that while in 2018, the event was marketed as the "Jr. NBA World Championship, this year saw the word"World" being replaced by "Global" to be more in sync with other league nomenclature. According to Krichavsky, this creates some distinction from other co-existing world championships. Though a minor tweak, this has been quite effective. Coming to the NBA's youth programs, they are largely defined by counterbalances. The league has made heavy investments in its NBA Academies, training centres spread across Australia, China, India, Mexico, and Senegal.
As the tournament keeps propagating its agenda of promoting youth sports and amateurism at its highest level, it also aims to continue expanding broadcast opportunities and filling the seats of the ESPN Complex. Despite the even being free of charge, it is sparely attended. However, thanks to the increased ratings, there is an encouraging sign of widespread interest. Each new partnership is offering their resources to catapult the Global Championship brand to greater reach. Though a significant return on investment is not on the cards in the near future, but the league can keep at it since it is now thriving more than ever. Krichavsky maintained a positive note, saying that they are very happy with where they are, and it is undoubtedly a positive trajectory. They are putting their best foot forward to build something for the long term.