Jaren Jackson Jr. Impressed by Dirk Nowitzki's 2011 NBA Finals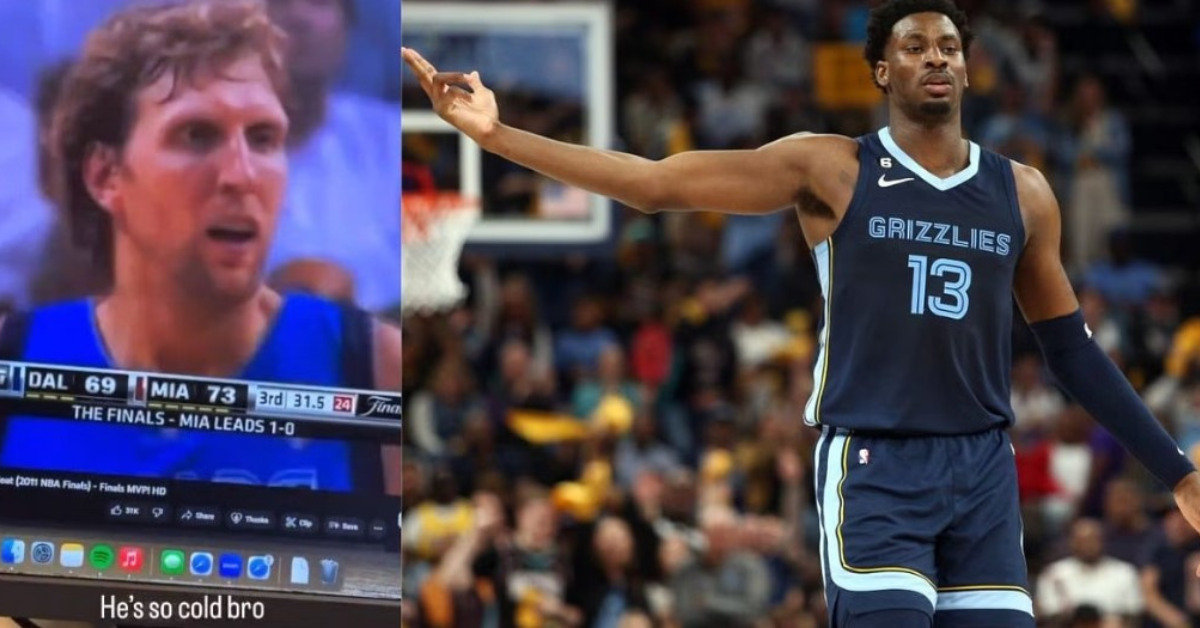 Jaren Jackson Jr. Impressed by Dirk Nowitzki's 2011 NBA Finals
Memphis Grizzlies star Jaren Jackson Jr. couldn't help but be mesmerized by Dirk Nowitzki's legendary performance during the 2011 NBA Finals against LeBron James and the Miami Heat. Nowitzki, the German basketball icon, led the Dallas Mavericks to a stunning upset victory in that championship series, forever etching his name in NBA history.
In the 2011 NBA Finals, Nowitzki faced off against a formidable Heat team led by LeBron James and Dwyane Wade, both at the peak of their careers. The Mavericks were seen as underdogs, but Nowitzki had other plans. His incredible performance would go down as one of the most iconic moments in NBA history, and it left a lasting impression on young stars like Jaren Jackson Jr.
Despite being one of today's rising NBA talents and witnessing several great finals performances, Jaren Jackson Jr. found himself in awe of Nowitzki's 2011 masterpiece. Jackson took to his Instagram account while watching Game 2 of the championship series and shared his admiration, stating, "He's so cold, bro. Look, bro, it [the ball] didn't even touch the net."
The particular play that left Jackson awestruck occurred with Nowitzki positioned at the top of the key, guarded closely by Heat forward Udonis Haslem. In a moment of sheer brilliance, the former MVP elevated his 7-foot frame and effortlessly sank a jump shot over Haslem. All Haslem could do was watch and hope that Nowitzki would miss, but the net barely moved as the ball swished through.
The 2011 NBA Finals had commenced with the Miami Heat winning Game 1, taking an early lead in the series. However, Nowitzki's Mavericks had other plans, and they shocked basketball fans with a thrilling 95-93 victory in Game 2, evening the series. Nowitzki, affectionately known as "German Jesus," delivered a spectacular performance in that game, contributing 24 points, 11 rebounds, four assists, and one block.
Nowitzki's heroics played a pivotal role in the Mavericks' remarkable comeback. Facing a 15-point deficit, Dallas rallied to stun the heavily favored "Heatles" on their own turf. Nowitzki's injured left hand didn't deter him from hitting the game-winning basket, leveling the series as it shifted to Dallas.
The 2011 NBA Finals remained tied at 2-2 after four games, but it was Dirk Nowitzki's extraordinary efforts that propelled the Mavericks to a championship victory in just four more games. His legacy as one of the all-time greats in NBA history was solidified, leaving an indelible mark on the sport and inspiring a new generation of basketball enthusiasts like Jaren Jackson Jr.
For More Related Updates Visit Our Official Website
By- Sahiba Suri