James Harden's Potential Move to Miami Heat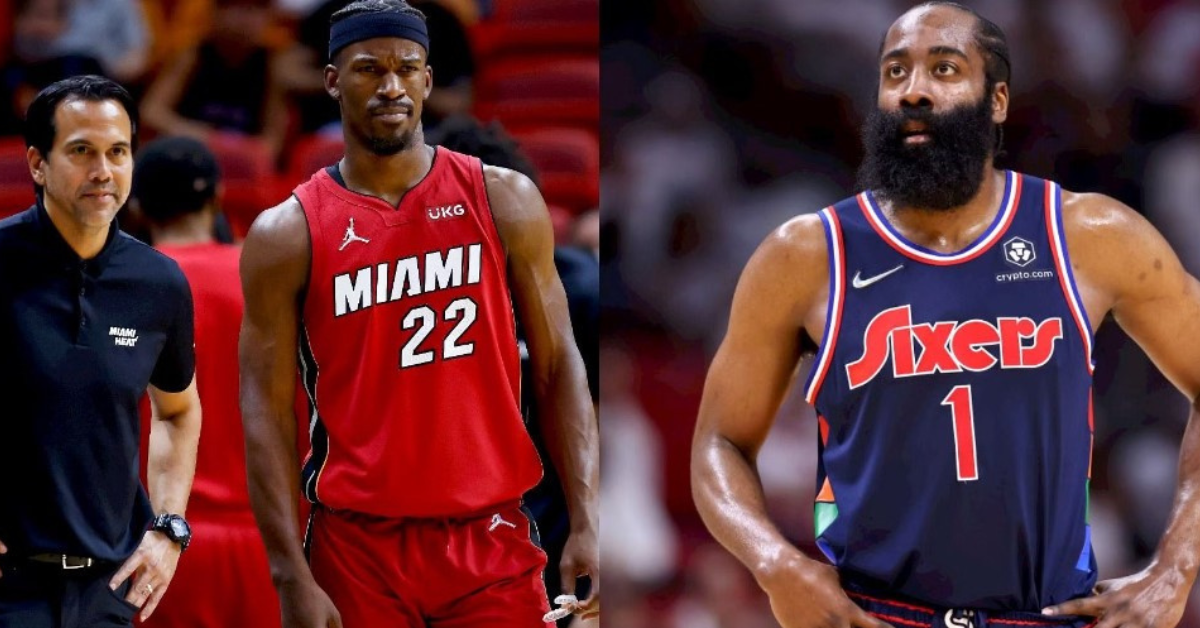 James Harden's Potential Move to Miami Heat
Stephen A. Smith Believes James Harden Would Thrive with Miami Heat"
After requesting a trade in late June, Philadelphia 76ers star guard James Harden is still without a new team entering the 2023-24 NBA season. Harden has continued to make his discontentment with the Sixers known as he missed the team's media day on Monday and the start of training camp on Tuesday.
On Wednesday, Harden finally reported to training camp; however, he is still expected to try and force his way out of Philly. Few teams have registered any trade interest in him up until this point, likely due to the constant drama that follows the star guard.
However, ESPN's Stephen A. Smith thinks there may be one team that can make things work with Harden: the Miami Heat.
During Wednesday's episode of "First Take," Smith first said that he doesn't believe any team should pursue Harden. However, according to Smith, the best potential landing spot for the disgruntled guard is Miami due to the team's need for more offensive firepower:
"Well, first of all, respectfully, no one should pursue him," Smith said. "There are certain landing spots—I would love to see him in Miami because I think they need someone with his skill set. He led the league in assists last year. We talk about James Harden like he's not still an All-Star-caliber player. He's not the three-time scoring champion that he once was. But he is a big-time player. He's an All-Star, and he would definitely help them because of his ability to make shots and to play in that system."
Smith added that Harden also needs the Heat due to the team's renowned organizational culture:
"I actually think he needs Miami," Smith said. "He really, really does. That level of structure with an organization that he respects, that you can't get away with some of the shenanigans that he's engaged in. And I say that respectfully because I am a fan of James Harden as a person and a player."
---
Stephen A. Smith, a prominent figure in sports commentary, believes that James Harden's next move in the NBA should be towards the Miami Heat. Despite Harden's tumultuous situation with the Philadelphia 76ers, Smith sees the Heat as the ideal destination for the star guard.
Harden's desire to leave the 76ers has been evident since his trade request in June. He missed team events, including media day and the start of training camp, fueling speculation about his future. While few teams have shown interest in acquiring Harden, Smith suggests that the Miami Heat could be the right fit.
During an episode of "First Take," Smith expressed his opinion that no team should actively pursue Harden due to his recent behavior. However, he pointed out that Miami's need for offensive firepower aligns with Harden's skill set. Smith emphasized that Harden remains an All-Star-caliber player with exceptional playmaking abilities.
What makes Miami particularly appealing, according to Smith, is the team's structured organizational culture. He believes that joining the Heat would provide Harden with a level of accountability and discipline that could curb the "shenanigans" he has been associated with in the past.
Smith's endorsement of Miami as a potential destination for Harden reflects his admiration for the player, both as an athlete and as an individual. It remains to be seen whether the Miami Heat or any other team will pursue a trade for James Harden as the NBA season approaches.
In summary, while James Harden's future in the NBA remains uncertain, Stephen A. Smith suggests that the Miami Heat could be the right team for him, considering their need for his skill set and the structured organizational culture they offer. Harden's next move will be closely watched as the NBA season unfolds.
For More Related Updates Visit Our Official Website
By- Sahiba Suri