Abu Dhabi T10 out to prove format sustainability as cricket awaits Olympic Games return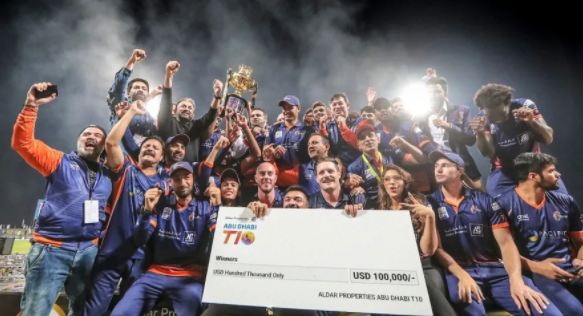 The 2021 edition will kick off today and will include 29 matches over 10 days.
The Abu Dhabi T10 League kicks off on Thursday, with the fourth edition looking to further establish a proof of concept and longer-term legacy for the format, even as its suitability to spearhead cricket's long-awaited return to the Olympics Games continues to be discussed.
With the Covid-19 pandemic still far from gone, this year's tournament has gone to extraordinary lengths to try and conduct the 29 matches over 10 days of cricket – January 28 to February 6 – that will have over 100 players travelling in to the UAE. The playing pool does have a slightly different look and feel this season, but there remains an exciting cast.

Chris Gayle still has enormous star power, and Shahid Afridi leads the list of returning Pakistan players after last year's issues with the PCB were resolved. Among others, the likes of Tom Banton, Mujeeb Ur Rahman, Chadwick Walton and Imran Tahir should make for entertaining viewing. There are also four Indian players – led by the evergreen Pravin Tambe – in the mix, while both Lalchand Rajput and Robin Singh are head coaches of teams, which certainly aren't insignificant appointments considering the BCCI's policy when it comes to franchise cricket beyond India's shores.
There have been challenges in the lead-up of the tournament. Players remained in quarantine slightly longer than hoped, Bangla Tigers' 21-year-old icon player Afif Hossain was stuck at the border, and nearly an entire new broadcast team had to be sourced when the emirates placed a travel ban on South Africa days before the start. Some of the billed players are yet to arrive, but the majority of the last-minute issues have been resolved and the IPL's visit to Sheikh Zayed Cricket Stadium during IPL 2020 has ultimately served as the perfect precursor for the far more condensed staging of the T10 league.
"We were very, very lucky to have worked with the gold standard of bio-security measures that is the BCCI medical team, and that has driven everything forward now in terms of Abu Dhabi T10," Matt Boucher, CEO of Abu Dhabi Cricket, told ESPNcricinfo. "Those same medical protocols are what we have used to base the Abu Dhabi T10 bio-security regulations on."
"What we need to do is showcase this format, to show its attractiveness, to show its capability, to grow it and to show its relevance to multi-sport events like the Olympics"

That translates to developing bluetooth track-and-trace systems, implementing bio-secure bubbles and keeping teams separated as part of an enormous undertaking. At the time of writing, the organisers are waiting for a final decision on their application to allow fans in the south stand at 30% capacity – this, incidentally, a week on from the UFC opening its doors to 2000 fans in the UAE capital.
"We're reviewing the UFC Fight Island spectator capacity and are hopeful in the latter stages of Abu Dhabi T10 to embrace some low percentage of fans into the event," Boucher said. "That's most likely to be vaccinated residents and frontline residents."
It's anticipated that nearly one billion people will watch the event on TV after the league struck landmark deals in key territories, such as with Fox Sports in Australia. It represents a major win for the shortest professional format, which – since inception in 2017 – has frequently touted its potential for globalisation and suitability as a vehicle for cricket's inclusion in the Olympics.
During the inaugural run in Sharjah, England's Eoin Morgan was the first to suggest T10 as an Olympic product and since then there's been a procession of players supporting it. Gayle and Kumar Sangakkara joined the chorus in the lead-up to this year's edition and with the ICC also expressing an interest, there's genuine hope the 2028 Los Angeles Olympics could see cricket feature – in its T10 avatar.
"It's now a professional outfit and the product is certainly a lot more sharper," league director for strategy and development Haroon Lorgat told ESPNcricinfo. "From where it started in Sharjah back in 2017 to what we will see at this upcoming season is tremendous growth.
"We're still cementing this as a product for the long-term. What we need to do is showcase this format, to show its attractiveness, to show its capability, to grow it and to show its relevance to multi-sport events like the Olympics. Then it's up to the federations to take it and run with it."
The ambition to produce drop-in T10 tournaments around the world is another well-trodden path for the past three years, with the USA one market it has its sights firmly set upon. That and a women's T10 league.
"It will come in different forms," Lorgat explained. "There may well be a T10 league played in one part of the world that's for women cricketers, there may be a T10 league played in another part of the world that's for Under-19s, and then there would be what we're seeing in Abu Dhabi with the best men's cricketers in the world playing."
Abu Dhabi, meanwhile, is entering the second of a five-year agreement and long-term, it sees the T10 as a crucial tourism commodity. "In terms of legacy, we have our own academy here and we have our own aspirations to bring cricket back to the top of the Abu Dhabi sports portfolio," Boucher said. "That's what we hope the Abu Dhabi T10 will do."