Young Talents Shining in Bundesliga 2023/24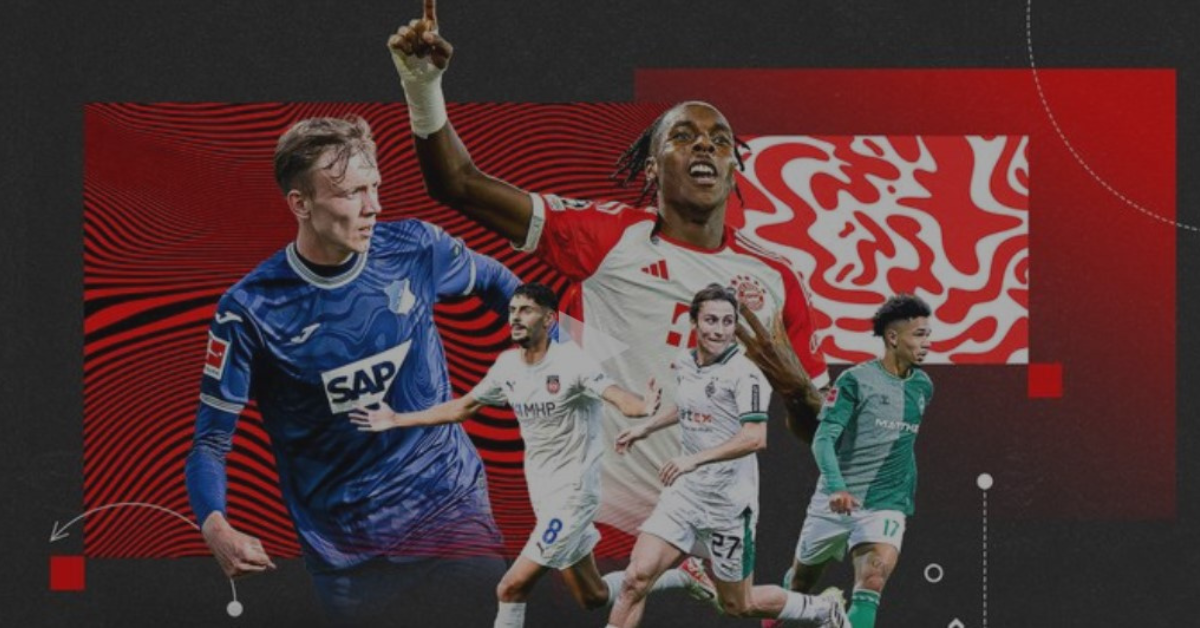 Young Talents Shining in Bundesliga 2023/24
Rising Stars of the 2023/24 Bundesliga Season: Young Talents Making an Impact
The 2023/24 Bundesliga season has seen a wave of young talents emerging, capturing the attention of football enthusiasts worldwide. Among these rising stars is Bayern Munich's 18-year-old striker, Mathys Tel, who has demonstrated remarkable skill and composure on the field.
Mathys Tel: The Bayern Sensation
Mathys Tel, born on April 27, 2005, has made a significant impact in his five substitute appearances for Bayern Munich this season. Despite limited playing time, he has showcased immense talent and potential. Tel's ability to make a difference in crucial moments has been particularly impressive.
In his debut appearance against Werder Bremen, Tel's single touch and powerful strike found the back of the net, setting the tone for his promising season. He continued to impress with a composed finish against Bochum on Matchday 5, scoring his third goal in just five appearances. His assist, where he danced past defenders to set up Leon Goretzka's goal against Bayer Leverkusen, displayed his creativity.
What sets Tel apart is not just his skill but also his mentality. Despite the arrival of Harry Kane in the summer, Tel has continued to excel and make a case for more playing time. His ability to score crucial goals, including one in a UEFA Champions League tie against Manchester United, has earned him the reputation of being an impact sub. With the best-ever minutes-per-goal ratio in the Bundesliga, Tel is poised for a bright future, and his fearless approach is a joy to watch.
Maximilian Beier: Hoffenheim's Rising Star
Maximilian Beier, a 20-year-old striker, has enjoyed a breakthrough season at Hoffenheim. After gaining experience on loan at Hannover in Bundesliga 2 last season, Beier has made a significant impact in the current campaign. His Bundesliga journey began with a crucial goal that sparked a comeback win against Heidenheim on Matchday 2.
Beier's scoring prowess has been evident in four successive matches, contributing to Hoffenheim's rise in the table. His highlight goal, a stunning top-corner strike from outside the area against Cologne on Matchday 4, showcased his technical ability. Additionally, Beier possesses impressive pace, ranking among the fastest players of the season.
Rocco Reitz: Gladbach's Emerging Midfielder
Rocco Reitz, a 21-year-old midfielder for Borussia Mönchengladbach, has been steadily establishing himself in the Bundesliga. Loan spells at St. Truiden in Belgium provided him with valuable experience, and he has made the most of his opportunities this season.
Reitz caught the eye of Gladbach's coach, Gerardo Seoane, who granted him playing time. In a memorable performance against Darmstadt, with his team trailing 3-0, Reitz found an extra gear, gliding past a defender to set up a crucial goal. Despite the loss to RB Leipzig, Reitz was one of Gladbach's standout players.
Brajan Gruda: Mainz's Young Hope
Nineteen-year-old Brajan Gruda carries high expectations at Mainz. After captaining the U19 team to a title-winning season with 17 goals, Gruda made his Bundesliga appearances this term. With explosive pace and unpredictability, he has the potential to become a formidable force in the future. As Mainz seeks a turnaround in their winless season, Gruda's progress will be closely watched.
Justin Njinmah: Bremen's Speedy Sensation
Justin Njinmah, a 22-year-old right-winger, showcased his talent last season on loan at Borussia Dortmund II, setting a team-record for goals in the German third tier. This season, he has brought his skills to Werder Bremen, adding a new dimension to their attack with speed and purpose. Njinmah's two goals and one assist in three brief substitute appearances demonstrate his potential to play a crucial role in Bremen's future.
Eren Dinkçi: Heidenheim's Fearless Winger
Eren Dinkçi, a 21-year-old right-winger on loan from Bremen to Heidenheim, has embodied his team's fearless approach. His remarkable strike against Dortmund sparked a second-half comeback for a 2-2 draw. Two more goals against his parent club in Heidenheim's maiden Bundesliga victory showcased his skill and ambition. Dinkçi's ability to turn defenders inside out makes him a promising Bundesliga star to watch.
The 2023/24 Bundesliga season has introduced us to these exceptional young talents, each with their unique abilities and promising futures. As they continue to shine on the football stage, fans eagerly anticipate more moments of brilliance from these rising stars.
For More Related Updates Visit Our Official Website
By- Sahiba Suri