Pakistan Secures Thrilling Victory Over Afghanistan in 2nd ODI Clash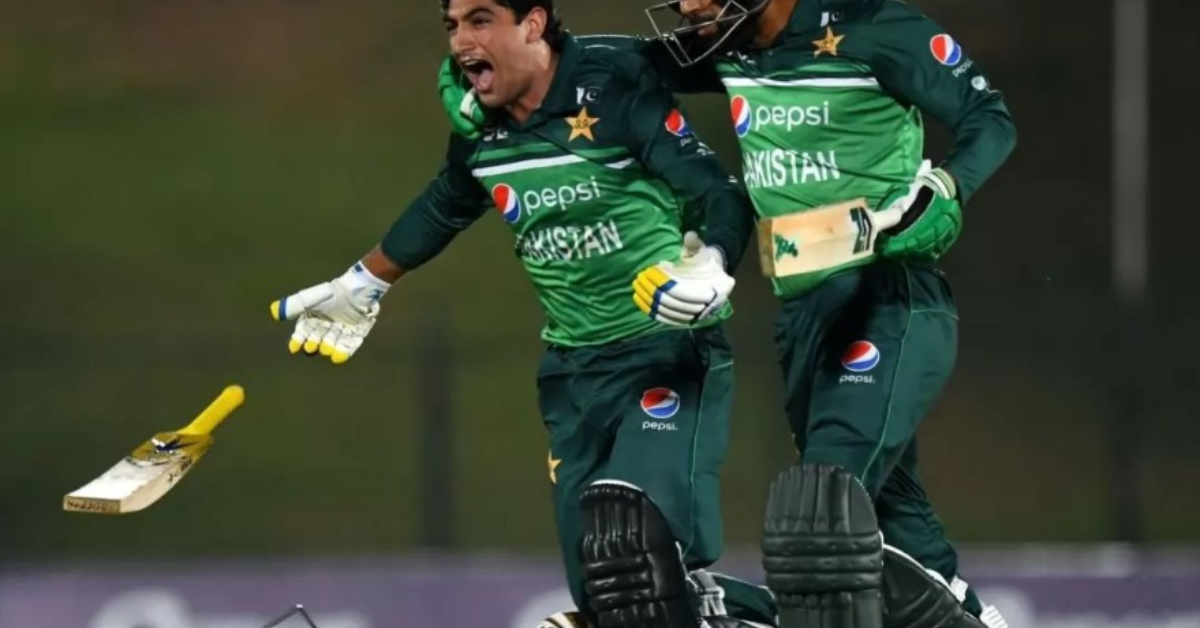 Pakistan Secures Thrilling Victory : ODI Showdown: Pakistan Prevails in the Ultimate Over Against Afghanistan
In an electrifying One Day International (ODI) encounter, Pakistan managed to secure a thrilling one-wicket victory against Afghanistan in the final over of the match. The contest was marked by its intensity and saw the two teams engaged in a closely fought battle on the cricket field.
Toss Decision Sets the Stage
The dynamics of the match were set early on as Afghanistan won the toss and chose to bat first. This decision laid the foundation for the tactical and strategic aspects that would define the course of the game.
Opening Stand Brilliance by Afghanistan
The opening pair of Rahmanullah Gurbaz and Ibrahim Zadran showcased exceptional form, forging an imposing partnership that accumulated an impressive 227 runs. This opening stand provided Afghanistan with a strong platform to build upon.
Also Read : Asia Cup 2023: Rohit Sharma-led India squad announced, Shreyas Iyer, KL Rahul back
Crucial Breakthrough in the Partnership
Pakistan's Usama Mir managed to disrupt the significant partnership by dismissing Ibrahim Zadran in the 40th over, curbing the partnership at a pivotal moment of the game. Zadran's commendable innings of 80 runs was brought to an end by Mir's skillful bowling.
Gurbaz's Outstanding Performance
Rahmanullah Gurbaz's stellar form was on full display as he amassed an impressive total of 151 runs. Gurbaz's batting prowess was evident throughout his innings, highlighting his significance as a standout performer for Afghanistan.
Afghanistan's Competitive Total
Afghanistan managed to set a competitive target of 300/5, with Hashmatullah Shahidi's unbeaten contribution bolstering their score in the latter stages of their innings. Shahidi's determination and valuable runs played a crucial role in Afghanistan's final tally.
Pakistan's Steady Opening Response
In response to Afghanistan's total, Pakistan's opening pair of Fakhar Zaman and Imam-ul-Haq constructed a steady partnership, laying a solid foundation with a 52-run collaboration. Their cautious yet effective approach set the tone for Pakistan's innings.
Fazalhaq Farooqi's Impactful Performance
Fazalhaq Farooqi, representing Afghanistan, made his presence felt with a remarkable performance. Farooqi not only claimed three crucial wickets but also executed a 'Mankad' run-out of Shadab Khan, a move that added a unique twist to the game's narrative.
Also Read: Health Streak is alive and well – Henry Olonga
Afghanistan's Struggles in Tight Matches
The match underscored Afghanistan's recurring challenge of closing out tight matches. The team's struggle to maintain momentum during critical phases of the game often proved to be a hurdle in their quest for victory.
Naseem Shah's Nerve-Wracking Heroics
As the match reached its climax, it was Naseem Shah of Pakistan who emerged as the hero. With tension reaching its zenith, Shah's boundary off the penultimate ball of the match secured a nail-biting victory for Pakistan, showcasing his composure under pressure.
Series Victory and Unassailable Lead
Pakistan's triumph in the nail-biting encounter not only secured the match but also affirmed their dominance in the series. With this victory, Pakistan took an unassailable lead of 2-0 in the series, highlighting their prowess in crucial moments of the game.
Pakistan Secures Thrilling Victory: 2nd ODI Pakistan vs Afghanistan last over last wicket
A Captivating Showcase of Skill and Passion
The match between Pakistan and Afghanistan provided cricket enthusiasts with a captivating spectacle. The strategic battles, individual performances, and the sheer excitement of the contest showcased the essence of the sport. The match will be remembered as a remarkable showdown that encapsulated the thrill, intensity, and beauty of cricket.
Also Read: Investment in your future as a footballer: TFA 30-Days Football Trial in Dubai – Rush to Dubai
By- Sahiba Suri