Join International Trail TFA-EPC Football Academy In Dubai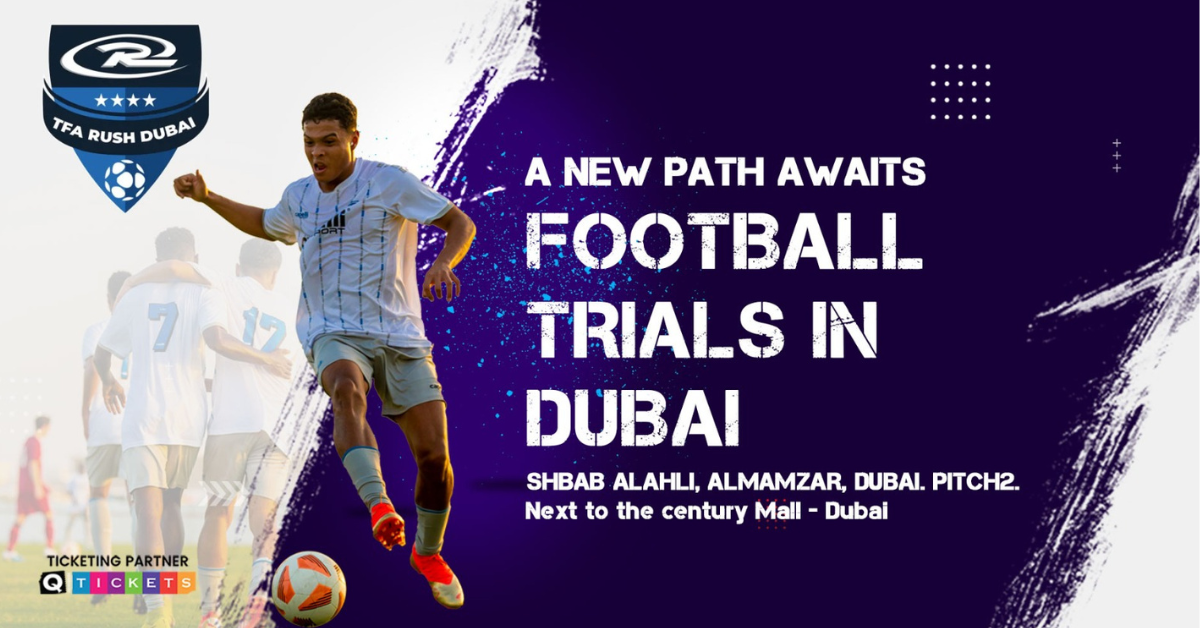 TFA-EPC Football Academy Dubai
Are you ready to transform your football dreams into reality? The TFA EPC Future Team invites you to experience more than just a football trial – it's an investment in your future as a footballer.
What Awaits You After the Trail TFA-EPC Football Academy
Reserve Selection: Unleash your talent during the trial and stand a chance to be selected for the Reserves. This is your opportunity to train alongside them and elevate your skills.
First Team Opportunity: For those with truly exceptional talent, the golden chance to join TFA's first team awaits. Participate in the Third Division and etch your name in the footballing world.
Why Choose the TFA-EPC Football Academy in the UAE?
World-Class Developmental Football League: The UAE Football Association boasts a renowned developmental football league designed to nurture raw talent, enhance player skills, and propel them onto the international stage.
Open Doors for Foreign Players: The UAE stands out by allowing up to 22 foreign players in a FIFA-recognized league, showcasing its commitment to embracing diverse footballing talents and styles.
Dubai – Beyond Glamour: Dubai is not just about its stunning skyline and opulence; it's a sports epicenter. With superior facilities, professional training environments, and a pulsating football culture, it's the ideal nurturing ground for aspiring footballers aiming for greatness.
In essence, the TFA EPC football trials in the UAE represent more than mere trials; they're your golden ticket to nurture your skills, gain unparalleled exposure, and kickstart a successful football journey. Dubai's reputation as a sports nexus, coupled with the UAE's inclusive policy for international players, makes this trial an unmissable opportunity for every dedicated footballer.
Important Terms and Conditions:
Arrival Time: Players are required to arrive at the event location 30 to 45 minutes prior to the start. Latecomers will be considered absent.
Refunds: No refunds will be provided under any circumstances.
Registrations: Registrations are non-transferable, both in terms of name changes or shifting to a different date.
Players Under 18: For players under the age of 18, all communications and procedures must be handled by parents or a legal guardian.
Failure to adhere to these terms may result in the loss of your registration spot and any associated fees.
Don't miss your chance to embark on a promising football career with TFA EPC. Secure your spot today!
Event Details:
DUBAI PRO FOOTBALL TRIALS BY TFA
Location: SHBAB ALAHLI, ALMAMZAR, DUBAI. PITCH 2, NEXT TO CENTURY MALL – DUBAI
Tickets for the trials can be booked online at Q-Tickets. You can find the tickets here: https://bit.ly/3Erbd6j
Here are some of the frequently asked questions about the TFA EPC football trials in Dubai:
What is the EPC team in Dubai?
EPC is a professional football club in Dubai that competes in the UAE Third Division. It was founded in 2022 by TFA Dubai, a leading football academy in the UAE. The club is committed to developing young talent and is looking to move up the divisions in the coming years.
Here are the key points about EPC:
Founded in 2022
Plays in the UAE Third Division
Based in Dubai
Strong youth academy
Community-focused
Looking to move up the divisions in the coming years
Who owns EPC?
Reza Kargarzadeh is the owner of EPC. He founded the company in 1994 with 4 injection molding presses. The company has since grown to over 200 injection molding machines and eight manufacturing facilities. Kargarzadeh is also the company's current president.
What should I bring to the trial?
You should bring your football boots, shin guards, and a water bottle. You should also wear comfortable clothing that you can move around in easily.
What can I expect at the trial?
The trial will consist of a series of drills and exercises designed to test your technical skills, physical fitness, and game intelligence. The coaches will also be looking at your attitude and willingness to learn
What are the chances of being selected for the Reserves or the First Team?
The chances of being selected will depend on your performance at the trial. The coaches will be looking for players who have the potential to play at a high level.
What are the benefits of being selected for the Reserves or the First Team?
If you are selected for the Reserves or the First Team, you will have the opportunity to train and play with some of the best footballers in the UAE. You will also have the chance to be scouted by professional clubs.
If you are a talented footballer who is looking to take your career to the next level, the TFA EPC football trials in Dubai are a great opportunity for you. Register today and take your first step towards achieving your dream of becoming a professional footballer.
Here are some other things to keep in mind about the TFA EPC football trials in Dubai:
The trials are open to players of all nationalities.
There are no minimum or maximum playing experience requirements.
The trials are a great way to get noticed by scouts from professional clubs.
For more related updates visit our official website .
By- Sahiba Suri