Axar Patel's World Cup 2023 Heartbreak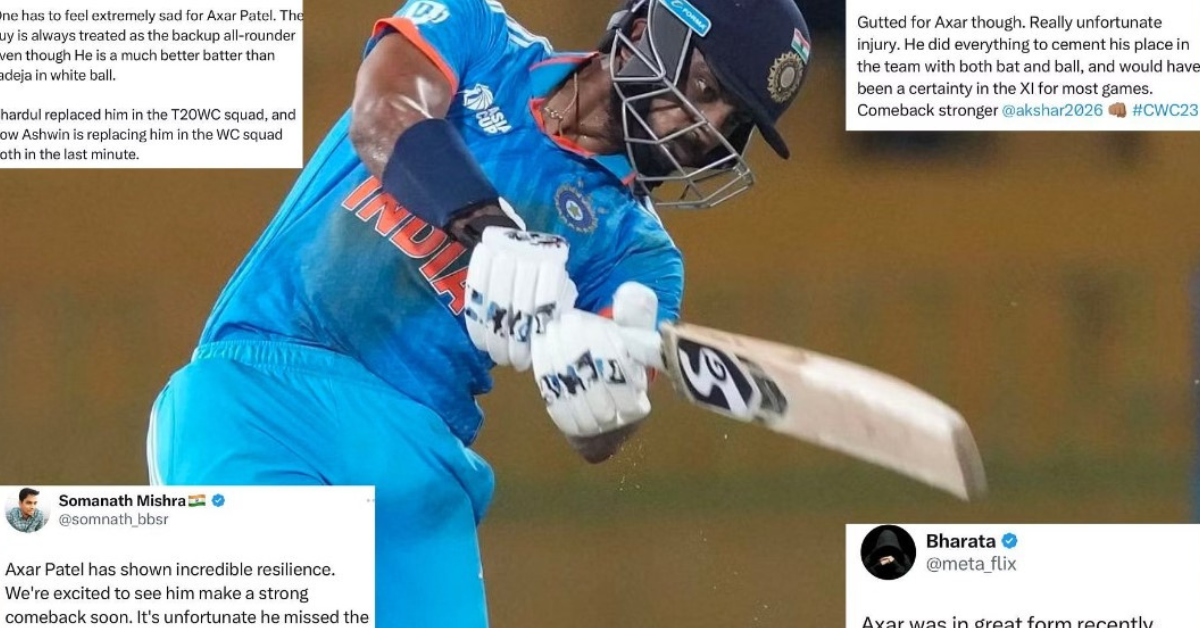 Axar Patel's World Cup 2023 Heartbreak
A Significant Loss: Social Media Reacts as Axar Patel Misses World Cup 2023 Due to Injury
In a disappointing turn of events, Team India's all-rounder, Axar Patel, faced a setback as he was ruled out of the Men in Blue's final 15-member squad for the World Cup 2023 due to a left quadriceps strain. The cricketing world reacted with empathy and concern as the news broke, and fans took to social media to express their thoughts on Axar's unfortunate injury.
Axar Replaced by Ravichandran Ashwin:
Despite initially being named in the preliminary squad, Axar Patel's World Cup dreams were shattered when he was replaced by veteran spinner Ravichandran Ashwin on Thursday, September 28. The injury setback occurred during India's Super 4 clash against Bangladesh at the Asia Cup 2023 earlier that month.
Injury Woes for Axar:
Axar Patel's injury struggles were evident when he was not included in the squad for the first two ODIs of India's recently concluded home series. While he did find his place on the roster for the final fixture, his hopes were dashed as he failed to recover in time, resulting in his omission from the World Cup squad.
Social Media Reactions:
The cricketing fraternity and fans alike rallied behind Axar Patel, offering words of encouragement and sympathy on various social media platforms. Here are some of the top reactions:
Twitter User 1: "Heartbreaking news about Axar Patel missing the World Cup due to injury. Wishing him a speedy recovery. India will miss his all-round prowess."
Twitter User 2: "Axar Patel's dedication and performances have been remarkable. It's truly unfortunate to see him miss out on such a big stage. #GetWellSoonAxar"
Twitter User 3: "Injuries are a part of the game, but it's still disheartening to hear about Axar Patel's exclusion from the World Cup squad. India needs him at his best."
Twitter User 4: "Axar Patel, you've shown immense potential. Keep your spirits high, and we hope to see you back on the field stronger than ever."
History of Missed Opportunities:
It's important to note that this isn't the first time Axar Patel has missed out on a major tournament. He previously missed the opportunity to represent India in the T20 World Cup in 2021, where he was replaced by Shardul Thakur.
Axar's Asia Cup Performance:
During his brief stint at the Asia Cup 2023, Axar Patel displayed his cricketing prowess. He featured in two matches, contributing significantly to the team's performance. In India's Super 4 match against Sri Lanka, he scored a crucial 26 runs off 36 balls, aiding India in posting a respectable total of 213 runs. While he didn't pick up any wickets, his contribution played a vital role in India's 41-run victory.
In the subsequent game against Bangladesh, Axar once again showcased his batting prowess, scoring 42 runs off 34 deliveries. Although India narrowly lost by six runs, Axar's performance earned him widespread praise for his resilience and skill.
India's Updated World Cup 2023 Squad:
With Axar Patel's unfortunate injury, India's World Cup 2023 squad underwent a change. The updated squad includes:
Rohit Sharma (c)
Shubman Gill
Virat Kohli
Shreyas Iyer
KL Rahul (wk)
Ishan Kishan (wk)
Suryakumar Yadav
Hardik Pandya (vc)
Ravindra Jadeja
Kuldeep Yadav
Shardul Thakur
Jasprit Bumrah
Mohammed Shami
Mohammed Siraj
Ravichandran Ashwin
As the cricketing world wishes Axar Patel a swift recovery, India's World Cup campaign continues with a renewed determination to perform well and make their fans proud. Axar's absence will undoubtedly be felt, but the Men in Blue remain focused on their quest for glory in the World Cup 2023.
For More Related Updates Visit Our Official Website
By- Sahiba Suri