The Coaching Clash: Tuchel vs. Alonso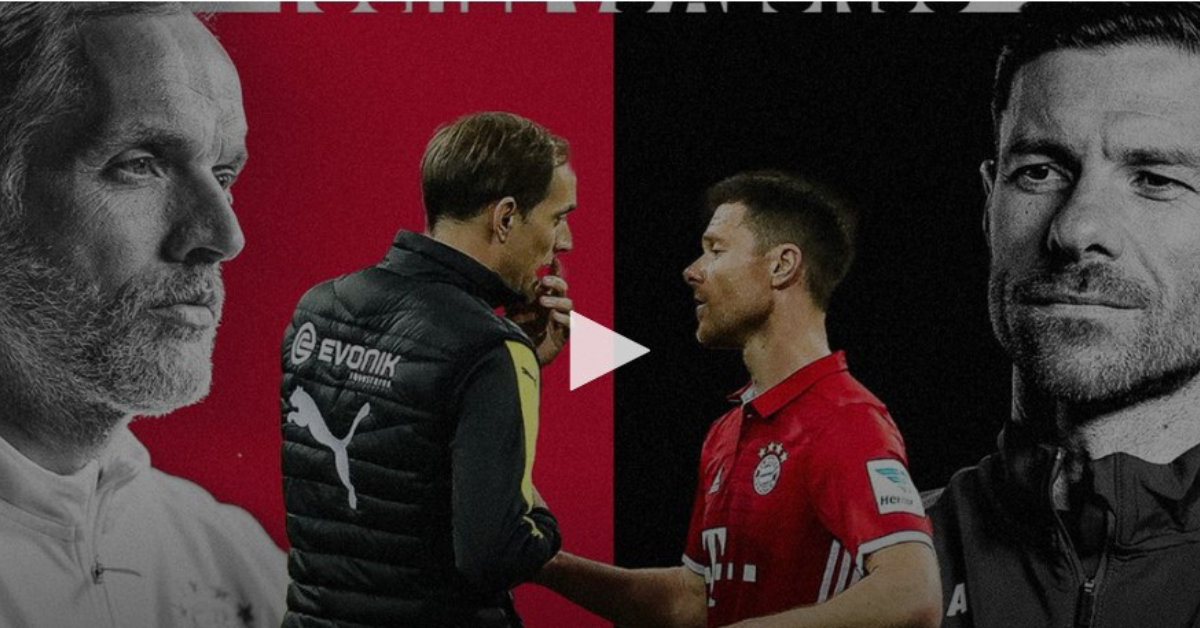 The Coaching Clash: Tuchel vs. Alonso
Thomas Tuchel vs. Xabi Alonso: Coaching Experience vs. Young Pretender
In the ever-evolving world of football coaching, two prominent figures are set to clash in the Bundesliga as seasoned tactician Thomas Tuchel faces off against the young upstart, Xabi Alonso. Their journeys to the coaching summit have taken different routes, but their encounter promises an intriguing battle between the minds behind two of the league's top teams.
Thomas Tuchel, the 50-year-old manager of Bayern Munich, stands as the more experienced of the duo. His coaching career began in 2009 when he assumed the reins at Mainz, where he stayed until 2014. Tuchel then made the move to Borussia Dortmund, overseeing the Black-and-Yellows for two years and culminating in a DFB Cup triumph. After a stint with Paris Saint-Germain, he landed at Chelsea, where he secured the UEFA Champions League title. Tuchel's resume boasts an impressive 517 senior competitive games as a coach, making him a seasoned campaigner in the managerial realm.
On the other hand, Xabi Alonso's coaching career is relatively nascent. The former midfield maestro, who achieved tremendous success as a player with Spain, Liverpool, Real Madrid, and Bayern Munich, was a somewhat surprising choice for the role of Bayer Leverkusen's head coach in October 2022. Despite his stellar playing career, Alonso's coaching experience was limited before his return to Germany. He had only cut his teeth as a coach in Real Madrid's youth academy and had managed 98 competitive matches with Sociedad's B team before taking charge at Leverkusen.
Their paths as coaches came close to intersecting last season, but they narrowly missed each other in the dugout. Alonso assumed his role at Leverkusen ahead of Matchday 9, while Tuchel took over as Bayern Munich's coach before Matchday 26. Leverkusen, under Alonso's guidance, secured a 2-1 victory over the record champions in Julian Nagelsmann's final game in charge of Bayern, setting the stage for Tuchel to enter the fray.
Now, on the upcoming Friday, Tuchel and Alonso will finally meet in a coaching capacity, adding an extra layer of intrigue to their respective sides' battle for supremacy at the top of the Bundesliga standings. Both Bayern Munich and Bayer Leverkusen have maintained 100 percent records this season, making this encounter a highly anticipated clash between two tacticians with contrasting levels of experience.
As the older, more seasoned coach, Thomas Tuchel brings a wealth of experience and a successful track record to the table. In contrast, Xabi Alonso, at 41, is a relative newcomer to the coaching scene. Still, his remarkable playing career and potential as a coach make him a fascinating addition to the Bundesliga's coaching landscape.
Friday's eagerly anticipated match is set to deliver more than just a clash between two top-tier teams; it's a fascinating encounter that pits the wisdom of coaching experience against the fresh perspective of a young pretender. As the seasoned campaigner Thomas Tuchel and the emerging talent Xabi Alonso lead their respective sides into battle, the footballing world braces for a spectacle that transcends mere competition. This is a face-off that embodies the essence of the beautiful game—a test of knowledge honed over years versus the audacity of youth. Don't miss this battle of wits and tactics that promises to be a captivating chapter in the rich tapestry of football history.
For more related updates visit our official website .
By- Sahiba Suri